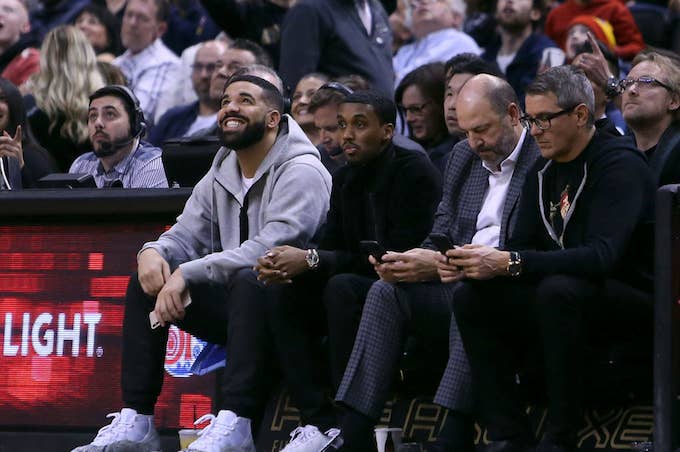 If there was one lesson to be learned from Clemson's 44-16 stomping of Alabama in the NCAA National Championship game this past Monday night, it's that the "Drake Curse" is 100-percent a very real thing. (Equally important lesson though: Tigers freshman QB Trevor Lawrence is an absolutely elite talent.)
Nick Saban's Crimson Tide were the latest victims of the trend joining, the likes of the Kentucky Wildcats basketball team, Conor McGregor, and Drake's hometown Toronto Raptors. For those unfamiliar, the "Drake Curse" is the inevitable L that the latest team or athlete Drizzy reps will take following his display of fandom. In an effort to hopefully manifest a positive turnaround after their early season woes, the Minnesota Timberwolves have publicly asked the the multi-platinum rapper to refrain from repping the T-Wolves.
The team's request came after reporter Dane Moore tweeted that Timberwolves forward and fellow Canadian Andrew Wiggins decided to blare nothing but Drake records during practice this past Thursday. Shortly after, the official Wolves Twitter account tweeted, pretty hilariously if we're being honest, that despite love for his music they don't want him wearing any of their gear. "We don't need that curse," it reads.
While the tweet is obviously all in good fun, you can't blame the T-Wolves for trying to avoid the dreaded phenomenon. The 6 God very publicly supported John Calipari's Wildcats squad, and they have not won a title since. LeBron James turned the Raptors home into "LeBronto." McGregor tapped out to Khabib Nurmagomedov in his return to the Octagon last year after being photographed with the Scorpion rapper. And finally, Bama got absolutely rolled by Lawrence & Co. after Drizzy was spotted in a Crimson Tide hoodie. 
Minnesota's NBA franchise has enough on its plate as it is. After dealing with the Jimmy Butler saga earlier in the season that resulted in his trade to the Philadelphia 76ers, the team fired head coach Tom Thibodeau last Sunday after underwhelming performance. They currently sit at 11th in the Western Conference standings with a 20-21 record. 
At least they have those awesome Purple Rain-inspired alternate jerseys honoring Prince to rock this season.