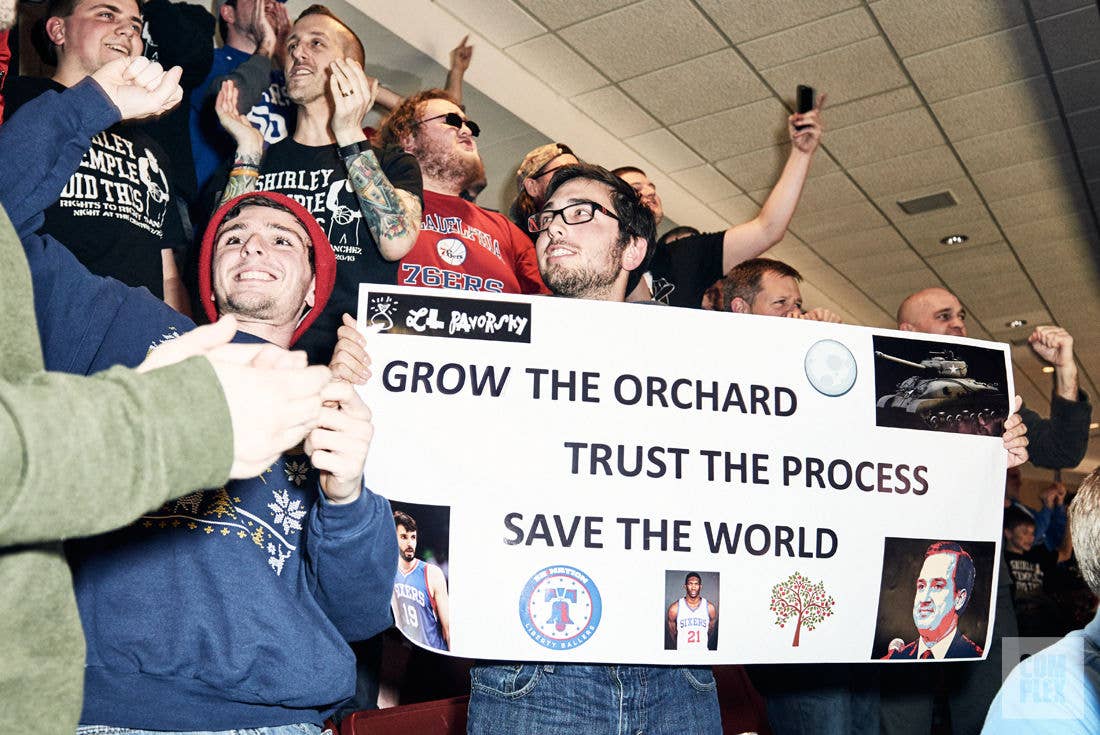 My name is Max Rappaport, and I'm in a cult.
No, my fanatical devotion is not tied to any organized religion. Nor is it related to any system of esoteric political or moral beliefs or predicated upon adherence to some perverse hedonistic lifestyle. My allegiance belongs to a basketball team, and one of the worst basketball teams of all time, at that.
It's why I'm here in the nosebleed section of the Wells Fargo Center in South Philadelphia surrounded by 350 of my fellow zealots. We've gathered to perform liturgy in respect to the doctrine that defines our cause—"The Process"—with chants, weird hand signals, and matching screen-printed garb.
You may wonder why a team that has amassed fewer than 50 combined wins in their last three seasons has such a devout following. Well, like most cults, there exists a unique history that served to predispose our group to embrace such extreme beliefs.
Philadelphia sports fans, as ruthless and jaded as they are portrayed to be, are in reality more insecure than brutish. Living in the shadow of New York City and the 54 championships The Big Apple holds between its major four league teams, we long for the success the Yankees and Giants have enjoyed in recent years.
Our city has won exactly one championship since the Sixers last hoisted the trophy in 1983, when the 2008 Phillies earned their first World Series title in 28 years. That team was built largely upon the development of one of the best young cores in baseball, featuring homegrown stars Ryan Howard, Jimmy Rollins, Chase Utley, and Cole Hamels who were all acquired through the draft and developed within the team's farm system.
During the early stages of this slow and steady come up for the Phils, the Sixers were trying desperately to keep the flame of the their improbable 2001 run to the NBA Finals alive with a series of short-sighted trades and desperate signings.
Outside of that magical 2000-01 season, the Sixers posted just two seasons with more than 45 wins during the 10 years superstar Allen Iverson spent with the franchise. And in the years after his departure via trade in 2006, the team attempted futilely to find a player to carry his torch.
Starting with signing a hobbled Elton Brand to a five-year, $80 million contract in 2008 and ending in 2012 with pushing all their chips to the center of the table in order to acquire 24-year-old rising star Andrew Bynum (we all know how that one turned out), the team failed time and again to pull itself from the NBA's pit of mediocrity.
In the aftermath of the Bynum trade—in hindsight one of the worst deals in NBA history—the Sixers were left depleted of talent, resources, and cap flexibility and in desperate need of a way to dig themselves out of a deep hole.
Enter our cult's messiah, Sam Hinkie, hired by the team's fledgling ownership group in May of 2013 to serve as president and general manager.

"We're a club, we have a strong belief system, and people hate us and tell us that we're bullshit, and it's created a stronger bond amongst those people."
—spike eskin
Hinkie presented a plan to get the team out of its mess, and he enjoyed an attentive audience in the Sixers' principal owners who understood and appreciated his analytically-minded approach to team building. Before breaking into the sports world in 2005, a young Hinkie cut his teeth working in private equity and venture capital, the same industry in which the team's new owners had amassed their enormous fortunes. He spoke their language, and when he told them that the best course of action, truly their only availablecourse of action, was a clean and powerful strike of the reset button, they put their faith in him.
Less than three years later, no players remain from the roster inherited by Hinkie, who's systematically auctioned off each of the team's non-future assets to the highest bidder. The Sixers have finished with a bottom-three record in each of the past two years, and barring an improbable turnaround they will finish with the league's worst record when the regular season ends in April.
The team's aggressive rebuild hasn't gone quite as expected, with lottery luck refusing to go in their favor to this point and the team's best prospect, Joel Embiid, still nursing a foot injury that has cost him two full years of development and thrown his future into question. Still, it has yielded a handful of promising young players in Nerlens Noel, Jahlil Okafor, Dario Saric, Jerami Grant, and Robert Covington, a bevy of future draft considerations, and as much cap space as any team in the league over the next few seasons. But beyond the story of a few bad seasons and an injured center's foot, The Process most notably has created a very public civil war between its supporters and detractors.
Some deride the team's tanking scheme as disgraceful, arguing that it runs counter to all that is right and good about athletic competition. They come from national outlets, like Deadspin's Tom Ley, who once penned a 1,200-word think piece entitled "The Philadelphia 76ers Are A Godless Abomination," or ESPN's Stephen A. Smith, who recently called the Sixers' plan an "ATROCITY" and implored NBA Commissioner Adam Silver to intervene, or The Ringer's Bill Simmons, who is a bit more tactful in his criticism of the process. Many more are local reporters, who resent being forced to cover a team willfully punting multiple seasons and the fact that the architect of the whole thing, Sam Hinkie, is rarely willing to speak on the record. 
Others simply don't believe it will work, that the costs of sustained and dramatic losing far outweigh the benefits of guaranteeing a selection atop the NBA's annual draft and maximizing cap flexibility. These two groups form the majority of observers of this tanking scheme, especially those who reside outside of Philadelphia. 
And then there's the group to which I belong. We admit that the product right now is garbage, and we know tanking doesn't guarantee future success, but at the end of the day we support the plan because we're sick of the mediocrity we had come to expect year after year. Those who support The Process do so because they're sick of existing in the NBA's purgatory, the middle, where you're never quite good enough to truly contend for a championship, but where you're also not quite bad enough to have a realistic shot at acquiring a transcendent player in the draft. We'd rather fail at being great than succeed at being okay.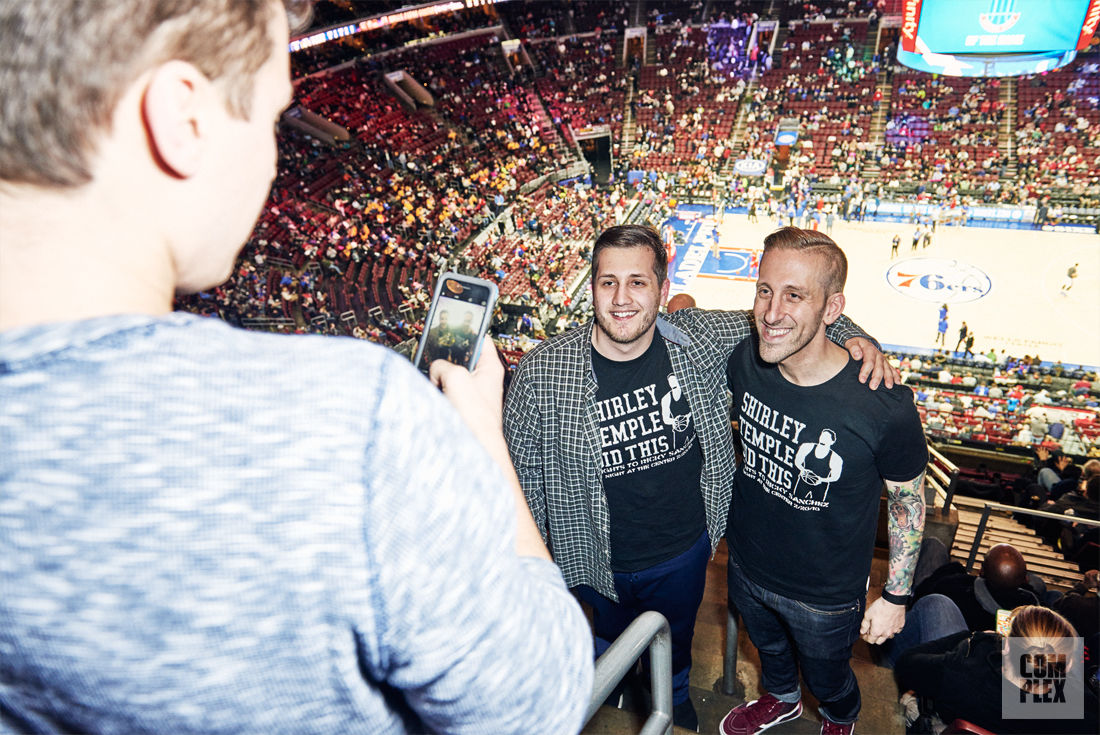 Okay, so a bad team still has some fans. What makes this a cult? Why did hundreds of self-proclaimed Hinkieites show up to this random late-February game dressed alike in order to fervently chant "AN-AL-Y-TICS" and "PROC-ESS" into the void at Wells Fargo Center?
To best answer these questions, I caught up with Spike Eskin, host of popular Sixers-centric podcast The Rights To Ricky Sanchez and organizer of a number of Process-themed events over the past three years, including the assembly of chanters who bought tickets around up the upper rim of Wells Fargo Center tonight. Sitting down with Eskin a few days before the game at a trendy tavern in Philadelphia's historic Old City neighborhood, I asked him to offer up his best guess.
"So many of us believed in this so assuredly," he explained. "That the idea of it not working out, and how that reflects on us for backing it, is too scary for us to accept. I think we still believe we're on the right track, but more than that we feel like there's no turning back now, so why not go all the way in on it?"
And beyond our belief in the virtue of The Process, many of us have defended it vehemently as as it has come under attack. While most rebuilding teams typically enjoy a grace period during which to eschew present wins for future ones, the Sixers were never afforded that luxury. Their rebuild was so aggressive and so unapologetic that they've been the target of league-wide criticism since the night they traded their best player, Jrue Holiday, during the 2013 Draft and used the pick acquired in the deal to select center Nerlens Noel, the presumptive top pick who fell to No. 6 because of a torn ACL.
When I arrived at the pre-game happy hour, I was immediately pointed in the direction of a young fan in an orange hoodie. Derek, 25, had flown to Philadelphia from Seattle, where he works as an engineer for Microsoft, for the sole purpose of attending this game. What in God's name had compelled someone to travel across the country to be one of about 10,000 people watching the worst team in the NBA?

When I asked people to rank their fandom of The Process, Sam Hinkie, and the Sixers, almost all of them placed the three in that exact order.
"I really jumped on this Sixers thing was when they traded Jrue Holiday for Nerlens Noel and that first-round pick. I knew then that this team was finally on the right track," said Derek, who grew up in Vancouver but early in life decided to become a fan of all four Philadelphia teams because of the passion of their fanbase. "This is a new era of NBA basketball, and teams need to be data-driven, driven by analytics. This world runs on big data now, and now we're counting, like, how many steps Jerami Grant takes before he takes off for a dunk. This is why I love what we're doing. It's logical. It makes sense. There's a purpose."
For many, including Derek and myself, it's the sense of intention and direction that initially drew us to this plan. We looked at the teams that sat atop the league at the time—the Miami Heat, the Oklahoma City Thunder, the San Antonio Spurs, the Los Angeles Clippers—and realized that to compete at the highest level we needed star-caliber players. And unfortunately, unlike Miami and Los Angeles, we were unlikely to do so through free agency or via a trade.
But we understand that the Thunder, like most perennial contenders, are an outlier. There is no guaranteed formula for replicating their draft success, and we accepted that. But we also knew that building from the middle, as we'd tried to do for the better part of two decades, wasn't working. Hinkie's plan of shrewd logic seemed just crazy enough to work.
While wandering around the bar at the Cure Auto Club about an hour before tip-off, I spotted Scott, a 30-something wearing a long trench coat over a black t-shirt featuring a caricature of Sam Hinkie and the block-lettered words "Trust The Process."
"I need to make one thing clear," he said. "A lot of us, myself included, believed in The Process long before Sam Hinkie was hired. This is something I've wanted them to do forever. But Sam's done a great job of executing it, and we've been unlucky in some ways, with ping pong balls, and whatnot, but we're still in a good place. I just hope Jerry Colangelo doesn't undo the progress we've made."
The presence of Jerry Colangelo is the elephant in the room for Hinkites. With the Sixers well on their way to the worst start for a team in NBA history at 1-20 back in December, the team's ownership group (and possibly the NBA and other owners) decided change was necessary. They hired Colangelo, a lifelong executive, to serve as the team's chairman of basketball operations and act as an advisor to them directly. The 76-year-old Hall of Famer had been out of the league for several years but had served as the director of USA Basketball since 2005.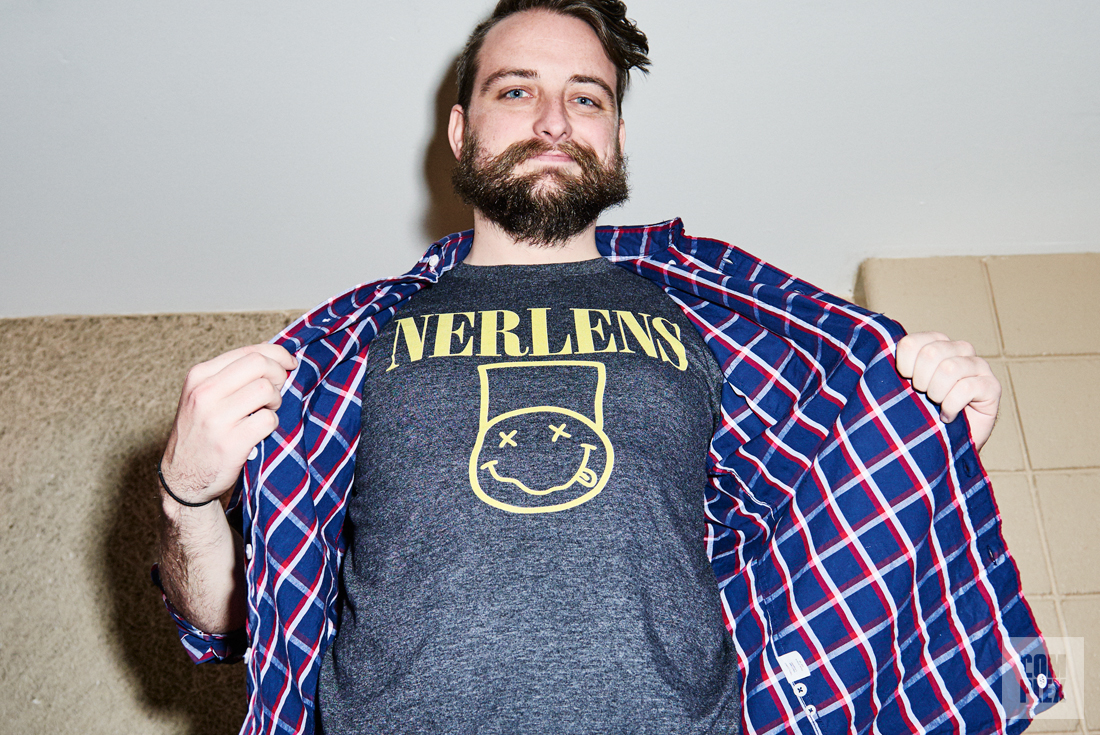 Unlike Hinkie, who eschews interviews with the press in favor of secrecy and the advantage he believes it gives him, Colangelo, who will continue to live in Arizona, has been outspoken since his hiring three months ago. And many of the things he's said have given people the impression that his voice is the dominant one in Philadelphia and that the team's short-term strategy may change under his direction. At the press conference announcing the hiring, Sixers managing owner Josh Harris said several times that while he still believes in the plan the team laid out in 2013, he hopes that things will move a bit faster under Colangelo.
So how does one trust The Process when there are signs that the team itself is beginning to lose faith?
"I think the addition of Jerry Colangelo was meant to bring some legitimacy to the team as they flip the script on the rebuild," said Jake Pavorsky, the 20-year-old managing editor of the popular Sixers blog Liberty Ballers. "It's time to go out and get players who have established themselves in the league, and they apparently need Colangelo to do that.
Andrew, 24, who drove seven hours from Raleigh, N.C. to attend the game, was less positive about the move, but has faith that it will work out for a different reason.
"I mean, I don't know how much of an effect you can have when you're living in Phoenix. I think he's a great basketball mind, and I'm sure it's great to have him around, but let's be real here—Hinkie's calling the shots. He's basically the Frank Underwood of the Sixers. He's super smart, and he will get his way."
Most who I spoke to had no real animosity toward Colangelo. In fact, most respected him quite a bit and believed his presence would only help the team as it moved out of the asset acquisition phase and into one that will be predicated largely upon the team's ability to attract free agents and retain talent. But at the same time, we've all sung the praises of Sam Hinkie and the Process so loudly and so militantly that we almost care more about seeing those two things succeed than we do about seeing the team thrive. When I asked people to rank their fandom of The Process, Sam Hinkie, and the Sixers, almost all of them placed the three in that exact order.
At some point the devotion became more about a love for the culture that surrounds The Process than a belief in its merits. There are aspects of Process fandom that are more ironic than anything else, such as our undying love for NBA-ish talents like Furkan Aldemir and JaKarr Sampson. Conversely, there's also the satisfaction of knowing that you're in on the absolute lowest of ground floors of something that could one day be great.
"It's Vampire Weekend before they had their first hit," said Eskin. "I've said to Mike [Levin, Spike's co-host on The Rights To Ricky Sanchez] a bunch of times that once the team gets good, we'll have to switch to a different team. I'll still like the Sixers when they're eventually good, but there will never be a time like this again. We're a club, we have a strong belief system, and people hate us and tell us that we're bullshit, and it's created a stronger bond amongst those people."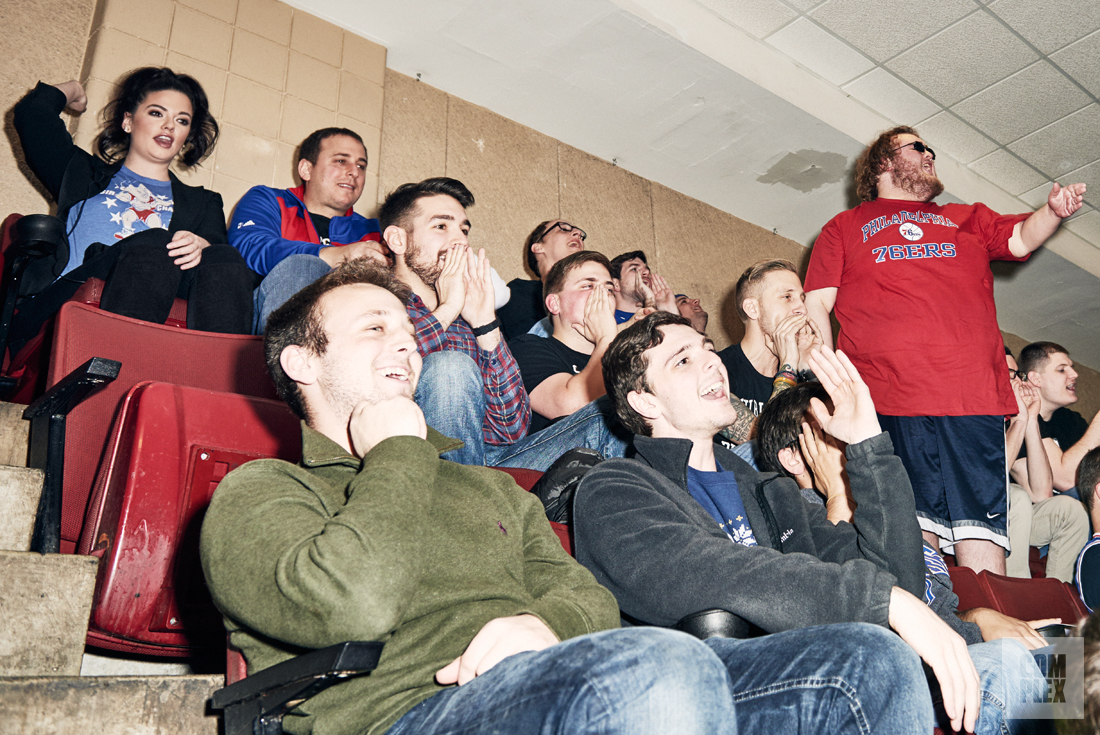 That bond that Eskin talks about is evident whenever he puts together these events, about three or four times a year. In a way, the fact that we all root for a basketball team is inconsequential. It could be anything that we decided to throw our faith behind—a band, a political candidate, a comic book series, whatever, and this would still be a blast.
He recently hosted a bus trip for hundreds of fans to travel to Brooklyn and root on the team against the Nets at Barclays Center. The Sixers lost that game 131-114, but Spike and his fellow acolytes remained positive, playfully teasing the home crowd about its team lack of future draft picks, laughing lightheartedly at their own misfortune, and just generally enjoying themselves. After the game, television commentators Marc Zumoff and Alaa Abdelnaby, head coach Brett Brown, and Sam Hinkie himself spoke to the group, thanking them for their devotion and positivity. 
This group is one where there is no judgment, and the only rule is that you must trust The Process. These events are a place where we can all get together and be outrageous, where we can chant and yell and wear stupid matching t-shirts. We are a benevolent cult.
Perhaps nobody at the event embodied that spirit quite like 20-year-old Nathan, the designated chant leader for our section. Yes, Eskin assigned chant leaders in each of the eight sections across which our group was scattered. He also sent each of them a list of pre-approved chants to use throughout the night, and used a group text chain to synchronize the group throughout the game.
"This is really a magical day for me. Everyone's so nice, everyone is on the same page. I feel like we're onto something," said Nathan. "Like, we're the smart wrestling fans, and then there's everybody else who's not paying close attention. A lot of people tune out the Sixers, but there's so much going on, and these events Spike puts on are unlike anything else, man."
When I arrived at my seat in the second-to-last row of section 212, there was 22-year-old David, wearing one of the Joel Embiid-inspired t-shirts made specifically for the event. Eskin told me beforehand that I had to talk to him.
David has battled severe social anxiety most of his life. And in 2012, it got so bad that he had to drop out of college and move back home. Feeling depressed and having a lot of extra time on his hands, he began following the Sixers more closely than he had since the Iverson days. When the team brought in Hinkie, he was all in.
A bright but shy kid who had long dreamed himself of becoming a general manager, David saw Hinkie as an idol. For him, the Sixers became therapy, and the cult that surrounded the team became a group upon which he could lean, at least online. David and Eskin became friends through Twitter last year, and when Eskin asked if he could count on David to come out to his watch party for the 2015 draft lottery he admitted that as much as he wanted to go, the idea of being packed into a bar with 500 other people absolutely terrified him. Spike then offered to have David sit next to him at his table and be his special guest at the party. After some thought, he accepted.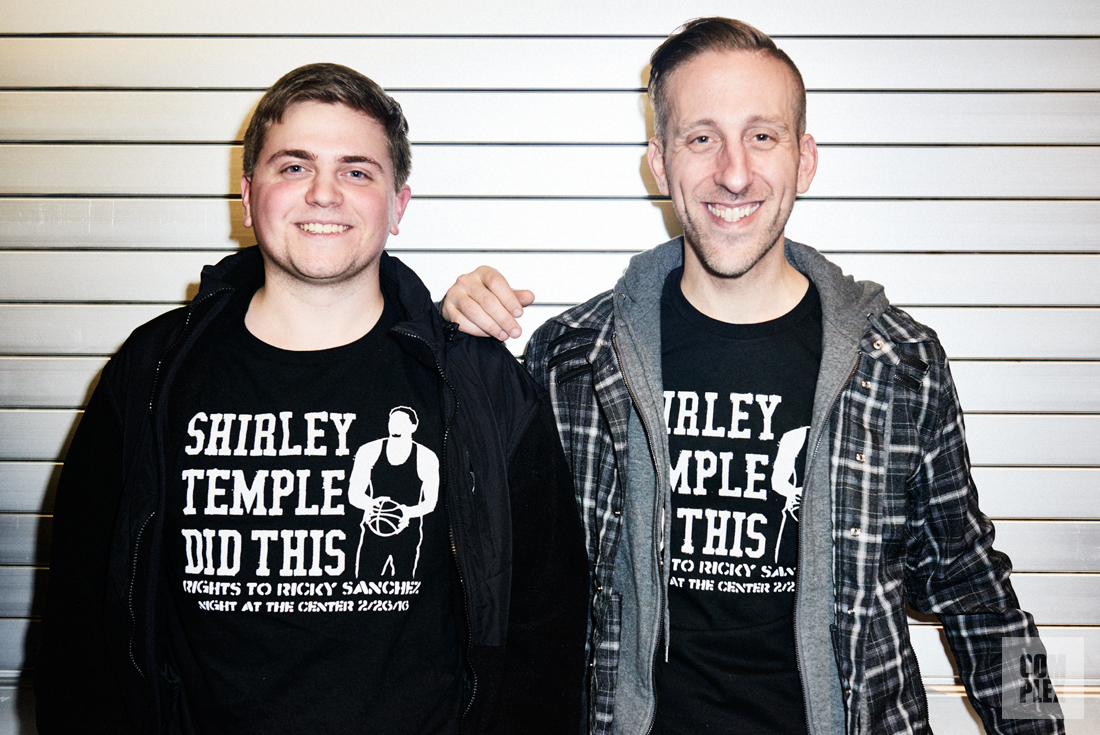 "He helped get me through it, and I ended up having a great time, all because of Spike," said David, who recently re-enrolled in a local community college where he is in his final semester. "Spike's been like a big brother to me, and I can tell you honestly if this wasn't a great group of people like this, I wouldn't be here. I usually hate crowds, but this is different."
It made me wonder—are cults inherently bad? I asked Eskin what he thought of the idea of a benevolent cult.
"The thing about this group is that we're just like anyone else, we just want to feel like we're part of something, and there's nothing embarrassing about that," he said, speaking more seriously. "Anyone who was at that lottery party last year—I mean, Buffalo Wild Wings ran out of clean glasses. There were so many people there they were turning away people at the door. People were tailgating outside—that's insane! I've been to so many concerts, so many sports events in my life where there are a ton of people, everybody's drinking and bumping into each other, there are always fights. At the lottery party, everybody was squeezed in and standing, nobody could get a drink, and all people were doing was thanking me for doing it. I didn't even do anything!
"I've done a lot in my career, I've had a lot of success, but the thing that makes me most proud is that this stupid podcast we decided to do on a whim can put on events like this, where everybody's just…happy."
My name is Max Rappaport, and whatever this is, I'm damn proud to be a part of it.