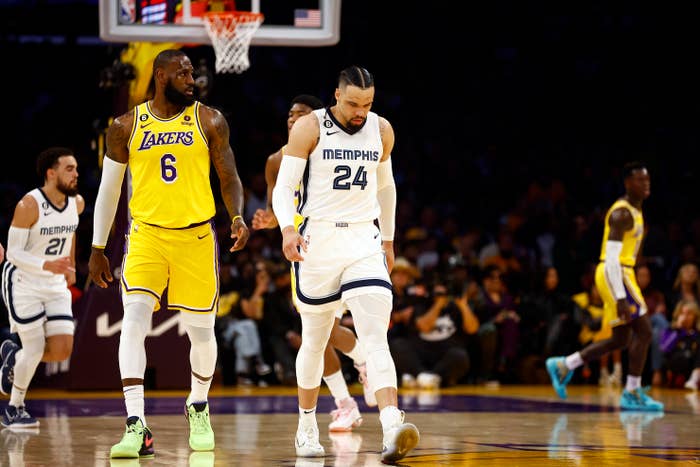 Dillon Brooks may be regretting poking the bear. After the Memphis Grizzlies dropped their second straight game in a row to the Los Angeles Lakers, the Mississauga-born player declined to speak to the media.
Instead of responding to journalists' questions about the team's performance in the overtime loss, Brooks told them "I'm out."
Brooks' unwillingness to talk to the media for a second straight game follows his overzealous comments after the Grizzlies' victory in Game 2 when he declared that he doesn't respect a player until they drop 40 points against him, aiming his comments squarely at LeBron James.
The 27-year-old wing also claimed that James wasn't at the same level as he was before his days as a Laker.
"He's not at the same level as he was when he was in Cleveland and winning championships in Miami," Brooks said after the Grizzlies' only win in the series. "I wish I got to see that. I mean, it would have been a harder, harder task (to guard him)."
After those comments, James put up 25 points in Game 3 and a historic 22 points and 20 rebounds in last night's Game 4, putting the Lakers up three games to one in the series. The only other Laker to get a 20-20 performance this century was Shaquille O'Neal in 2004. Shortly after the game ended, O'Neal added that LeBron's 20-20 night technically equalled 40, referencing Brooks' comments from Game 2.
Brooks, on the other hand, got ejected in the second quarter of Game 3 for striking James in the groin. During Game 4, James tied the game at the last second of the fourth quarter to send the game into overtime.
The series isn't over and Brooks still has time to redeem himself in Game 5 which will take place this coming Wednesday.