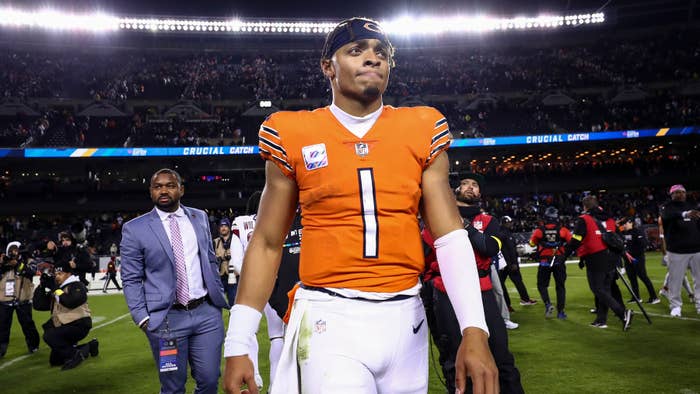 The NFL is on the cusp of a historic moment with two Black quarterbacks set to start in the Super Bowl for the first time when Jalen Hurts takes the field against Patrick Mahomes.
Those two quarterbacks signal a shift in the way the quarterback position is being viewed in the NFL today, with players such as Lamar Jackson, Kyler Murray, and Dak Prescott also being amongst the African American contingent of starting quarterbacks who are stars in the NFL.
And one of the rising young stars at the position is Chicago Bears quarterback Justin Fields, who rushed for 1,143 yards this past season while also contributing 25 total touchdowns. And with him being right in the middle of the Black quarterback renaissance, he sees it as a mark of the game changing.
"I think the game is just changing to be honest with you," Fields says. "Unless you have a crazy offensive line where you can just sit back there and chill in the pocket, you're going to have to be mobile. So I think you're going to find more African American quarterbacks who can extend plays."
We sat down with Fields to discuss being an Black quarterback in today's NFL, his goals to lead the Bears to the promised land, and his brand partnership with Marriott Bonvoy. Fields has partnered with Marriott Bonvoy and is styling a couple who has a chance to attend the Super Bowl, putting together outfits for them for three separate events.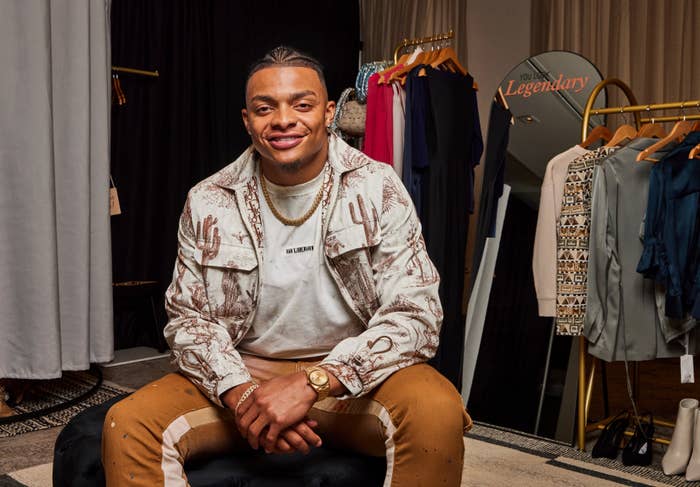 (This interview has been condensed for clarity.)
You have a partnership with Marriott Bonvoy. Can you explain what the partnership is about?
It's an NFL styling experience. I met a couple up there who has a chance to go to the Super Bowl, and it was basically me up there with a couple of stylists putting together their outfits. They are going to two events, so we got three outfits together.
With styling these people, was this something that you have always been passionate about, or did it develop over time?
It definitely developed over time. Growing up, I was more of a simple dude when it came to fashion. I wouldn't put on anything too crazy, but over the last couple of years my passion for fashion has definitely gone up. Now I'm open to trying out different clothes and stuff like that.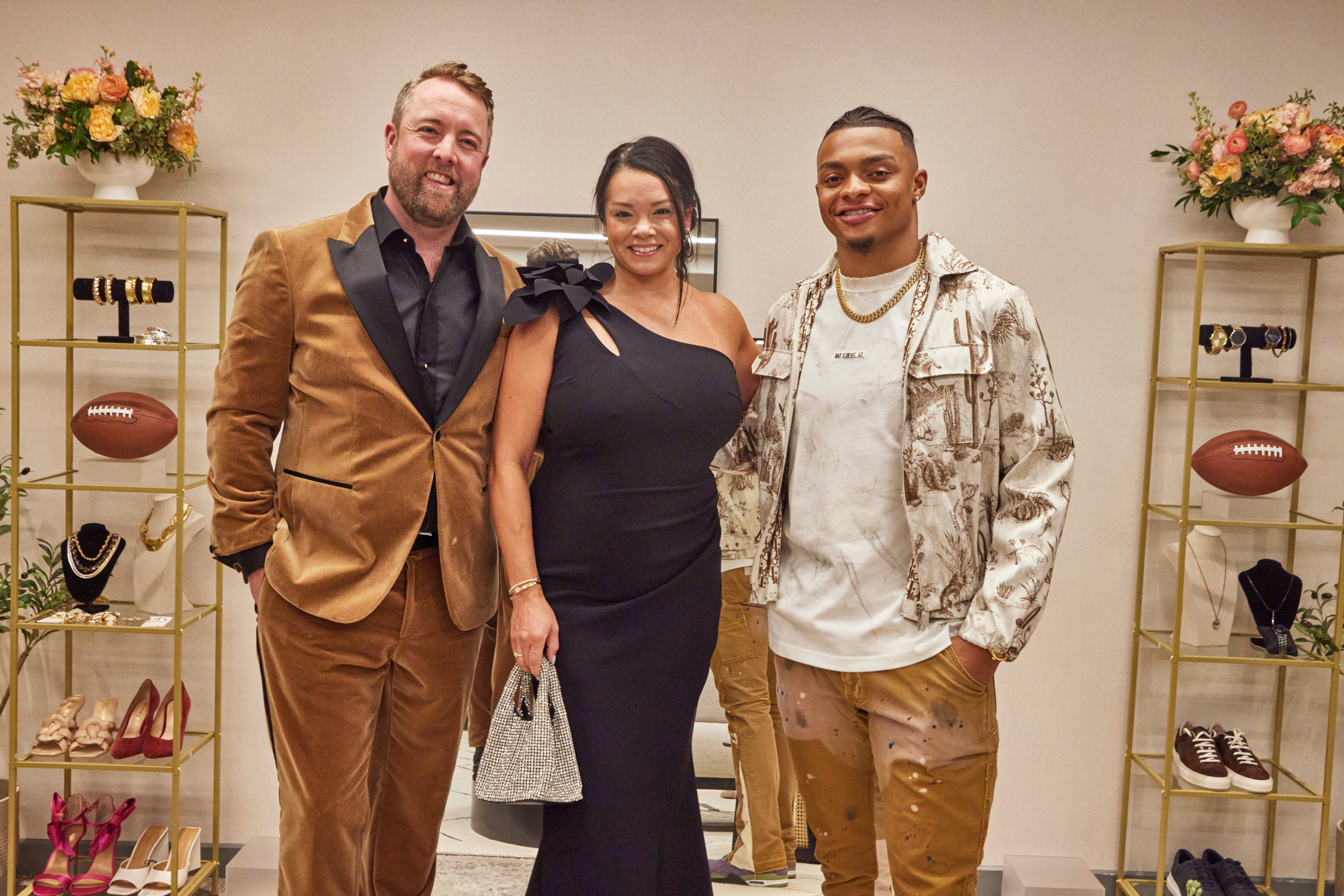 After a trying rookie season, you established yourself as one of the most electrifying players in the NFL. Can you speak to what the major difference was this year, and what led to this progression and leap?
Confidence and experience. I think those are the two biggest things. My rookie season, I didn't really know what to expect, and quarterback is the hardest position on the field. Last year I was more focused on what the offense is doing, whereas this year I was more comfortable, calling plays in the huddle and stuff like that. I was focusing more on the little details, growing as a quarterback with experience.
You play in Chicago, where they have been starved for a true franchise quarterback for a while now. What is it like playing for that fanbase in that city?
They are passionate to say the least. From the moment I got there, the amount of love that they showed me and continue to show me has been awesome. They deserve everything, their franchise quarterback which I hope is going to be me. And they deserve a Super Bowl because they have been desperate for one for a long time. No matter what our record was these last couple of years, they still showed up to the games and cheered their hearts out for us.
You guys had a lot of games this season that were close but slipped away down the stretch. How close do you think you all are to really be able to turn those losses into wins and make a leap forward next year.
I think just starting fast and finishing strong. There were like seven or eight games that we lost by one possession, so just finishing the games throughout all four quarters. Those last two minute drives, we are going to have to be great in those situations because games come down to one or two possessions. You have to be able to go out there and execute on each and every play.
Coming out of Ohio State, you were really known as a pocket passer, but you have caught people off guard by your ability to run. You crossed 1,000 yards rushing this season, just the third quarterback ever to do it. Can you speak to what the shift has been in the NFL to cause you to use your legs more?
At Ohio State, we probably had the best players in the country. Either us, Alabama or Georgia. So when we play teams who aren't as talented as us, you don't have to do too much. Just let your great players around you do their thing. But in the league, there are great players everywhere, and we had a few injuries on the offensive line this year. So I was just trying to run around and make things happen out of busted plays. I think this year I just had to use my legs a little bit more to put points up on the board. But hopefully this coming year and the rest of my career I won't have to run as much.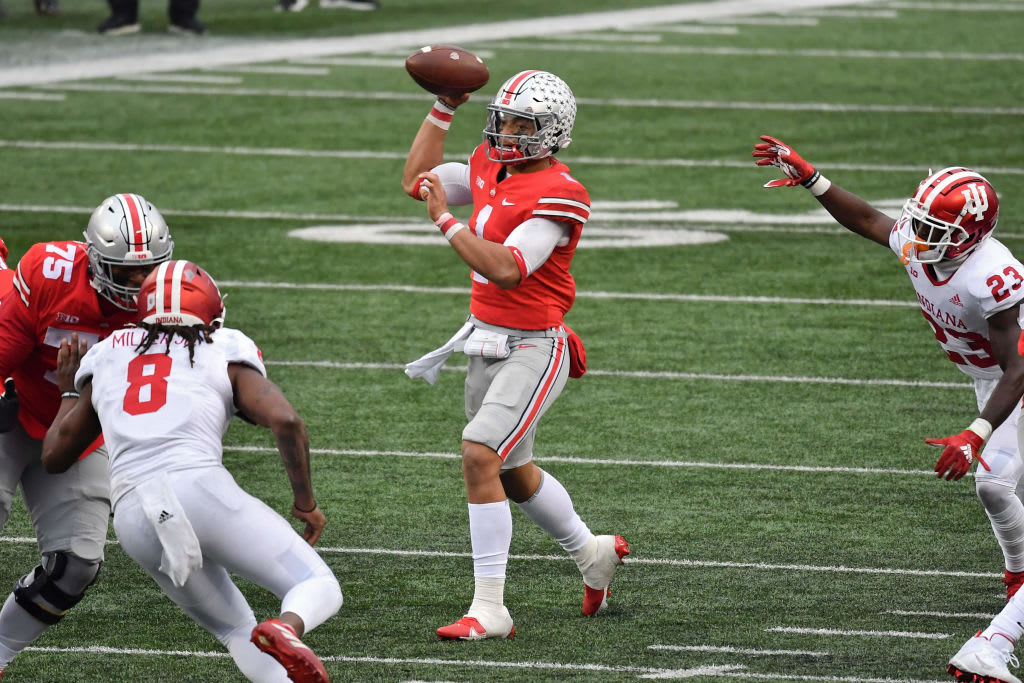 We see in the Super Bowl this year there are two Black quarterbacks starting. You all are starting to get more and more respect across the NFL, can you talk about that change in the NFL and how it feels to be a part of that renaissance?
I think the game is just changing to be honest with you. Unless you have a crazy offensive line where you can just sit back there and chill in the pocket, you're going to have to be mobile. So I think you're going to find more African American quarterbacks who can extend plays. The game is just changing, when you step on the field and see 260, 270-pound dudes running 4.6's that's tough for an offensive line to hold up every play. As a quarterback, you're going to have to use your legs and extend plays. Having that aspect of your game, it's very important in today's game.