Jaguars Reportedly Trade Jalen Ramsey to L.A. Rams
Adam Schefter reports the Jacksonville Jaguars traded the cornerback for two first-round picks in 2020 and 2021.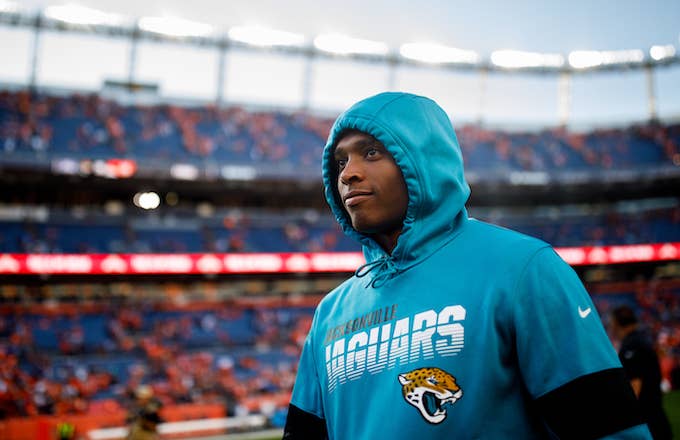 Getty
DENVER, CO - SEPTEMBER 29: Cornerback Jalen Ramsey #20 of the Jacksonville Jaguars walks on the field against the Denver Broncos after the game at Empower Field at Mile High on September 29, 2019 in Denver, Colorado. The Jaguars defeated the Broncos 26-24. (Photo by Justin Edmonds/Getty Images)
Jalen Ramsey didn't miss a paycheck....and got what he wanted.

Jacksonville gets back a haul of picks.

Rams get the best CB in the game.

Win-win-win.
Ramsey pretty much confirmed the trade via Twitter on Tuesday, sharing a photo of him rocking the Rams jersey.
Trade rumors have been swirling around Ramsey since 2018; however, the Jaguars PR director Tad Dickman tweeted last fall that the team had "zero intention of trading" the All-Pro CB. Fast-forward to the Jaguars' game against the Houston Texans last month, when Ramsey was spotted on the sideline getting into a heated argument with head coach Doug Marrone. 
A day after Jacksonville's 13-12 loss to Houston, Schefter reported Ramsey had asked to be traded. Ramsey denied leaking that request.
"Let's be clear about something," Ramsey told reporters. "... I didn't leak that information. Me and my agent, we are not the ones who leaked that information." He also said that his main focus is winning, whether that's on the Jags or somewhere else. "All I care about is winning man, shit," Ramsey added. "Everybody knows that. I want to f**king win."