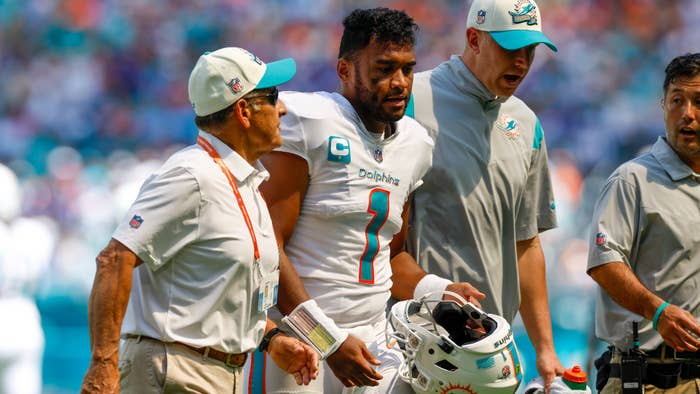 The NFL Players Association will launch an investigation into the alleged failure to follow the concussion protocol prior to Tua Tagovailoa's return in the second half of Sunday's game between the Miami Dolphins and Buffalo Bills, according to NFL Network insider Tom Pelissero. 
With just over two minutes remaining in the second quarter, Tagovailoa was escorted off the field with trainers following a late hit from Bills linebacker Matt Milano, which was flagged for roughing the passer. 
Tagovailoa tried to return to the huddle and appeared to stumble before two of his offensive linemen, Liam Eichenberg and Terron Armstead, stopped him from moving forward. 
Tagovailoa returned for the start of the third quarter, and played in the remainder of the game. Ian Rapoport of NFL Network reported Tua sustained a back injury earlier in the game, and "locked up" following the hit by Milano. He allegedly cleared the concussion protocol. 
My understanding of the Tua Tagovailoa situation: He tweaked his back in the 1st quarter on a sneak and didn't miss time. After the Matt Milano hit, his back locked up — leading to him wobbling. Into the locker room for a full concussion check. Fully cleared. Now on the field.
Rapoport previously reported that Tagovailoa was questionable to return due to a head injury.
"Kind of got my legs caught under someone, they were trying to push back and it felt like I hyper-extended my back or something," Tagovailoa told reporters during his post-game press conference, per Pelissero. "It kind of hurt. I got up, and that's kind of why I stumbled. My back kind of locked up on me. But for the most part, I'm good. Passed whatever concussion protocol they had."
"He kind of got bent back pretty severe on a quarterback sneak earlier," Dolphins head coach Mike McDaniel said of Tagovailoa's injury. "… When he hit his head on the ground, I assumed it was a head injury, but his legs got wobbly because his lower back was completely loose as he described it."