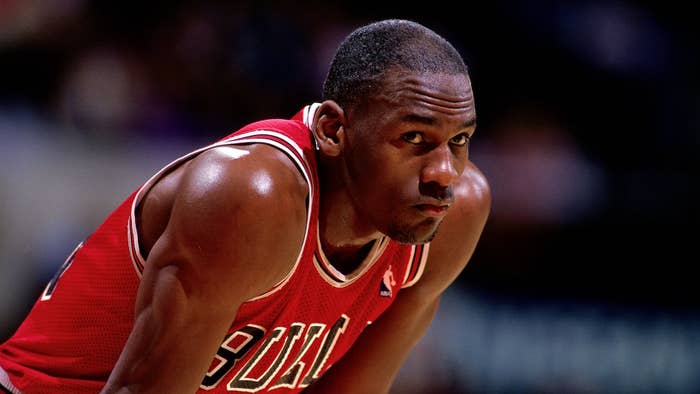 Speaking to The Athletic's Richard Deitsch, director Jason Hehir revealed that Michael Jordan once told him that he was concerned about what people will think of him after they watch his highly-anticipated upcoming ESPN docuseries The Last Dance.
"When people see this footage I'm not sure they're going to be able to understand why I was so intense, why I did the things I did, why I acted the way I acted, and why I said the things I said," Hehir recalls of a conversation he had with Jordan about the docuseries in 2017.
Jordan pointed to a specific moment where he was particularly hard on his Chicago Bulls teammate Scotty Burrell.
"When you see the footage of [me riding with Scotty Burrell], you're going to think that I'm a horrible guy," Hehir remembers His Airness telling him before defending his aggressive approach. "But you have to realize that the reason why I was treating him like that is because I needed him to be tough in the playoffs and we're facing the Indiana's and Miami's and New York's in the Eastern Conference. He needed to be tough and I needed to know that I could count on him."
The Last Dance will track the Bulls' 1997-98 campaign, the final season that Jordan, Scottie Pippen, and Dennis Rodman played together under head coach Phil Jackson. 
While Jordan may have been worried in retrospect about how he would be perceived, Deitsch pulls a quote from MJ in the seventh episode of the docuseries where he unabashedly justifies his leadership techniques.
"Look, winning has a price," Jordan said. "And leadership has a price. So I pulled people along when they didn't want to be pulled. I challenged people when they didn't want to be challenged. And I earned that right because my teammates who came after me didn't endure all the things that I endured. Once you joined the team, you lived at a certain standard that I played the game. And I wasn't going to take any less.
"Now, if that means I had to go in there and get in your ass a little bit, then I did that," he continued. "You ask all my teammates. The one thing about Michael Jordan was he never asked me to do something that he didn't f–king do."
Say what you will about his sometimes ruthless approach, the Jordan-led Bulls saw results. Chicago ended up winning six titles in an eight-year span.
The Last Dance will begin airing on ESPN on April 19.