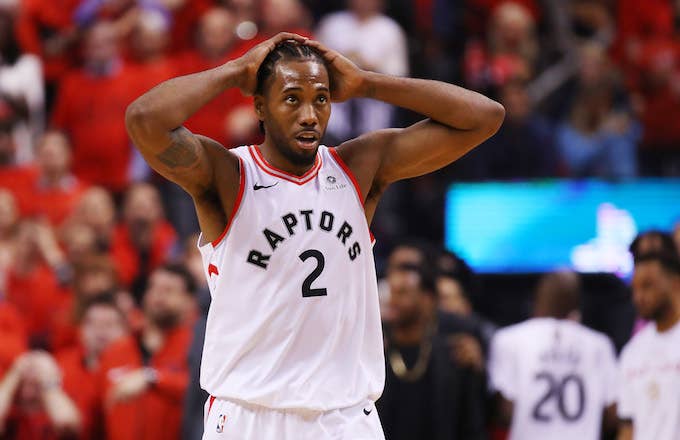 The New York Knicks were so concerned about missing their free agent targets this offseason that the team's front office canceled a potential Wednesday meeting with Kawhi Leonard, according to Marc Berman of the New York Post. 
Within the first 24 hours of NBA free agency, more than $3 billion was spent by teams. Since the Knicks had over $70 million to spend, and needed to shell out at least $98.226 million of their 2019-20 salary cap to exceed the cap floor, it was in their best interest to put that money towards players that they actually wanted to have on the roster next season and beyond. 
Aside from spending big on Julius Randle, the Knicks added Bobby Portis, Taj Gibson, Reggie Bullock, Wayne Ellington, and Elfrid Payton to two-year deals. Since the payroll needed to be used, the Knicks could afford to take high price chances, but in order for these opportunities to present themselves, the team needed to act quick. 
Now let's imagine the Knicks waited on Kawhi. Look at the players still remaining in free agency that they would need to spend somewhere in the ballpark of $30 to $40 million on. It isn't too appealing, right? 
With KawhiWatch heading into Day 4, the Los Angeles Lakers have been forced to limit their spending in anticipation of the possibility that Leonard chooses to wear the purple and gold next season, and eats up a large chunk of their payroll.
If Kawhi decides to go elsewhere, the Lakers and their current six-man roster will need to be filled out by throwing some lucrative deals at mediocre talent. The Lakers, however, can take that chance because they still have LeBron James, Anthony Davis, and Kyle Kuzma. 
The Knicks couldn't afford to play that level of high stakes poker. They're already getting mercilessly dragged for missing out on Durant to the Nets.