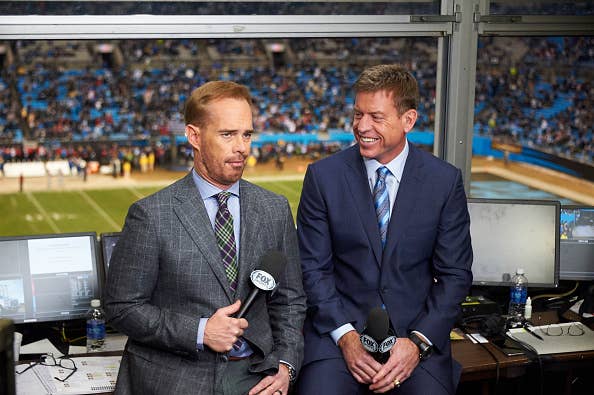 The hate towards Joe Buck and Troy Aikman is strong. So much so that a Green Bay Packers fan named Andrew Dorff created a petition to try and prevent the NFL on Fox's No. 1 broadcasting duo from covering their team's divisional round playoff game against the Dallas Cowboys on Sunday. Dorff wants to have Buck and Aikman banned because he's "sick of the biased announcing" and wants to "prohibit them from giving their constant negative input about our team."
Considering Aikman played his entire 12-year NFL career with the Cowboys, it's probably difficult for him to not be just a little biased towards his former team, no matter how hard he tries. There's no excuse for Buck, who was born in Florida and raised in St. Louis. As of right now, the petition has over 20,000 supporters, inching closer to its goal of 25,000. 
The supporters who hail from Wisconsin claim that they signed the petition because the duo are "so negative," "morons," have "no life or emotion," and "are so negative about the Packers." Even people who don't live in Wisconsin have signed on because they can easily identify with the horrendous broadcasting tandem that is Buck and Aikman.
If the Packers make it all the way to Super Bowl LI, their fans will just need to accept the fact that Buck and Aikman will be in the booth when Fox covers the game. Either get used to it now or else.  
Send all complaints, compliments, and tips to sportstips@complex.com.