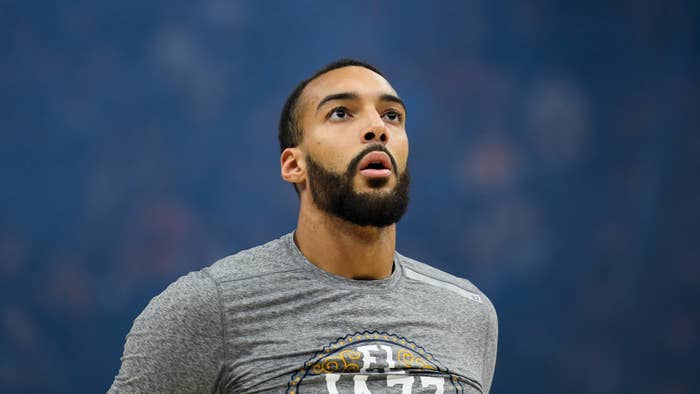 UPDATE, 3/12/20, 10:55 a.m. ET: According to ESPN's Adrian Wojnarowski, Donovan Mitchell has also tested positive for the coronavirus.
The Athletic's Shams Charania adds that Mitchell was the only player or personnel from the Jazz who tested positive. Mitchell took to Instagram to thank fans for their support, and asked people to "continue to educate themselves" and "behave responsibly" during the outbreak. 
Prior to the Thunder/Jazz game being postponed and news of Mitchell testing positive, the Jazz player had worked out at an Oklahoma City-area high school:
See original story below.
On Monday, Utah Jazz center Rudy Gobert spoke with reporters as the NBA implemented new media guidelines in response to concerns over COVID-19, and in an act of defiance, he got up and touched the mic and recorder of every reporter.
According to Shams Charania of The Athletic, Gobert tested positive for coronavirus two days later.
Things took a strange turn seconds before tip-off on Wednesday when Oklahoma City Thunder head medical staffer Donnie Strack ran over to speak with officials to discuss something related to Gobert's "illness" designation.
It was revealed that officials were awaiting league approval to proceed, given the illnesses of Gobert and his Jazz teammate Emmanuel Mudiay. 
Then, it was announced that the game was postponed.
After all the fans left, both teams' benches were wiped down. 
The Jazz and Thunder players are currently quarantined in the OKC arena, league sources tell ESPN. This is following Rudy Gobert testing positive for the coronavirus.
Meanwhile, players and staff on both teams were being quarantined in their respective locker rooms inside Chesapeake Energy Arena. 
Prior to tip-off as the game was delayed, Chris Paul ran over to the Utah bench and said "what's wrong with Rudy?" and they all yelled for him to get away. Now all the players are quarantined in their locker rooms, being tested for the virus.
Was just on the phone with Rudy. He is doing good man. Lets not panick everyone. Love you all❤️
Evan Fournier provided an update on Gobert's condition and said he's "doing good."
#Breaking

: The team plane used to transported the Utah Jazz to Oklahoma City was later used to transport both the Orlando Magic and the Memphis Grizzlies in recent days.

pic.twitter.com/2vUTOcKdR8
It was also reported that the same team plane that the Utah Jazz used was recently utilized by the Grizzlies and Magic.
On Thursday, Gobert took to social media, where he addresed his diagnosis, and apologized to the people that he "may have endangered."