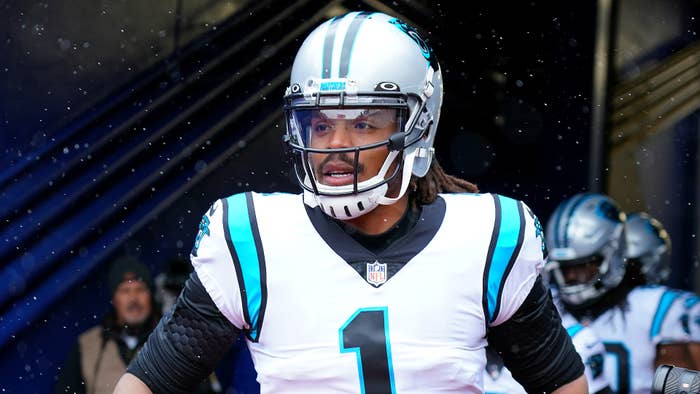 Ever since Cam Newton confidently shouted "I'm Back" after scoring a rushing touchdown in his first game since returning to the Carolina Panthers last month, his play hasn't quite lived up to that exuberant proclamation. In fact, Newton reached a new low in the Panthers' 32-6 loss to the Tampa Bay Buccaneers Sunday, passing for only 61 yards and getting pulled from the game for Sam Darnold late in the third quarter. 
With the Panthers set to close out the 2021 campaign on back-to-back road games, Newton discussed the very real possibility that he has played his last game with the Panthers at home in his postgame comments. Cam coupled his emotional remarks with what appeared to be a moment of reflection on his 11-year professional football career, saying, "Football has been good to me, I was able to walk away unscathed." 
"I don't want to sound like I'm retiring, but I've had some great memories," he continued. "As you think about, as you move forward, it takes more than one guy, it takes more than one talent, it take more than a couple guys." 
Newton's comments struck many people as a possible indication that he's heading towards retirement, despite him emphasizing that hanging them up is not part of his plan.
Newton, who signed with the Panthers last month after becoming one of the Patriots' preseason roster cuts in late August, revisited the initial question regarding his time playing in Carolina, rattling off the names of several former teammates on the offensive and defensive side of the ball, and how "they understood what [the team's slogan] 'Keep Pounding' meant." 
The former MVP expressed uncertainty about his future while also striking a contemplative tone, wondering if he's still "good enough" following his season-worst performance earlier today. 
"I don't know what the future holds, but I'm so let down because the city of Charlotte has been good to me...You feel empty, like damn, are you good enough?" Newton asked.
Since Cam's return to the team for a second stint, the Panthers have lost five straight with him under center. In three of the last four games, Carolina head coach Matt Rhule has shuffled between quarterbacks.
Cam refused to use his time at the podium to point fingers at any of his teammates, taking responsibility for the offense's failures, while noting that his late-season arrival meant that he's still playing catch up in terms of understanding the offense. 
"I'm not going to complain about getting into a rhythm, about what this person didn't do...I'm going to be a man and take responsibility," he said. 
Despite the team's 5-10 record, Newton believes that there are "guys in that locker room you can win with." The Panthers won their first three games of the season, and became the subject of the over-reactive sports media that was fixated on how their defense gave up 30 points in that three-game span to the league's cellar-dwellers, such as the Jets and Texans. 
In the same breath, Newton vouched for the coaching staff, mentioning how there are "coaches in that locker you can win with." Rhule has recently come under fire from the Panthers' fan base with chants calling for his dismissal, but Cam suggested that the blame doesn't fall on his coach's shoulders. 
"Me, the whole Charlotte community, we deserve better. Hell, I want better...I heard the boos, I heard the chants, but last time I checked coach Rhule wasn't out there playing," he explained.
Newton took another moment to show his support for Rhule by pointing out that, like the players, he's also competing for his job and wants the team to succeed. When asked if he thought this was it for him, Cam initially seemed hesitant to answer, claiming that he would like to keep it "a buck," but couldn't because his kids were watching. When he finally got around to answering the question, he half-heartedly responded that he doesn't think so. 
Even though he repeatedly tried to squash any hints of retirement speculation, Newton's comments came across as if his time in the NFL could be coming to an end.
The tone of his comments were not lost on fans, who oscillated between speculating about his potential retirement, to feeling emotionally affected by his passionate words. Check out reactions to Newton's heartfelt postgame comments below.