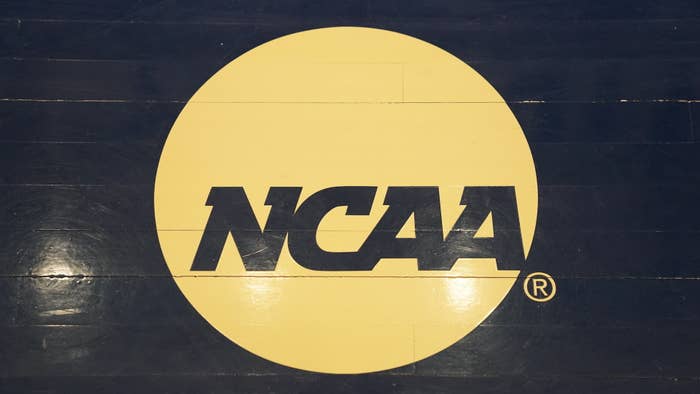 The show must go on for the 2020 NCAA Tournament, but the both the men's and women's games will be played without anyone in the stands, as concerns over the spread of coronavirus continue to grip the nation. The NCAA made the official announcement on Wednesday.
"The NCAA continues to assess the impact of COVID-19 in consultation with public health officials and our COVID-19 advisory panel," NCAA president Mark Emmert said in the above statement. "Based on their advice and my discussions with the NCAA Board of Governors, I have made the decision to conduct our upcoming championship events, including the Division I men's and women's basketball tournaments, with only essential staff and limited family attendance. While I understand how disappointing this is for all fans of our sports, my decision is based on the current understanding of how COVID-19 is progressing in the United States. This decision is in the best interest of public health, including that of coaches, administrators, fans and, most importantly, our student-athletes."
Late last month, the National College Players Association, a nonprofit group that advocates for collegiate athletes, released a statement suggesting that March Madness games be played without spectators. "In the wake of the emerging coronavirus pandemic, the NCAA and its colleges should take precautions to protect college athletes," the statement said. "In regard to the NCAA's March Madness Tournament and other athletic events, there should be a serious discussion about holding competitions without an audience present." 
On Tuesday, Ohio governor Mike DeWine suggested that all indoor athletic events take place without a crowd after the state announced three confirmed cases of coronavirus with 15 people still under investigation.
The University of Dayton was scheduled to open this year's Tournament by hosting the "First Four" games on March 17 and 18. A portion of the 1st and 2nd round games would be held at Rocket Mortgage FieldHouse in Cleveland on March 20 and 22.  
In the wake of the coronavirus outbreak spanning nearly the entire country, preventative measures have been taken everywhere. SXSW in Austin, and Ultra Music Festival in Miami have been cancelled. The theatrical releases of No Time to Die and Peter Rabbit 2 have been postponed. The NBA has also been contemplating the no fans in the stands approach.
March Madness begins with Selection Sunday on March 15, and is scheduled to conclude with the NCAA championship game on April 6.