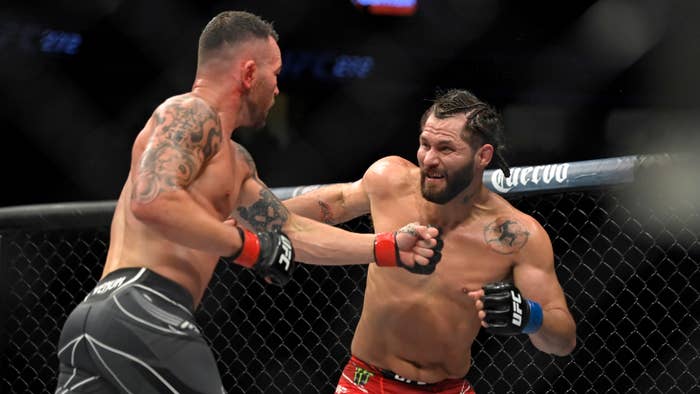 UPDATED 3/23, 11:07 p.m. ET: Jorge Masvidal​​​​​​​ has been arrested after allegedly attacking Colby Covington​​​​​​​ in Miami, TMZ reports.
The 37-year-old was charged with aggravated battery with a mask and criminal mischief. His bond was set at $15,000.
See original story below.
Colby Covington is claiming that fellow UFC star Jorge Masvidal caught him off guard and punched him in the face after having dinner in Miami.
According to police reports obtained by TMZ, Covington was having dinner at Papi Steak in Miami with the YouTubers Nelk Boys when Masvidal caught him exiting the restaurant and "ran up to him from his left, and without notice, punched him with a closed fist two times in the face."
Covington beat Masvidal during UFC 272 at the beginning of March after the match was decided by unanimous decision in his favor. Now, Masvidal could be facing felony battery charges in the alleged attack after the authorities were called to the scene. 
Masvidal also took to Twitter where he posted a video tagging Covington and saying that the fighter shouldn't have been disrespectful.
"I'm calling this the 'Show Your Face Challenge,'" he said in the video. "What's up, I'm from Dade County. If you talk that shit, you have to back it up. That's how my city rolls." 
The fighter tweeted again on Tuesday morning seemingly issuing another warning to Covington. "Good morning to everyone except those that think talking about someone's kids is cool," he tweeted.
Covington allegedly also suffered an abrasion on his wrist after the attack. Masvidal is currently listed as a suspect in the altercation as police investigate exactly what went down.