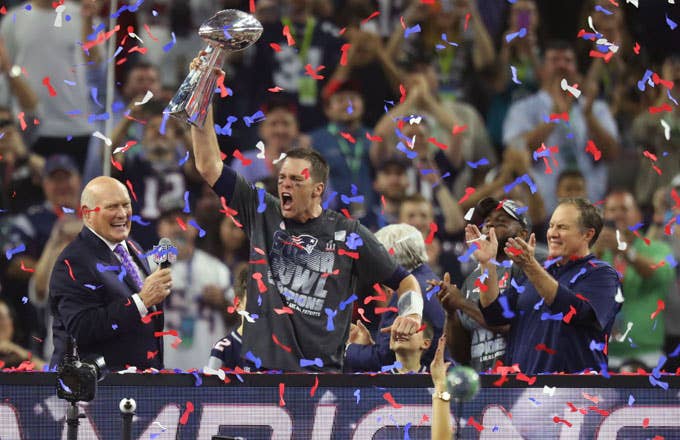 On Monday, ESPNpublished a good read on Tom Brady, and in it the notion of what Tom Brady feels about his own G.O.A.T. status was talked about (which is a topic that has been discussed at length on here, especially after his latest Super Bowl victory). The idea seems to have been brought up again, even though it's supposed to be the damn offseason, because Brady was just recently put on the cover of the upcoming Madden's "G.O.A.T. edition."
Brady, ever the veteran at playing the humble...uh...veteran in public, gave credit to a number of past NFL players who he might pick as the greatest above himself:
"I don't remember a lot of those guys like Jim Brown playing. I remember Lawrence Taylor, obviously; he terrorized the 49ers. ... I know that I haven't played against a lot of those guys, but I've also played against a lot of guys that when I think of Peyton Manning and Marvin Harrison and Dwight Freeney and Jason Taylor and Ray Lewis and Ed Reed and Darrelle Revis—if those guys aren't the best, then whoever is better than them is only better by percentage points. It's not a big difference. So, like Deion Sanders, for example. I remember watching him play, how spectacular he was. But I can't imagine someone that much better than Revis. If there were, you couldn't complete a ball against Darrelle. So completing a ball against Deion is not much different than completing a ball against Darrelle."
From there he was asked if he at least thinks he's the greatest QB of all-time, like the marketing people at EA Sports want us to believe. He declined to take that title, and instead gave credit to the system. "I don't agree with that and I'll tell you why," he said. "I know myself as a player. I'm really a product of what I've been around, who I was coached by, what I played against, in the era I played in. I really believe if a lot of people were in my shoes they could accomplish the same kinds of things. So I've been very fortunate. ... I don't ever want to be the weak link."
We're not sure if we buy that (at all, actually, check the links above). But we've seen enough athlete interviews to get why he said it.
Brady also reiterated his intent to play well into his 40s (which once seemed insane, but now seems insane to laugh at), talked about his status amongst the greatest athletes of all time (not just football players), and was asked whether he's annoyed that the team hasn't traded backup QB Jimmy Garoppolo yet. The piece is full of good anecdotes and info. Give it a look when you've got the time.