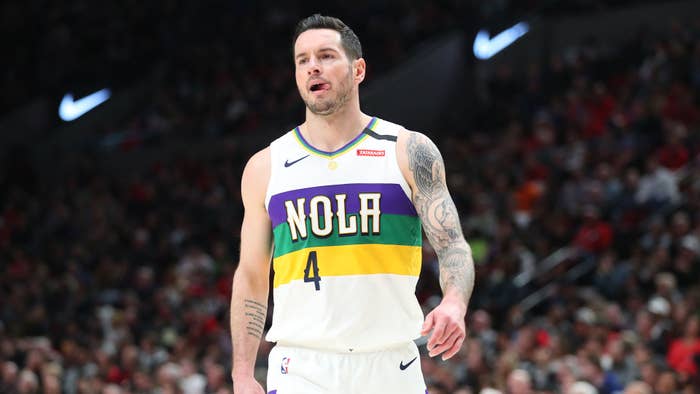 During the fairly lengthy introduction to the most recent episode of his podcast, The Old Man and the Three, JJ Redick knocked the front office of his now-former team, the New Orleans Pelicans, due to the apparent dishonesty they displayed towards him before they sent him to the Mavericks at the recent NBA trade deadline. 
First thing's first, it should be noted that Redick had nothing but nice things to say about New Orleans as a city. He made that very clear multiple times in his intro. He also had kind things to say about his time on the team, and also about the squad he's now been sent to. Instead his grievance seems to be with higher-ups telling him one thing and then doing another, which is probably something most people in the American workforce can relate to. 
On the pod, Redick revealed he had made a trade request to the Pelicans back in November, and that he held conversations on the subject with executive David Griffin and general manager Trajan Langdon throughout. He says that his trade request was due to the fact that he wanted to see his Brooklyn-based family more, which was made significantly more difficult due to COVID protocols, and that he had understood (since around early February) that he was going to get a buyout or that he was going to be sent to a team in the northeast that was closer to his family. Obviously, Dallas puts him further away from there. Because of that, he concluded that Griffin "did not honor his word" to get him to a "situation you like." 
Asked by co-host Tommy Alter: "Why should any player trust this organization," Redick's answer was that they probably shouldn't. 
"I don't think you're going to get honesty from that front office, objectively speaking," he says around the 17:45-minute mark. "That's not an opinion, I just don't think you're gonna get that. I don't think what happened with me is necessarily an isolated incident. I think front offices around the league operate in their best interest. I get that. I understand that. Truthfully… I think I was a little naive thinking I was in Year 15 and I attempted to do things right throughout my career. But in terms of this front office, yeah, it's not something where I would expect certainly the agents who worked on this with me to ever trust that front office again."
Referencing the COVID situation, as well as the standings, he said that he told Mark Cuban "[I]n any other year, I'd be thrilled to get traded to Dallas." You can listen to the whole podcast (with the relevant comments starting around 12:33). While nobody's crying for Redick (including himself), it's still a striking inside look at how player personnel drama plays out from the perspective of a league veteran. 
Anyway, how you square that up with Griffin's week-old comments on the trade to reporter Andrew Lopez is up to you. In those comments, Griffin said the team tried to work a deal to get Redick near his family, but maybe (reading through the lines) teams in that region weren't blowing the Pels away with offers to land the 36-year-old. The last sentence about "the right thing to do for [Redick] and his family" is directly contradicted by Redick's comments. Anyway, read the full answer as transcribed by Lopez below: