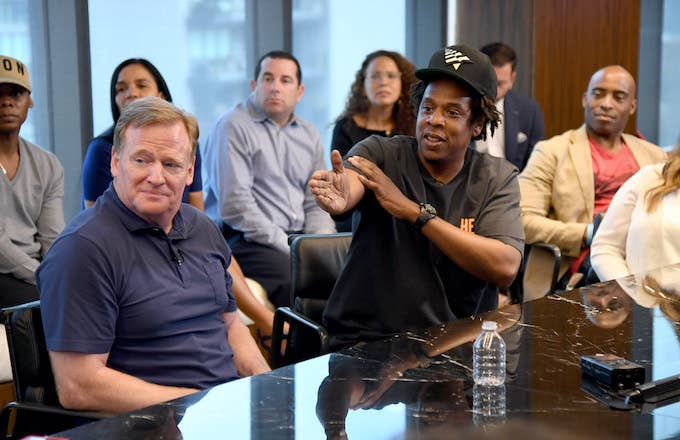 After reportedly pushing for Colin Kaepernick to get a chance to showcase his skills, it sounds like JAY-Z isn't too enthused with the way Kap handled his NFL-organized workout.
A source close to the situation tells Complex JAY-Z feels disappointed with Colin's actions and believes he turned a legitimate workout into a publicity stunt. Kaepernick decided to forgo a workout hosted by the NFL and organized his own after the league barred media access.
Shortly before the session was set to begin on Saturday, Kaepernick informed the public that he would not be going to the event at Falcons' training facility. Instead, he hosted his own workout at a high school that was 60 miles away in Riverdale, Georgia. Kaepernick said the change was made to allow media coverage during the session as the workout at the training facility would have been closed to journalists. Kaepernick addressed this in the speech he gave following his workout.
"Our biggest thing with everything today was making sure we had transparency with what went on. We weren't getting that elsewhere so we came out here," Kaepernick told the media. "We appreciate what y'all do. We appreciate y'all being here today. We appreciate the work y'all do for the people and telling the truth."
The league said in a statement that it was not informed of his decision prior to Kaepernick telling the public and was disappointed by Kaepernick's decision because the workout was "designed to give Colin what he has consistently said he wants." The NFL promised that 25 teams were present and all 32 clubs would have gotten footage of the workout. In contrast, only eight teams made it to Riverdale to see Kaepernick's performance.
Additionally, the NFL claimed it made every effort to adhere to Kaepernick's requests and worked with the quarterback's representatives and invite his agents to suggest interview questions. The NFL also agreed to let Nike shoot an upcoming commercial that would feature all the teams that were present. Nike says that the company didn't have any cameras on the ground to film the session, but it didn't deny requesting to use the franchise names for the ad.
Kaepernick's move led ESPN's Stephen A. Smith to believe that the quarterback's main focus isn't football. On Saturday, Smith aimed one of his patented rants at Kaepernick. During the three-minute take, Smith claims that Kaepernick "doesn't want to play" football and would rather be an example.
"He don't want to play," Smith said close to two minutes into his video. "He wants to be a martyr," Smith said. "But guess what, it ain't working this time." 
Smith went on to say that Kaepernick hurt his chances of getting back into the league by not complying with the media request. He thinks that this is an attempt to control the narrative. 
"This man wanted a chance. Twenty-five teams show up in Georgia at the Atlanta Falcons practice facility—state of the art facility, NFL personnel, equipment, video, everything, and what does Colin Kaepernick do? Because of some issue with a liability waiver, Colin Kaepernick wants to change the venue," Smith said. "You don't want to work. You just want to make noise and you want to control the narrative."
This didn't sit well with Eric Reid. The Carolina Panthers safety went after Smith for "tap dancing" for the NFL by criticizing Kaepernick's decision.
Following the initial story, the Roc Nation Twitter account shared, "A source at Roc Nation tells us JAY-Z (@S_C_) hasn't spoken to any sources," which seems to be in reference to reports of JAY-Z's reaction to Kaepernick's workout.