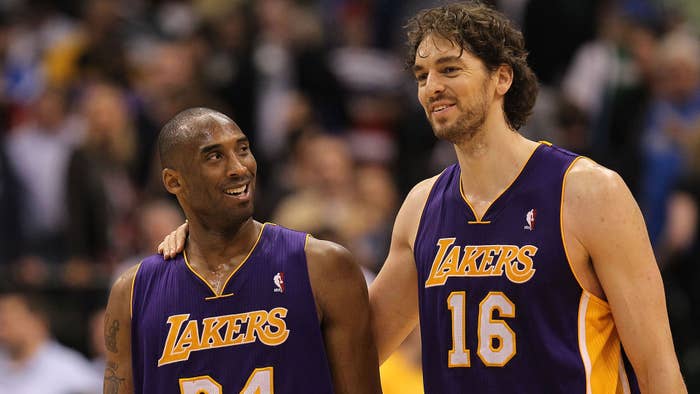 Friday would have been Gianna "Gigi" Bryant's 14th birthday. To help her family celebrate, Kobe Bryant's former teammate, Pau Gasol, sent Vanessa Bryant a birthday cake dedicated to her daughter. 
Vanessa Bryant shared a picture of the white and gold cake on her IG Stories. It was decorated with multi-colored butterflies with a topper that read "Happy Birthday Gigi." There was also a banner at the bottom with Gigi's "Mambacita" nickname. In the picture, Vanessa thanked Gasol and his wife, Catherine McDonnell, for sending the cake. 
Vanessa accompanied this with a post dedicated to her daughter.
Pau Gasol played on the Lakers from 2008-2014, winning two championships with Kobe. In addition to sending the cake, he also shared a picture of him and his wife holding hands wearing red bracelets that honor Gigi. 
"Happy birthday Gigi!" Gasol tweeted. "Missing you an extra lot today."
Like her mother and Gasol, Gianna's older sister, Natalia, shared a tribute to her sister.
"Happy 14th Birthday Gigi!" the 17-year-old wrote. "I miss your smile everyday but I know you're always smiling down on us from heaven with daddy.I LOVE YOU."