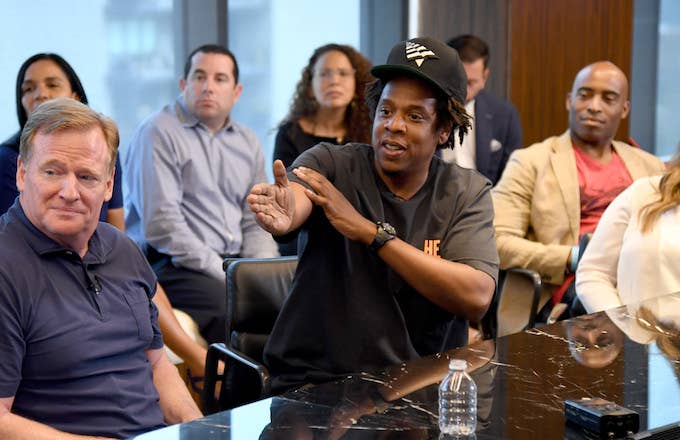 JAY-Z reportedly played a part in getting Colin Kaepernick an opportunity to prove he belongs in the NFL. 
While breaking down Kaepernick's upcoming workout, NFL.com's Ian Rapoport revealed that Hov potentially used his position with the NFL to sway teams into taking a look at the quarterback. "I am also told that JAY-Z—who has been working with the NFL on some social justice initiatives—was involved in this and pushed this idea to some extent," Rapoport said. 
Rapaport then took to Twitter where he disclosed that the pending workout was not included in the settlement Kaepernick reached with the NFL in February.
JAY-Z announced his partnership with the NFL in August. This move brought the mogul a lot of heat and Jigga unintentionally added fuel to the flames when he suggested that players have "moved past kneeling." Although his main role is to help manage the NFL's music and entertainment, Jigga is also revamping its "Inspire Change" initiative. News that he might be connected to orchestrating Kaepernick's workout helps proves that his work with the NFL's social justice ventures isn't just for optics.