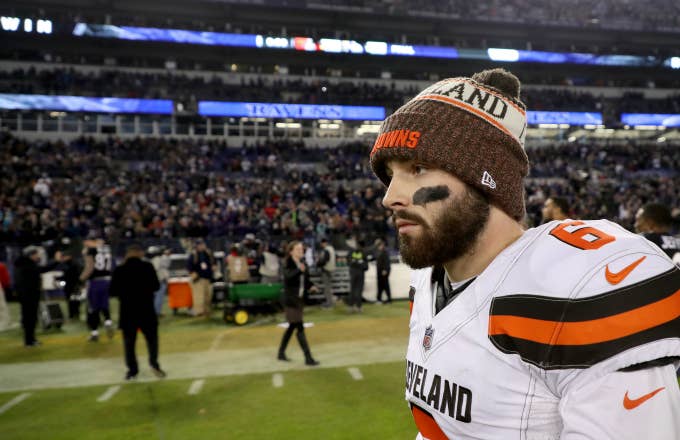 On Tuesday, Cleveland quarterback Baker Mayfield sat down with Complex Sports to discuss the hype and expectations surrounding the Browns. During the conversation, Mayfield got candid about his feelings towards Fox Sports personality, Colin Cowherd.
"He's supposed to bring out facts and he chooses to put out irrational opinions," Mayfield stated. "People can say what they want, they can say I'm not really supposed to comment on this, but a liar is a liar and a guy that is really just full of it needs to be put in his place."
As expected, this did not sit well with Cowherd. On Wednesday's episode of The Herd, Cowherd decided to defend himself against Mayfield's claims. 
"In fairness, I don't think I would be able to build a 25-year career based on irrational opinions," Cowherd began. "I think I'm opinionated. Sometimes I'm wrong, but that doesn't make it irrational. I can be wrong, and I am."
"In fact, about ten years ago when we started 'Colin Right, Colin Wrong,' I felt like it was important—since I'm sitting here blabbing all day—to have a segment every week where I acknowledge I whiffed on that," he continued. "I'm in the opinion business."
It was this "opinion business" that sparked his feud with Mayfield. On several occasions, Cowherd questioned the rookie's leadership abilities in addition to calling out the antics of Mayfield's new, superstar teammate Odell Beckham, Jr. These sentiments prompted Mayfield to insist that Cowherd use his platform more wisely rather than standing by his mistakes. 
"I'll be the first one to tell you I'm not always right. I know my flaws and I'd love for people to correct me so I get better," Mayfield told Complex. "[Cowherd's] a guy who thinks he's always right. He throws people names under the bus. He can say what he wants about me, but as soon as he starts talking about my teammates, that's when I have a problem."
To this, Cowherd went on record explaining that he may be wrong about a lot of things, but he's far from a "liar."
"I think [Mayfield's] confusing wrong with lying. Nothing I've ever said about [Odell Beckham, Jr.] was factually incorrect," Cowherd continued. "OBJ gave me a list of places he wanted to play, Cleveland wasn't one of them. Maybe he changed his mind, but what he told me—he didn't bring up Cleveland."
Judging by Cowherd's response, the tensions between himself and Baker Mayfield do not seem to be dying down anytime soon. This relentlessness on both ends is something Cowherd used to further solidify his opinions on Mayfield's career trajectory.
"Baker your problem is you're in a fight now with a media person," Cowherd said. "That's below Tom Brady. That's beneath Russell Wilson. That's beneath NFL quarterbacks like the legendary Bart Starr. Brett Farve didn't do this. You're actually, Baker, proving my point. I never questioned if you could play. I said I didn't want to deal with your immaturity and judgment."
Hear Colin Cowherd's full response below: