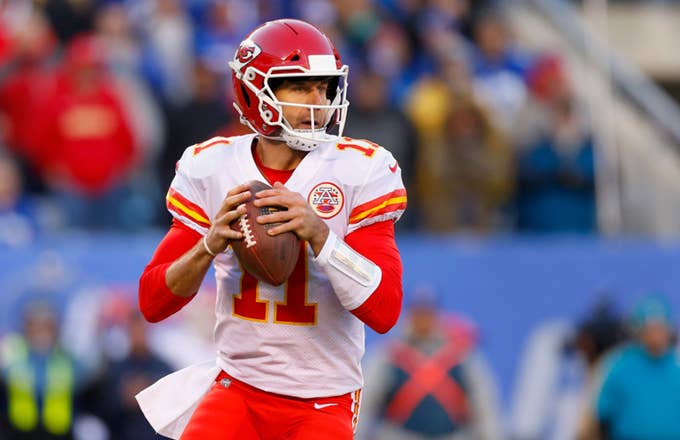 The Kansas City Chiefs have reportedly agreed to trade quarterback Alex Smith to the Washington Redskins. The teams will not be able to complete the trade until March 14—the league's first day of the year—but they have officially agreed on terms.
The Kansas City Star's Terez A. Paylor was the first to break the news, reporting that the Chiefs stand to save $17 million by freeing themselves of Smith's lumbering $20.6 million salary cap space. ESPN's Ian Rapoport tweeted that the Chiefs will receive a 2018 third-round pick, plus an unnamed player whose identity will be revealed on Wednesday.
Smith has settled on a four-year contract extension with the Redskins, according to ESPN's Adam Schefter.
While no paperwork can be signed until the aforementioned allotted date, multiple sources say that Smith will average $23.5 million each year in new money, with around $70 million in guaranteed compensation.
Of course, as fans on Twitter are already pointing out, Smith's four-year extension comes after Redskins quarterback Kirk Cousins played under the franchise tag for the previous two seasons—meaning he only had a one-year guaranteed deal.
This trade almost certainly means the Redskins won't give Cousins a transition tag, as was previously expected, and he'll be an unrestricted free agent this offseason.
Friendly reminder: The Super Bowl isn't even underway and the NFL offseason is already lit. You gotta love football.