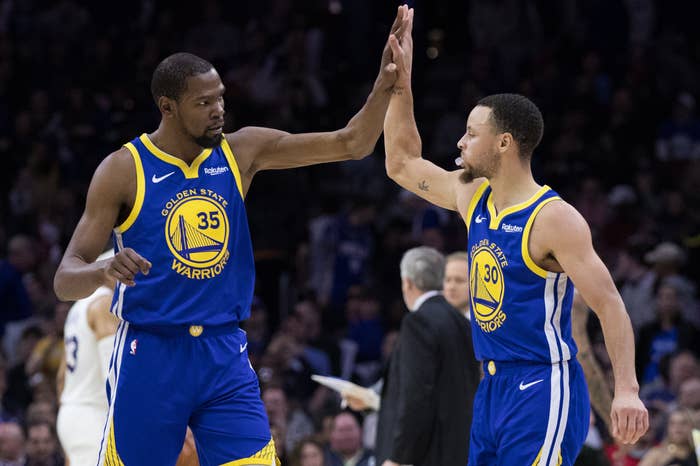 It is a testament to how good Steph Curry is, and was, that there are questions about his legacy and impact on the game. He's a three-time NBA champion, a two-time NBA MVP, and led the 2015-16 Golden State Warriors to the best regular season record of all time. It was around this time four years ago—before LeBron James and Kyrie Irving happened—that Curry was starting to earn talk of being one of the greatest players, a player that had bent the game to his will. 
All eyes were on Curry, whether it was his pregame warm-up routine, making shots from the tunnel, or simply exhibiting the traits of being the game's best shooter on a nightly basis. He'd elevated himself as a defender, and if Irving didn't exist you'd say he probably had the best handles as well. At that point, Curry had a title. He's won two more. If that's all you knew, you'd probably guess that maintaining that level of play and adding the championships would solidify his space in the debates about greatness. Then Kevin Durant joined the Warriors in 2017, and Durant won two Finals MVP, and what was so clearly Curry's team felt a little bit less like that. 
But that leads us to today. Warriors fans hated that Curry's place with the team was called into question. To a degree, it's understandable. Curry was there as the franchise arose from irrelevance to the league's model of excellence. They saw a point guard deferring to a scorer like Durant for the good of the team, an extreme measure of selflessness from a player coming off some of the most impressive seasons the league had ever seen. Curry had to settle for 13th in ESPN's recent rankings of the best player of all time, well below Magic Johnson when taking stock of the best point guards we've seen. Durant is, of course, in Brooklyn. 
Things are complicated even further by the injuries that derailed the Warriors this season. With the NBA finalizing their post-COVID19 plans, the Warriors are done. In the long run, it won't impact Curry very much. His case as one of the best was never going to be about accumulated numbers; Michael Jordan literally took years off. LeBron James missed the playoffs just last year. The 2020-21 NBA season, whenever it gets started, is set to be one of the most consequential for the league in a long time, as almost every superstar outside of Kawhi Leonard will have a lot to prove: 
Kevin Durant will try to show he can succeed at the highest level without Golden State
LeBron James continues to chase Michael Jordan
James Harden and Giannis Antetokounpo could still be looking for their first titles
But Curry and the Warriors are right there. Can they build another championship team now that Durant has moved on? Already, folks are putting pressure on Curry and Golden State to get back on top. If Curry can in fact win another NBA title as the best player on his team, a lot of the criticism about a blown 3-1 Finals lead and relying on Durant to knock off a healthy Cavs team could go away. There would be powerful new evidence that Curry had in fact been selfless in taking a step back for Durant, and that the core of Curry, Klay Thompson, and Draymond Green would have been enough for a dynasty to reign on its own. 
Curry figures to remain in his prime for another few seasons, having just recently turned 32. The Warriors have trade exceptions, Andrew Wiggins (and his sizable contract for trade purposes), and a few high draft picks coming in the next couple years, so they'll have every opportunity to contend. Do they get Bradley Beal? Antetokounmpo? I don't know about you, but a possible 2021 Brooklyn Nets vs. Golden State Warriors NBA Finals sounds delicious. 
For Curry, it's balancing his MVPs and the singular greatness of his 2015 title and 2015-16 regular-season encore vs. the 2016 Finals and Durant's shadow. One more title for Steph Curry on his own and those jokes from LeBron's fans will look fairly ridiculous. Can he do it? 
Of course it could go the other way. Thompson is coming off a serious injury. Green is one of the most enigmatic players we've seen—a Swiss army knife of a player that has seemed lost at times without some of the more skilled scorers he's usually surrounded with. It's possible he's no longer capable of getting back to his peak. What if the Warriors of four years ago don't come back? 
It's fashionable to say these debates about who is the best ever are tired and played out. It does seem to genuinely put stress on players, who are told they need rings only to see the ring devalued if the players they win with are too good. Durant in particular has struggled to find the balance—there's something silly about the fact that Curry and Durant won back-to-back titles together and it's not clear how much it helped either of their standing in these arguments. 
But lamentations aside, the arguments aren't going anywhere. Debating MJ vs. LeBron, Kobe vs. LeBron, LeBron vs. Steph, and yes, Durant vs. Steph, is a fundamental part of the NBA experience for a lot of fans. We want to believe we're watching history, the best ever, and folks a little older than us want to tell us it was better before. It's annoying, it's great. It brings us together, sometimes in Temecula. For Curry, it's balancing his MVPs and the singular greatness of his 2015 title and 2015-16 regular-season encore vs. the 2016 Finals and Durant's shadow. One more title for Steph Curry on his own and those jokes from LeBron's fans will look fairly ridiculous. Can he do it?