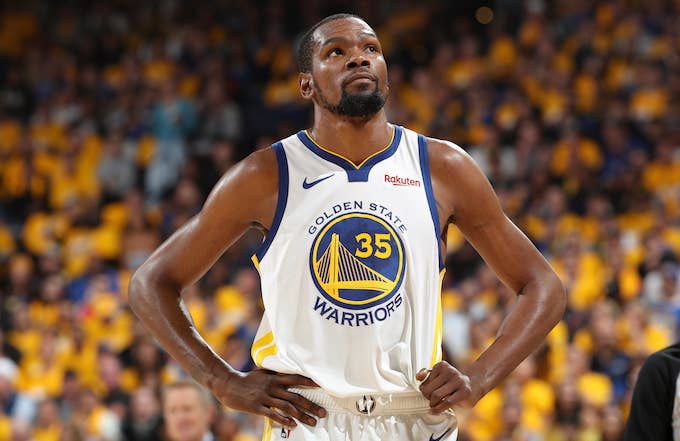 Kevin Durant is the second-most hated player in the NBA, according to SFGate.
Sports Insider did an analysis of geo-tagged tweets and the No. 1 hated player comes as no surprise—LeBron James. The website evaluated over 100,000 tweets from all over the U.S. in the two weeks following the NBA Finals, diving into tweets that mentioned "hating" or "disliking" players. James and Durant were the leading targets.
James was the most hated player in 25 states, including California and the rest of the West Coast. Durant took 17 states, including Nevada and Hawaii. Other players who made the list were Kyrie Irving with five states, Anthony Davis with two, and James Harden with one.
Durant ruptured his right Achilles tendon during Game 5 of the NBA Finals. This week, KD announced he was turning down his $31.5 million one-year player option with the Golden State Warriors to become an unrestricted free agent.
It's been rumored that Kyrie Irving and Durant are considering joining forces and both going to the Brooklyn Nets. Reports have indicated the free agents talked on multiple occasions to determine which city they will turn into the NBA's top contender.
Earlier this month, Bleacher Report's Ric Bucher claimed Kyrie visited Durant in New York while he was recovering from his Achilles surgery. Now Bucher is alleging Kyrie and KD's post-operation summit was actually the second time the two have met. 
Durant will miss the entire 2019-2020 season to rehab his Achilles.