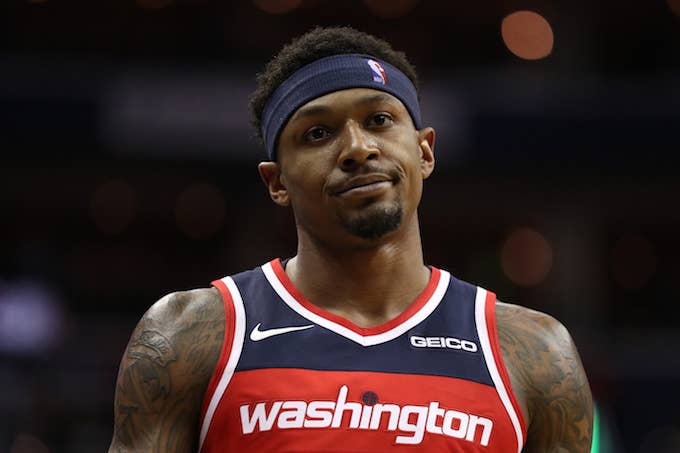 The Washington Wizards' Bradley Beal isn't happy that he won't be going to the 2020 NBA All-Star Game, particularly since he's played in each of the past two seasons.
"I'm a little pissed off about it," Beal said on Thursday, after learning the news (and beating the Charlotte Hornets 121-107. "But I know how I am. I was kinda expecting it honestly. It's disrespectful, but the real ones know."
Prior to beating the Hornets, Beal was averaging 28.6 points per game, Sports Illustrated reports. "That would be the most [points per game] entering All-Star break by a player not named an All-Star in 41 years," according to Elia Sports Bureau.
Beal scored 34 points during the game on Thursday, and added nine rebounds and nine assists. The shooting guard's scoring average has increased by more than three points this season.
"It's unprecedented for a player to have the type of season that Brad is having to not be in the all-star," his agent Mark Bartelstein told the Washington Post. "And I think the Eastern Conference coaches, I think they've sent a horrible message."
Bartelstein added, "He wanted to be loyal to his organization and the coaches in the NBA are holding it against Brad that he was loyal to his organization."
Beal's fiancée Kamiah Adams has also shared her thoughts on the matter. "It's politics and it's a joke. The NBA is becoming laughable, in my honest opinion," Adams said during the Wizards postgame show last night, according to The Athletic.
Adams continued, "It's a popularity contest. It's about who has the most followers on Instagram, who has the most likes, and it's a joke to me because my thing is you can't name five people that were selected for reserves on either the East or the West who are outplaying Bradley right now."
The All-Star starters are chosen by a fan vote, media vote, and player vote. While Beal came in second in the player vote, he was behind in the fan and media voting, per the New York Post.
Six first-timers were chosen to be on the reserves on Thursday night. The full list reserves are:
East: Jimmy Butler (Heat), Kyle Lowry (Raptors), Ben Simmons (76ers), Khris Middleton (Bucks), Jayson Tatum (Celtics), Bam Adebayo (Heat), Domas Sabonis (Pacers)
West: Damian Lillard (Trail Blazers), Donovan Mitchell (Jazz), Nikola Jokic (Nuggets), Rudy Gobert (Jazz), Brandon Ingram (Pelicans), Russell Westbrook (Rockets), Chris Paul (Thunder)
The All-Star draft is set to take place on Feb. 6. LeBron James and Giannis Antetokounmpo will draft the starters and reserves. The game is on Feb. 16 at the United Center in Chicago.