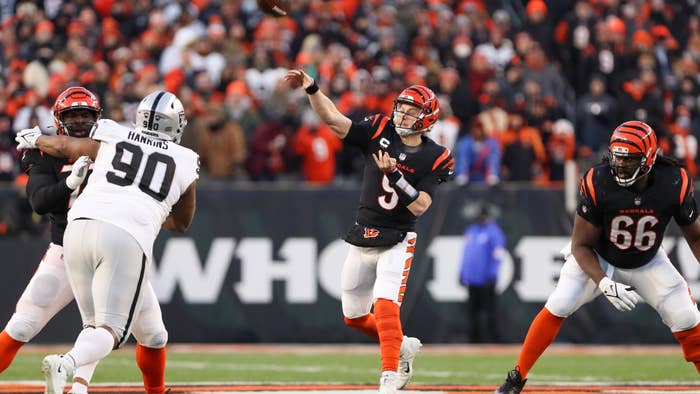 The Cincinnati Bengals secured their first playoff win in more than 30 years on Saturday, defeating the Las Vegas Raiders, 26-19, in an AFC wild-card matchup; however, the victory was marred by scrutiny.
The controversial moment went down late in the second quarter, when Bengals quarterback Joe Burrow rolled to his right near the sideline and threw a 10-yard touchdown pass to Tyler Boyd. Though the play was seemingly legitimate, a referee sounded his whistle because it appeared that Burrow was out of bounds when he released the ball. The officials determined that wasn't the case, and ultimately allowed the play to stand, giving Cincinnati a 20-6 lead. But many football fans were quick to point out that the whistle was blown while the ball was still in the air, which means the play should've been deemed dead. 
Per Rule 7, Section 2 (m) of the NFL rulebook: " … when an official sounds his whistle erroneously while the ball is still in play, the ball becomes dead immediately … If the ball is a loose ball resulting from a legal forward pass, a free kick, a fair-catch kick, or a scrimmage kick, the ball is returned to the previous spot, and the down is replayed."
So according to NFL rules, the TD should've come off the board as the whistle is clearly heard before Boyd caught the pass. When pressed about the controversy, Walt Anderson, the NFL's senior vice president of officiating, told reporters that officials agreed the whistle was blown after Boyd caught the ball.
"We confirmed with the referee and the crew that on that play," he said. "They got together and talked. They determined that they had a whistle, but that the whistle for them on the field was blown after the receiver caught the ball."
Naturally, fans had a lot to say. You can read some of the reactions below.