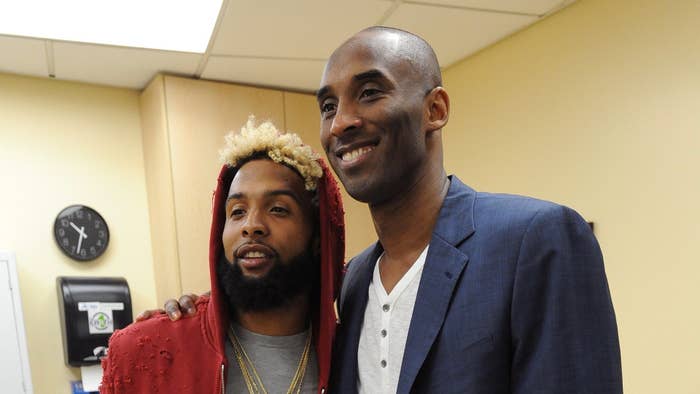 UPDATED 2/14, 3:28 p.m. ET: Odell Beckham Jr. has provided fans another look of his Kobe tribute tattoo by posting a picture of the ink on IG.
See original story below.
In the days since Kobe Bryant's tragic death, tattoo artists across the country have been flooded with requests for Black Mamba tribute designs. Everyone from LeBron James to Anthony Davis to Shareef O'Neal have unveiled their new ink in honor of the late NBA legend—and now one of NFL's biggest stars has followed suit.
On Saturday night, Odell Beckham Jr. posted an Instagram story of him receiving a Bryant portrait tattoo on the right side of his torso. The piece is being done by Joaquin Ganga Lopez—a Spanish, L.A.-based artist who has worked with Odell in the past. The Cleveland Browns player has yet to unveil the final product, but you can check out the progress below.
Odell shared the video less than two weeks after Bryant was killed in a helicopter crash along with eight other people, including his 13-year-old daughter, Gianna. Odell spoke to Complex about Bryant's legacy and reflected on the ways he was inspired by the basketball icon.
"... His drive, his work ethic, he shows you that talent can get you as far as talent can get you, but there's no substitute for hard work, the dedication that he had to the game. And I think that was really his legacy," he said. "You know, broken fingers, Achilles, knee, whatever it is, he always overcame it all and he's always going to find a way to win. And he's going to impose his will on opponents early in the game and with the very last shot of the game. So just that mentality that he had was always to kill, and that's something that I definitely have in me, and now even more so with what was going on. So definitely inspired even more to do some great things like he did, and the legacy that he left is something that we all can be appreciative of."