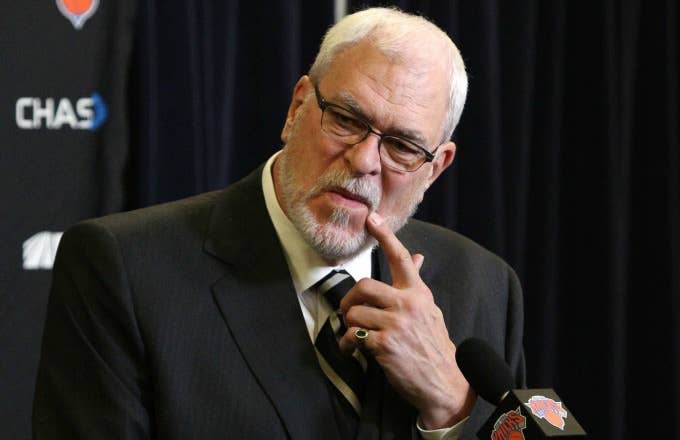 Phil Jackson's first season as the Knicks' team president has been, well, a disaster. A complete and utter failure. Even he admitted it during a recent sit-down interview with The New York Times.
"So far," he said of his time in New York City, "my experiment has fallen flat on its face."
The good news, though, is that the Knicks can only go up from where they're at now. And if you read the entire New York Times piece on Jackson, you get the sense that he still believes his experiment will ultimately be successful. To hear him tell it, he's laying a foundation right now that will benefit the Knicks for years to come, and Knicks fans just need to be patient while he destroys and rebuilds the team from scratch.
Outside of talking about the Knicks organization—and more specifically, the triangle offense and the role it's going to play in the success of the Knicks—Jackson also told the New York Times that he would actually be in favor of the idea of the NBA experimenting with a four-point line sometime in the near future. He's not a huge fan of the way that some NBA teams and players rely on the three-point shot right now, but he thinks it'd be a good idea if the league added a four-point line a few feet behind where the three-point line is at.
Of course, Jackson says this knowing that he won't have to deal with J.R. Smith heaving 45-foot shots every single time he touches the ball. But what do you think about Jackson's idea?
[via The New York Times]
Send all complaints, compliments, and tips to sportstips@complex.com.