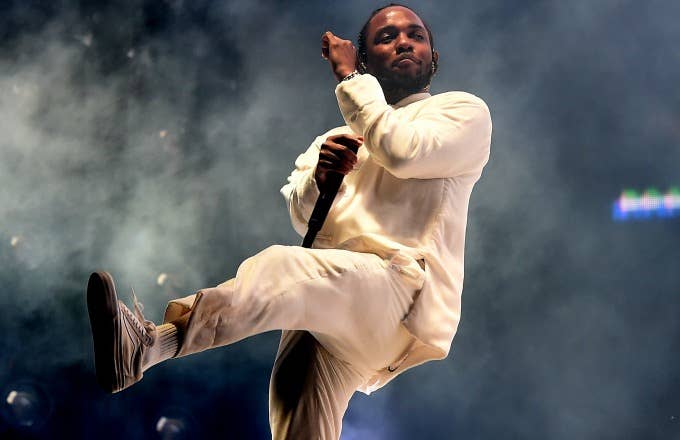 Just 20 days ago, most people outside of Kendrick Lamar's immediate circle didn't even know his song, "Humble," existed. But since March 30, the day "Humble" was released along with an official video for the track, it has turned into one of the biggest songs of Kendrick's illustrious career.
It debuted at No. 2 on the Billboard Hot 100 chart the week after it was released, giving Kendrick both his highest debut ever on the Hot 100 chart and his highest-charting single as a lead artist. The song also helped Damn, the album that features the song as its lead single, cement Kendrick's status as one of rap's greatest MCs. And on Friday, ESPN announced they were going to use the song to help anchor their coverage of the 2017 NBA Playoffs over the course of the next two months.
The song is now featured in a promotional video for ESPN's playoff coverage:
It has also been featured early and often during the playoff games that have aired on ESPN thus far. It actually caught quite a few people who tuned into the games by surprise, since it seems most people weren't expecting to hear a song that was just released getting such a big push from The Worldwide Leader in Sports:
And to put things into perspective, it's received so much airtime that there were some people who joked they were hearing "Humble" too much on ESPN this weekend, since the song was in such heavy rotation:
After hearing the song over and over and over again (we aren't complaining!) during the first-round playoff games that took place on Saturday and Sunday, we decided to reach out to Kevin Wilson, the Music Director at ESPN, to see how Kendrick ended up playing such a prominent role in the NBA postseason this year, despite releasing "Humble" just a few short weeks ago. He explained how ESPN got its hands on the song early and revealed ESPN might potentially have even more Kendrick in store for us as we move through the playoffs.
(This interview has been edited and condensed for clarity.)
"Humble" hasn't even been out for three weeks yet, and it's already all over ESPN. How did this song initially land on your radar, and how were you able to work it into the rotation for the postseason so quickly?
Every year, we try to figure out what the sound for the season is, and then when the playoffs come, we try to elevate that. This year, we were going around to some of our music manager friends and label partners trying to figure out what they had coming and what could work. We heard Kendrick had an album, and we were in anticipation of hearing it. Meanwhile, other songs and albums got moved around, they didn't work out, and luckily, we got a sneak preview of "Humble." We fell in love with it.
Basketball wasn't the first thing most people thought of when they heard "Humble." In fact, golf was the sport most people associated with it thanks to the video that featured Kendrick showing off his swing. So why did you think it would work for the NBA Playoffs?
I think the idea of being humble is a cool concept in terms of the NBA, especially at playoff time. It's not about individuals, it's about your goal of winning a championship. We thought there was a lot to work with, and it was even better timing that Kendrick's album was coming out. Everything sort of fell into place.
You mentioned ESPN was able to get a preview of "Humble." Does that mean you got to hear the song before the rest of us even knew it was going to be released?
It was not long before he released it. Just a little bit sooner. Kendrick's management and label, we've worked with them quite a bit in the past. We've worked with Kendrick before. Knowing that the playoffs were coming up, they wanted us to hear it. It was kind of a group effort.
We were able to get Tim Corrigan, our coordinating producer for the NBA on ESPN, a listen because he was in Los Angeles a few days before "Humble" was dropping. The song just seemed to be the right fit with the right timing and right artist, and Kendrick has a lot of good things to say. You don't always catch that all at once. It's pretty magical when you do.
Now that Kendrick has released Damn, is there any chance we will be hearing more of his music on ESPN during the NBA Playoffs?
I'm not sure at this point. But certainly, there are songs like "Feel," "DNA," and "Loyalty" that say a lot and have cool things that sort of explain what athletes are going through right now as far as the path or journey to a championship. So I hope so. I hope we can continue to evolve it.
Are there any plans to have Kendrick perform on ABC or ESPN at some point? It feels like that would be the logical next step here, especially when you consider how much support he's received from NBA players and how much people seem to be enjoying his music playing so far during the playoffs.
I think a lot of those kinds of things are on the table. Obviously, with the album just dropping and Coachella and all that, Kendrick's schedule is pretty tight. So it will just be figuring out what the best way to elevate the project throughout the playoffs is—whether that's having Kendrick perform or him being involved in some other way. But the nice thing about the NBA Playoffs is there is two or three months left, so it gives us a little time to think about it and go forward.