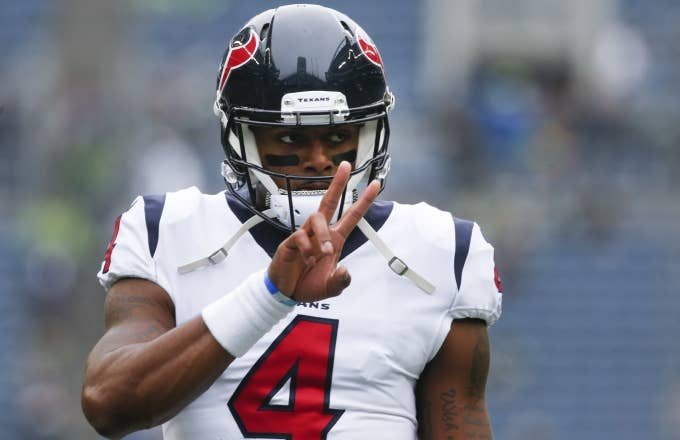 Deshaun Watson suffered a devastating injury during a Texans' practice on Thursday afternoon. He tore his ACL and was almost immediately ruled out for the remainder of the 2017-18 NFL season, just days after he torched the Seahawks for 402 passing yards and four touchdowns in what Houston fans were hoping was a sign of things to come from him.
Watson's injury got a lot of attention around the league with many of his fellow NFL players sending their well wishes.
Giants wide receiver Odell Beckham Jr., who recently sustained a season-ending injury himself, even sent Watson a long text message to try and carry him through the tough times he's dealing with at the moment.
Watson is understandably still trying to come to terms with his season being over. But on Friday afternoon, he spoke about his injury for the first time in a statement he put out on Twitter. And in it, he offered up some hope for the Houston fans out there. He may not be back on the field this season, but he's already promising the Texans faithful that his goal is to bring the team to the Super Bowl once he returns.
"They say you never miss it until it's gone and even though it's not gone for long, I already miss it," Watson wrote. "Yesterday I felt like I let my teammates, my fans, and my family down. However, as a child of God, I understand that everything happens for a reason. He DON'T make mistakes!"
He continued:
"Today, the journey back seems far but I've been here before and will conquer it once again. I want to thank each and every one of my teammates for their unwavering support. My NFL brothers, thanks for all the prayers. To my fans, I cannot begin to express my gratitude for your relentless encouragement. To the countless others who have reached out, I am humbled and can only say thank you from the depths of my heart. I play this game for you all, and I am grateful for the love you have shown me, not only over the past 24 hours, but throughout this entire season. I promise that I will continue to work diligently so that this team can one day bring a championship to Houston, and when I return, I will be better, stronger, and more focused than ever before! Now the grind begins…#815 #Memo GODSPEED"
For now, the Texans and their fans are going to have to find a way to rally around Tom Savage, who was named the team's starter on Thursday after Watson went down. But Watson's message should provide them with something to look forward to in the future, even if Savage comes out and falls flat on his face like he did in Week 1 when he started for the team.
Send all complaints, compliments, and tips to sportstips@complex.com.