Strippers from Denver Club Where Ja Morant Posted First Gun Video Speak Out: 'He's A Boy'
Strippers from the Denver club where Ja Morant flashed a gun during an Instagram Live video in March are speaking out about the NBA star's suspension.
Getty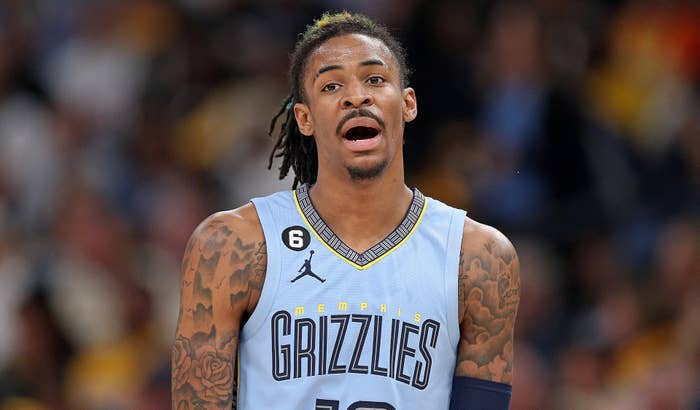 Days after Ja Morant was suspended by the Memphis Grizzlies after he was seen flashing a gun on social media last weekend, some strippers from the club where the All-Star guard first landed himself in hot water are speaking out.
Back in March, Morant was suspended for eight games without pay after the Grizzlies superstar brandished a weapon in an Instagram Live session he posted while at a Denver strip club.
While speaking with the New York Post, one stripper from the club said she doesn't believe Morant has learned from his mistakes.
"I don't foresee an apology [anytime] soon," the woman said. "He's a boy." 
Another dancer ripped Morant for "clearly begging for attention," adding that he should "be banned from all clubs and get his NBA career taken away given our country's current circumstances on gun violence."
Earlier this week, Morant responded to his latest suspension in a statement provided to ESPN's Adrian Wojnarowski.
"I know I've disappointed a lot of people who have supported me," he said. "This is a journey and I recognize there is more work to do. My words may not mean much right now, but I take full accountability for my actions. I'm committed to continuing to work on myself."
While the Grizzlies organization has already suspended Morant "from all team activities pending league review," the NBA has yet to deliver a ruling on the matter. During ESPN's coverage of the NBA Draft Lottery this past Tuesday, commissioner Adam Silver appeared alongside Malika Andrews to share his thoughts on Morant's latest actions.
"Honestly, I was shocked when I saw this weekend that video," Silver shared at the 1:45 mark below. "Now, we're in the process of investigating it, and we'll figure out exactly what happened to the best we can. And again, the video's a bit grainy and all that, but I'm assuming the worst, you know? But we'll figure out exactly what happened there.
Check out a full timeline of Ja Morant's off court issues here.