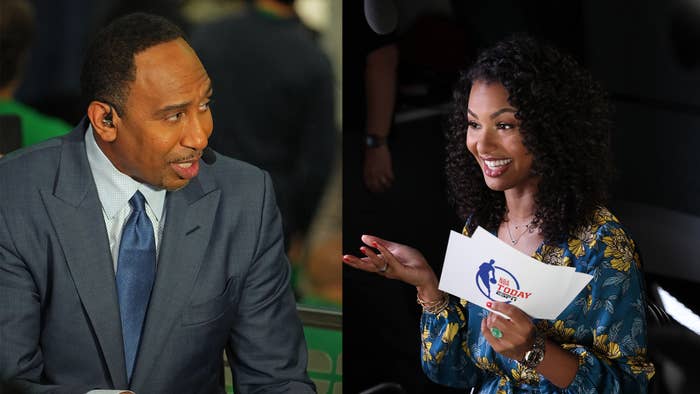 Stephen A. Smith hasn't shied away from expressing his frustration about the suspension of Boston Celtics head coach Ime Udoka, who will miss the entire 2022-23 season after it was discovered that he had a consensual, improper relationship with a team staffer.
After calling out the Celtics on Thursday's episode of ESPN's First Take, Smith doubled down on Friday's show, criticizing the organization for not suspending the unnamed woman Udoka was involved with. "Only he is in violation of the company policy?" Smith said. "The woman who elected to have a consensual relationship with him is not in violation?"
Later in the show, NBA Today host Malika Andrews called in to blast Smith for his narrow-minded view. 
"Stephen A., with all do respect, this is not about pointing the finger. Stop," Andrews said. "What became apparent to me in this press conference is that we do not have all the information here. It was frustrating, to me, that the Celtics declined to elaborate or give more specifics about what exactly the rule-breaking was that led us to this point."
"The fact that we are sitting here debating whether somebody else should have been suspended or not, we are not here, Stephen A., to further blame women," she added. 
After letting Malika speak her piece, Smith responded by explaining that his issue isn't with Udoka's suspension, but rather how the entire situation has been publicized. 
"First of all, let me be very clear," Smith began. "I don't appreciate where you're going with that, I'm not blaming anybody but Ime Udoka. The fact of the matter is, he deserves to be fired if they were going to fire him. If you're not going to fire him, then don't fire him. My issue is all of this being publicized."
At one point, Malika began to interrupt Smith, to which he replied in typical Stephen A. fashion, "Excuse me, excuse me, excuse me, I listened to you. You're the one telling me to stop on my show. It ain't happening."
Check out Stephen A. Smith's response below.