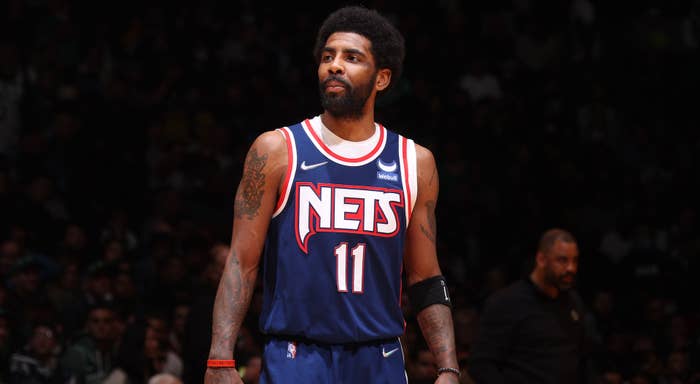 The latest chapter in the ongoingbeef between Kyrie Irving and Stephen A. Smith unfolded on Tuesday, as the host of ESPN's First Take criticized the Brooklyn Nets point guard after Irving decided to exercise his player option to return to the team next season.
The back-and-forth began on Tuesday morning, as Stephen A. Smith took to Twitter to throw shade at Kyrie with a video in which he mocked the All-Star guard's decision, reminding him that he needs to actually "show up and go to work" this season.
"You gotta go to work," Stephen A. said. "You gotta show up to work. You actually gotta show up and earn that money. We all know Kyrie Irving doesn't plan on staying in Brooklyn for the full year." Smith also repeatedly called Irving a "peon."
Smith went on to accuse Kyrie of opting in only so that he can leave for another team down the road. "Guess what Kyrie? No matter what options you may think you have down the road, it all starts with you having to show up to work first."
It didn't take long before Kyrie hopped on Twitter to clap back at Stephen A., writing, "You're gonna have to explain yourself to people in your generation. I am not around many 50 plus year olds that speak and act like you do, so this is new for me. But I am sure my father and my uncles can meet you on your level better than I can. We know you STEPHEN."
Naturally, Smith wasn't having it, as he was quick to respond with a lengthy note in which he urged Kyrie to "fess up to the shenanigans you engage in."
"Oh, you've got it twisted bro! Big time!" Stephen A. began. "I don't have to explain a damn thing to anyone. As for you, when you have a LEVEL, let me know. Because I'm not aware you have one–off the court."
He continued, "Either way, I have a wish: ONE DAY you'll stop hiding behind the public support you receive and fess up to the shenanigans you engage in...leaving folks hanging like laundry. Be honest about what you've truly been doing."
Smith then asked Irving to join him so they could confront one another "1-on-1 for the WORLD to see," in an effort to put the Nets superstar's truth "up against mine in a public forum for everyone to judge."
"Name time and place and I'll show up!" Smith said. "SHOW UP! You do know what that is, don't you?"
Check out Stephen A. Smith's full response below.