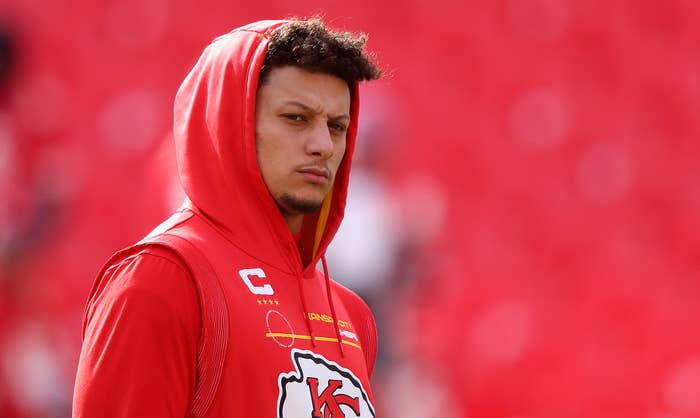 The start to Patrick Mahomes' NFL career has been nothing short of legendary. He's been a full-time starter at the quarterback position for only five seasons, and he's already tallied two MVPs and two Super Bowl wins. He has hosted the AFC championship game in each of those five seasons and he's essentially rewriting the record books every time he takes the field. 
But Mahomes knows he has a long way to go and he has a lot of greatness to chase.  While acknowledging Tom Brady's historic career and seven Super Bowl titles, the reigning MVP stays motivated by his own legacy and his own accomplishments, both past and present.
"You just try to chase greatness, I think that's the biggest thing," Mahomes says. "To me, it's not always about the positivity of winning the Super Bowl, but I've always looked back and said I don't want to have regrets."
Throughout his entire NFL journey, Mahomes has been signed to Adidas, launching his first signature shoe with the brand, the Mahomes 1, in 2021. Having a signature sneaker is a dream come true for Mahomes, and a rare feat for football players as he is the only active player in the league with his own model.
Being actively involved in the design of a product that carries his name and logo is important to the Chiefs' quarterback as well. He takes pride in knowing that his hometown fans, children around the world, and even other players in the NFL choose to support his line.
"You see the joy on people's faces, especially in Chiefs Kingdom," Mahomes says. "And all the fans, and them being able to represent you and it just shows the love that they have for you."
We spent the day with Mahomes and Adidas Football in Kansas City to talk about his signature line with Adidas, his legacy at the quarterback position, and much more.
This interview has been condensed and edited for clarity. 
You've been with Adidas pretty much your entire career in the NFL now. What type of partner have they been for you along the way?
They've been an amazing partner. I think first off, the thing was they believed in me before I was even drafted. I remember showing up to training and having boxes of Adidas stuff, and they believed in me from the get-go and they've kept that belief in me my entire career. Obviously I have my own signature shoe now; it shows how much they believe in me, because I don't know if any football player has their own signature shoe with a brand like Adidas.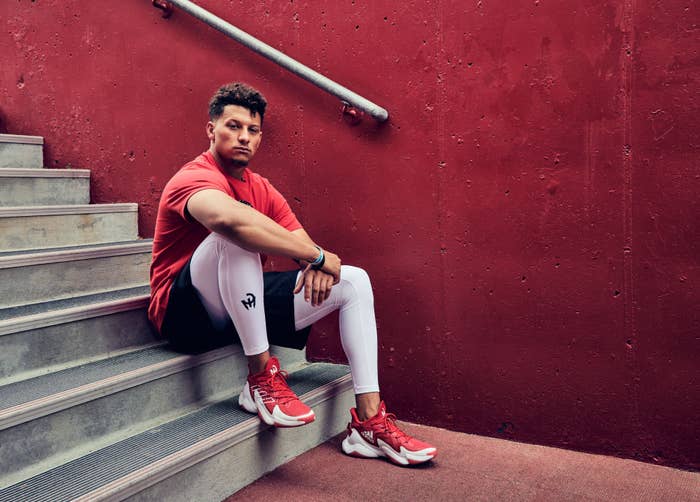 Can you speak to what it meant in 2021 to get your first signature shoe?
It was massive not only for my brand, but just for me in general. When you grow up and you see these guys with their signature shoes and you buy them because these guys are wearing their shoes, you always want that to be yourself. You want to be able to have your imprint not only on fashion, but on just sports, and on kids and being able to show that I have my signature shoe that I helped make up and not only for myself, but for kids to wear. I'm glad that I'll have something that my son and my daughter will be able to wear growing up.
You've been a full-time starter in the NFL for only five seasons and you're basically rewriting the record books as you go. How do you manage the expectations that you've now created for yourself just with this insane success you've had?
Honestly, I think winning the second Super Bowl has taken a lot of pressure off of me. If you look around the league, winning two Super Bowls is crazy. Not a lot of people have done it in their careers, especially at the quarterback position. And so, obviously I have goals to continue to win, and try to win as many Super Bowls as possible, but it kind of gives you that relief to know that you've done it with two different teams. Even though they're both with Chiefs, it was a whole brand new roster compared to the first time I won it. Now let's just go out there and have fun and enjoy it. It's fun every single day. I think that's what makes it easy is whenever you're going out there, and just enjoying your work in any profession, it takes that pressure off you. And I think I have a lot of great guys around me that enjoy it as well, so it's just fun to go into work every day and try to get better.
You mentioned how things are different for quarterbacks in the NFL and legacy is a huge word that gets used a lot, especially at the quarterback position. How do you perceive your legacy so far and then how do you think that other people perceive your legacy?
I mean, I think it's a great start. If you look at Tom [Brady], Aaron [Rodgers], and these other quarterbacks, you can play for a long time. So I feel like I'm still at the very beginning of my career and so it's been a great start, but how can you get better? How can you continue to improve your game? Because I mean, you look around the league, man, there's great quarterbacks everywhere and everybody's pushing to be the best. That's what made Tom so special was that, until the day he "retired"—I put that in quotation marks. He has continued to try to be the best every single day, and I think that's what you do. What it takes in order to have success in this league is to continue to try to push yourself to be better every year.
You also mentioned Tom a couple times. This is the first time in 23 years the NFL's not going to have Tom Brady in it. How different do you think the NFL's going to be without him?
It's definitely going to be different. At the end of the day, you expected his team to be there at the end of the season every year. You were striving to be better and continue to make your team better so that you were able to win that game against him. I think the NFL's in a great place though. I don't know how, but all the quarterbacks that have been developed over the last few years, it's like every single year it's like two to three, four guys are coming in, they're becoming great players in this league. You've got to continue to push, man. There's great quarterbacks throughout both conferences, AFC, NFC, and you can see them in college football already. So I just continue to push to get better. Luckily, I've become one of the older guys even though I'm still young. So I'm going to try to keep pushing myself to be just barely one step ahead of these guys.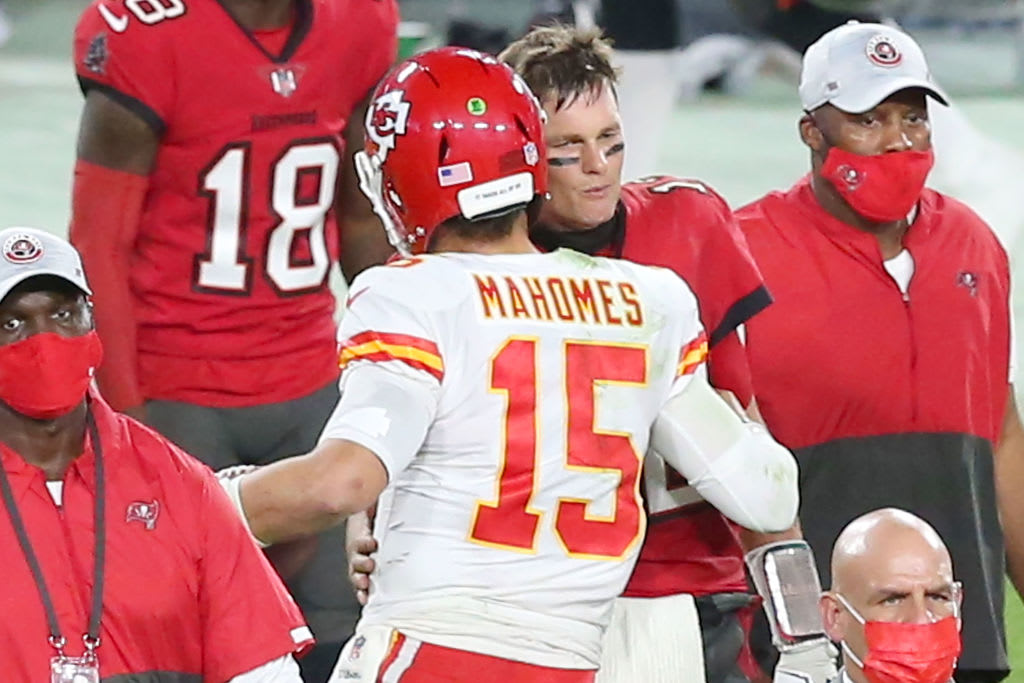 Everybody always loves to rank things. Who are your top five quarterbacks in the NFL? 
I'm not going to put them in order, but I mean there's… It's so hard, man. There's like 10 top five quarterbacks. But I mean you got to look at the track record the last few years. I mean you got me, Joe [Burrow], Josh [Allen], you got Lamar [Jackson], you got Jalen Hurts, who's coming up strong after this last season, I'm sure he'll be even better this next. You got Trevor Lawrence, Justin Herbert… I mean there's so many quarterbacks, I don't want to just name five. But I mean even the guys that are injured: you got Kyler Murray coming off injury, you got Russell Wilson, who can have a bounce back year, Aaron Rodgers. There's so many quarterbacks in this league, it's hard to put five. And I guess the best thing about this league is you have a top five quarterbacks this year and then next year it could be completely different. So all you can worry about right now is who is going to be in the top five after this upcoming season and I'm going to try to place myself in there.
Do you think that this is the most talent there's ever been at the quarterback position?
I would say maybe top to bottom. You look back and you got like Dan Marino, Joe Montana, Terry Bradshaw, freaking Troy Aikman, [John] Elway. There's been some Hall of Famers that have all played in the same era, but I think top to bottom, it's hard to find a spot on any team, but the quarterback's not a guy that you can see win playoff games. And I think that's made it so special. I think that comes with development, coaching, and evolution of the quarterback position. So I think it's definitely a golden era for the quarterback position. Maybe we don't have those Hall of Fame guys yet at the top, but one through 32, I mean there's quarterbacks that don't even get a chance to start that are great players.
You named a lot of legends there. Do you have a top five quarterbacks of all time list?
Yeah, I mean, you got to say Tom's 1, but if you talk about the legends of the game, Tom, Peyton Manning, obviously Aaron Rogers, Joe Montana, and then it gets down to Dan Marino or John Elway to round off your top five. But I mean there's some great quarterbacks that played this game, man, I'm trying to learn from them because even though the game has progressed, there's still stuff in the past that helps you become a better quarterback.
Aaron Rodgers finally came over to the AFC, is that something that motivates you even more?
I don't think it motivates me anymore, but the crazy part was when you play those great quarterbacks, you expect to play them at some point in the playoffs, in the Super Bowl, that should be your goal. And so they come to the AFC, it just makes the AFC even better. But I've been lucky enough to play in a division where it's like playoff football every single week and people wonder why we have so much success, and I'm like when you play playoff football teams when you get to the playoffs, it doesn't seem like it's such a big transition. So if you tell yourself that and you go through the AFC, and you're winning AFC games week in and week out when you get to the playoffs and you get to the Super Bowl, you're like, "I've been playing this type of football yearlong."
The goal obviously is always to win the Super Bowl. You've won two of those and you've won two MVPs. How do you stay motivated? How do you keep pushing yourself to do something that you haven't done already?
You just try to chase greatness, I think that's the biggest thing. To me, it's not always about the positivity of winning the Super Bowl, but I've always looked back and said I don't want to have regrets. I think it's that more than anything. I've realized how special the place I'm in with Kansas City is, with the best tight end of all time, one of the best defensive players of all time, and one of the best coaches of all time. I know this won't last forever. I'm going to have to just try to maximize it every single year that I get a chance to. I don't want to have regrets about not doing something to the best of my ability. And I think if you have that mindset every single day, then at the end of your career you can look back and say, "I acted the right way."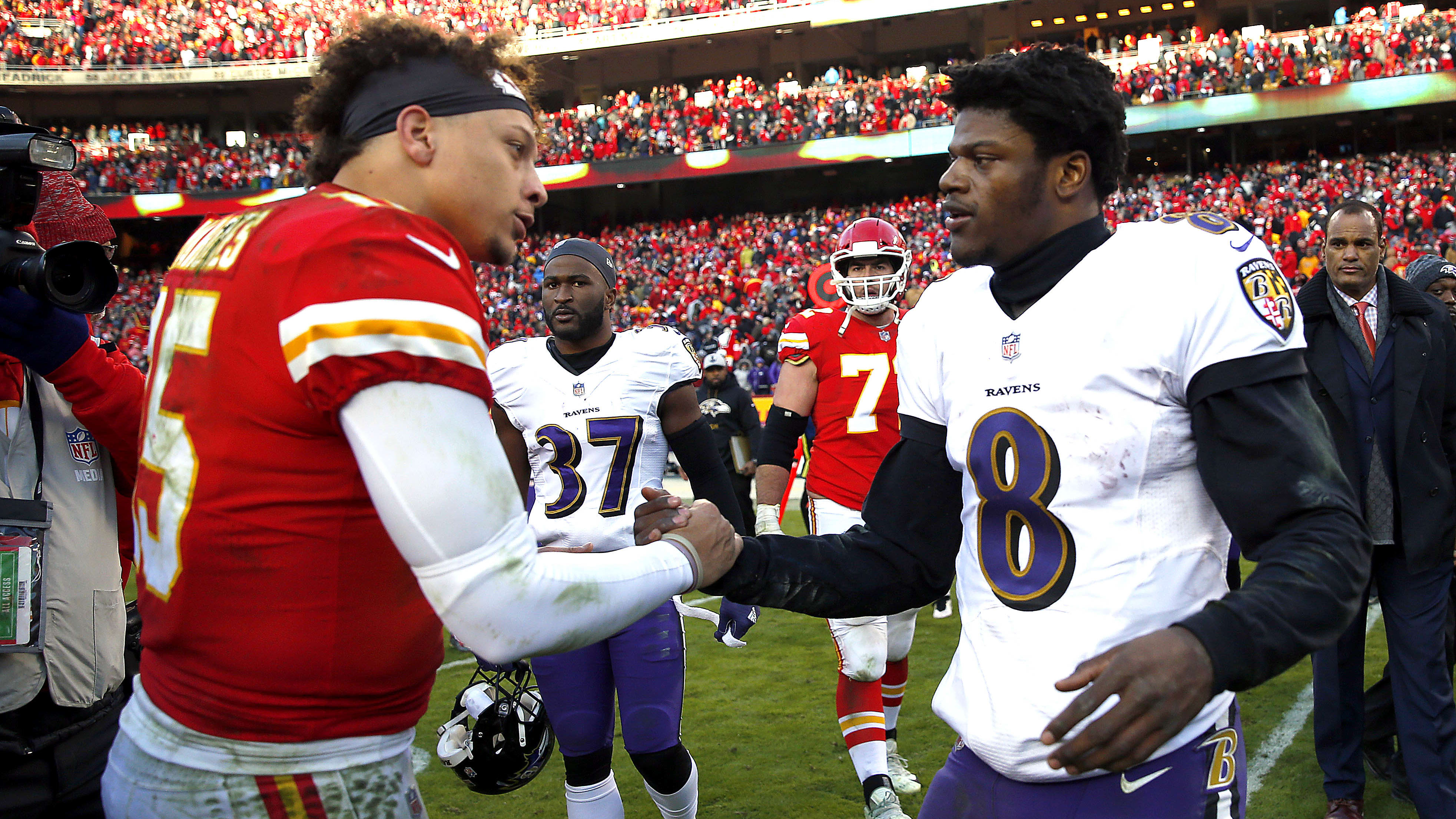 For the first time ever, the first three quarterbacks taken in the draft were African-American. Now more than ever, the premier position in the NFL is being dominated by African-American quarterbacks. What do you think has led to this shift over the last five or six years?
Yeah, I think it started years ago with Doug Williams, and Warren Moon and Randall Cunningham showing that African-American players could play the quarterback position at a very high level. And then you saw Russell Wilson, you saw Michael Vick come in and do the same thing. And I think now that you're just seeing that the African-American quarterbacks are getting more chances, more chances to show who they are at the quarterback position. I think it's really cool. Because now you can't get pinned into a box. I remember even when I was growing up, it's like, he played great quarterback in college but he's going to play receiver or something else in the NFL. Now it's like, let's see, this guy, he's a great player in college, let's let him be a great player in the NFL. Now you're seeing that the African-American quarterback has really even taken the position to a new level.
When you think back to the two Super Bowls you've won against the Eagles and the 49ers, how do you think about them differently? Was one game harder than the other? When you reflect back on them, how do you separate the two?
I wouldn't say that one was harder than the other. Both teams were great teams that played in the Super Bowl. Three of the Super Bowl teams we played against were great football teams. I think this last one, after winning one and losing one, I kind of knew what to expect. And during the game, even when we were down, it wasn't like I was panicking. We needed to score right this second. It's like you just have an urgency that, "Alright, that's not going our way, but we can flip the script. We just gotta keep pushing and keep doing things the right way." I think that's the experience that you get throughout those big games that you play in. But it's been cool, man. We won with a very young team and I'm excited for the future of the Kansas City Chiefs, man. I think we have a chance to go out there and continue this run that we've been on.
Is there one game that you can think back on that was most difficult, or the most challenging whether it be physically or mentally, the hardest game in the NFL you've ever played in?
I would say, the one game that was the most mentally challenging for me was the first time I played the Patriots in New England. I remember they came out with a defense; they hadn't played the entire season and I couldn't figure out the adjustments. It was my first year starting. I ended up having a pretty good second half and making stuff happen, but that kind of helped me become a better quarterback because I had to know that I have to expect the unexpected. The one that sits with me the worst is the AFC championship game against the Bengals, just because I felt like I let the team down because I didn't play up to par in that second half after playing a great first half. So just having pride in myself, I always feel like I need to put our team in the best position to win and I feel like I didn't do that in the second half.
What is the mentality that keeps you and your team alive in a game no matter the situation? You might be down 24–0 and you're not out of it. Why is that?
First of all, I think it's just because we've done it now. I think after you do it a couple times you just have to believe that you're going to figure out a way to make it happen. I think we have a lot of competitors on our team. I think then you feel like every team would, but when you have a lot of guys that just are like, 'We're going to figure out a way to win this game. It doesn't matter what the score is, no matter how it happens, doesn't matter who gets the attention for it happening, we're just going to go out there and find a way to win.' I think that's what makes our group so special. You see that in Travis Kelce, I think you see it in Chris Jones too, I think you see that in Coach Reid; it's never about the guy, it's about the team. We're going to bond together and find a way. If Chris Jones needs to make a sack in a big moment, he'll make the sack like in the AFC championship game. If Travis Kelce needs to catch a touchdown, he's going to catch a touchdown in the red zone at the end of the game. That's the mindset and I think that kind of feeds through the entire team. You see guys like Skyy Moore make big punt returns in big moments, Kadarius Toney the same thing, big punt returns in big moments. 
One of the funnier things that happened during the draft was Travis Kelce spiking the Lombardi Trophy. It turned out to be a replica, but can you speak to that moment?
It's just him being him and so on that love and energy that Trav always has, but yeah, definitely replica. We're not dumb enough to really mess with the Lombardi Trophy—that thing's so special and so legendary that you want to make sure it's always no fingerprints, no nothing on it. But it was really cool every time you get to hold that thing, the real one, because you know how many greats have strived for their entire career and haven't been able to get it. And so, it truly is a tremendous honor to be able to hold up that Lombardi Trophy. Whenever you have that real one, you grab it, take a picture, and you hand it right back to the guy with the white gloves on and not have any fingerprints on it.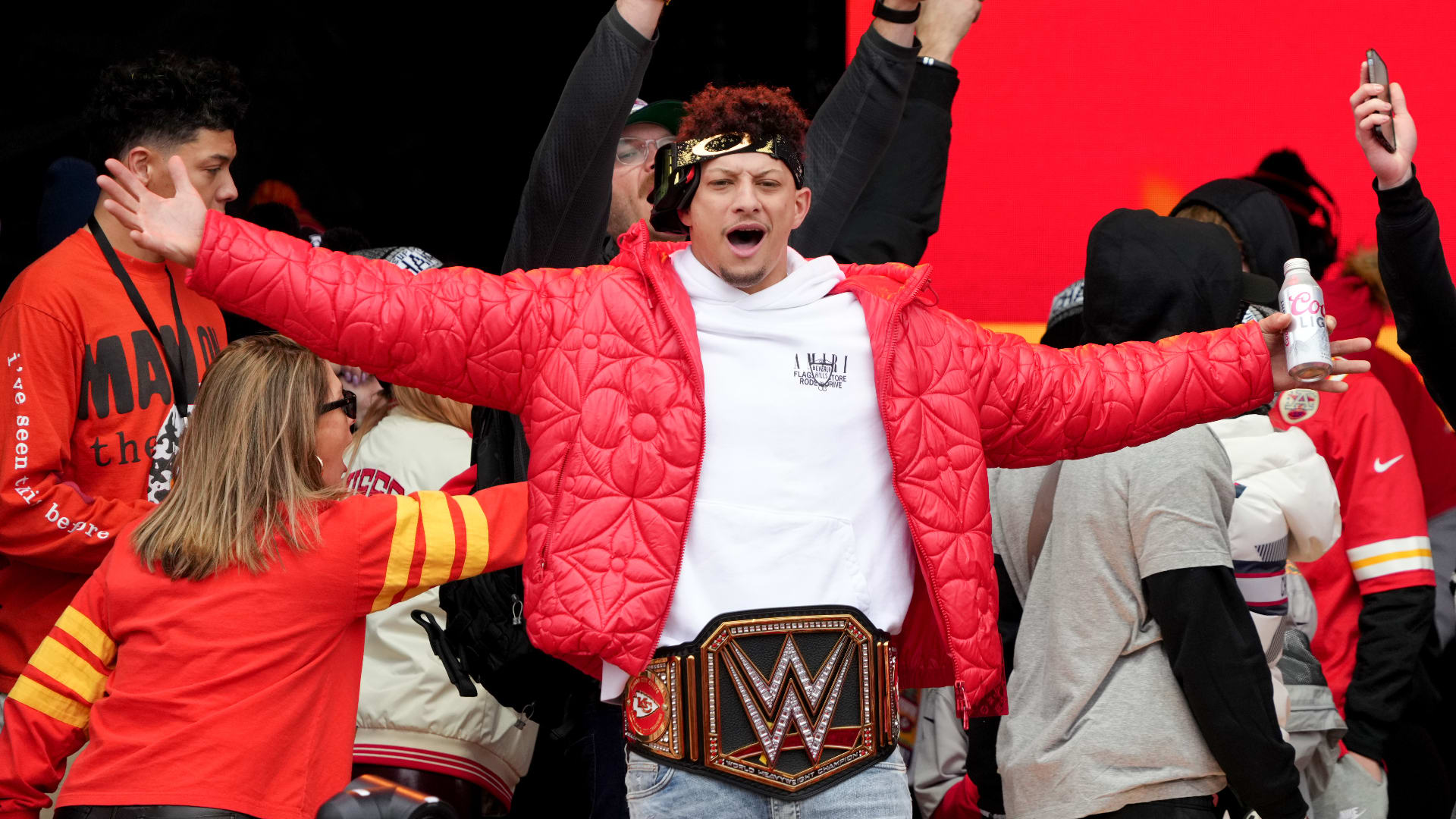 Calling back to earlier in the interview, you mentioned that getting that second one was just a really big comforting thing for you. What is it about winning a second Lombardi Trophy that really kind of just puts you at ease? 
Yeah, it's because the first one, I mean winning a Lombardi Trophy in general puts you at ease, but I think when you win one, everybody's like, "Alright, well are you going to win another?" It's kind of an elite category to be in. And so, after winning the first one, I lost a Super Bowl and like I was talking about earlier it's like, "Man, am I going to have another chance to get there and win it?" And to be able to just keep pushing through all that failure of, you've put in the hard work, and it didn't happen. To be able to keep pushing through and get that second Lombardi Trophy, it's like, "Alright, this hard work is for a reason. I'm doing it the right way." And I have to continue that now and continue to work even harder so that I can try to get a third one. And that's the goal right now is try to get a third one and then we'll see where everything else takes me.
Is there a number (of titles) you have in mind or just as many as possible?
As many as possible. I mean, they're so hard to win. Everybody's going to say you want to chase Brady and try to get to eight or whatever. I don't know if I'm going to play until I'm 45, so I'm going to try. My kids will be already out of high school if I play that long, so I don't know, we'll see when we get there. But I'm going to play this game until I can't play at a high level and try to take care of my body. But I'll try to win as many as possible. And I mean, you think of eight or whatever that Tom won, that seems crazy now, so I'll take it one at a time, but I'll try to win as many as I can.
You mentioned kids wearing it and upstairs you mentioned your teammates wearing your shoe as well. What's it like to have other people out there, your teammates, kids, other fans wearing a shoe with your name and your logo on it?
It's really cool. You see the joy on people's faces, especially in Chiefs Kingdom, and all the fans, and them being able to represent you and it just shows the love that they have for you. Obviously, they love shoes and everything. They also love Adidas, but at the same time they're showing their support for you in every way possible. And so, I have so much love for the fans and they've done so much for me that I want to give back and try to do whatever I can to make a shoe that they love to wear every single day.
You have two new colorways of the Mahomes 1, the KC Away version and then this orange one. Can you speak to those colorways and what the story behind them is?
Yeah, for the Mahomes 1, we're coming out with the Away ones first. I think those are going to be sweet because they obviously have the KC colors with the white and red. But for me, even before the Chiefs, I always preferred shoes that were white with a little hint of red in there. So I think a lot of people would like to wear them just kind of on an everyday type of thing. And then the orange ones, man, those things are sick. I think that it'll definitely hit the kids and at a different level, because they're bright, they're bold, but at the same time you can really put a stamp on the rest of your outfit because you know you have a little bit of something special in the shoe.