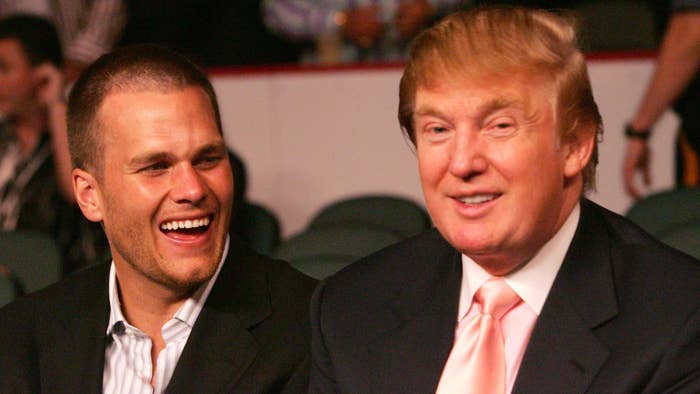 In a new interview, Tom Brady has clarified his relationship with former president Donald Trump, who he previously said he'd known "for 16 years."
Speaking with Variety, the quarterback suggested that his friendship with Trump had been "mischaracterized" by the press. "I haven't talked to him in a lot of years," said Brady, who was also asked who won their golf matches. "This was 17 or 18 years ago. I was so young. I got to go to a private golf course. I thought it was the coolest thing in the world."
Expanding on his connection to the divisive political figure, Brady stopped short of either endorsing or criticizing Trump's politics. 
"I think they just mischaracterized a lot. And my personality isn't ever one to insult anybody. I have plenty of my own flaws. I'm not here to point out anyone else's flaws," he explained. "There are things that I agree with. There are things that I don't. There are things I agree with my wife about. There are things that I don't. I love her to death, but we don't always see eye to eye. I don't see eye to eye with anyone. And I'm not responsible for what other people say. I'm really responsible for what I say. So if people want to say things that I said or that I'm about, that's up to them, and I'm not going to respond to all those things all the time either."
Speculation regarding Brady's political leanings got increased attention after a MAGA hat was spotted in his locker. Shortly after that incident, Brady claimed that Trump personally sent the hat to him.
There's also been suggestions in the past that Brady would enter the world of politics himself, which he told Variety was highly unlikely. "Probably not," he said. "I don't think anyone's fond of politics these days."
Elsewhere in the interview, Brady touched upon when he plans to retire, once again hinting that he doesn't have a date in mind just yet. He also spoke about his huge $375 million deal with Fox Sports to become an NFL analyst when he does eventually retire.
"I spoke with their executives, and I really had to evaluate if that's what I wanted to commit to. I have a very unique perspective on football and how it should be played, and what good plays look like and what bad plays look like," he said. "I feel like I can still have a great impact on the game. I could stay in the game, doing what I love to do, talking about this incredible sport."
Brady also confirmed that ESPN tried to hire him, but added he's been approached with "a lot of different opportunities" in general.