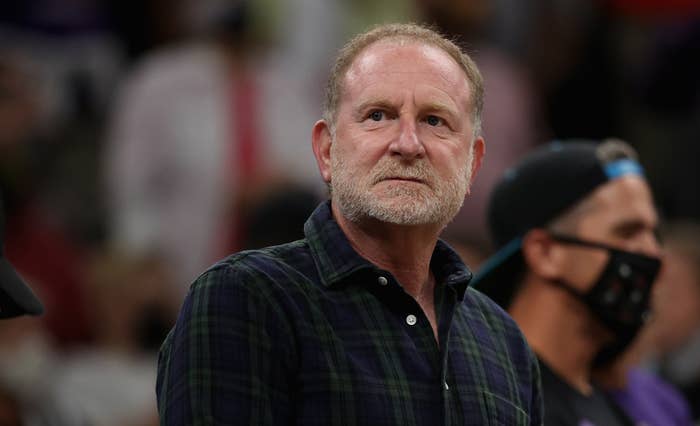 ESPN published an explosive piece on Phoenix Suns owner Robert Sarver, detailing both his racist and misogynist behavior over the years,
Among the many revelations, former Suns coach Earl Watson accused Sarver of using racial slurs in the locker room. During one instance in particular, Watson said Sarver repeatedly used the n-word after the team lost to the Warriors in October, 2016.
"You know, why does Draymond Green get to run up the court and say [n-word]," Sarver allegedly said, repeating the word numerous times after that. "You can't say that," Watson replied. "Why?" asked Sarver. "Draymond Green says [n-word]."
In a statement released through his legal team, Sarver denied that he used the racial slur. "I've never called anyone or any group of people the n-word," he said. "I don't use that word. It is abhorrent and ugly and denigrating and against everything I believe in."
He did, however, admit to using the word years ago.
"On one occasion a player used the n-word to describe the importance of having each others' back," he continued. "I responded by saying, I wouldn't say n***a, I would say that we're in the foxhole together.'" After that instance, he said an assistant coach approached him and told him not to say the word. "I immediately apologized and haven't said it ever again."
Sarver explicitly denied Watson's account of the October 2016 incident. "This is absolutely untrue," he said. "During this conversation, I said 'N-word' without saying the full word. The word itself never crossed my lips. … I never once suggested on that night (or ever) that I should be able to say the N-word because a player or a Black person uses it."
The report also details other instances of Sarver's alleged racism behind the scenes. One high-level executive claimed that Sarver once used the n-word when deciding which head coach to hire in 2013. "The [n-words] need a [n-word]," Sarver reportedly told a member of the team's staff. ""It's almost like an ownership thing," Watson said. "He wants people to call him and beg him." During another incident with Watson, Sarver said that he doesn't "like" diversity. Near the end of his time with the team, Watson told Sarver that the team is "toxic" because of him. "You're fucking toxic," Sarver allegedly replied.
It's not just racism that Sarver has been accused of, with one co-owner calling the "level of misogyny" at the organization "beyond the pale." Some sources at the team said that Sarver once asked a female employee if she was "owned" by him. "Women have very little value," said one female former staffer. "Women are possessions. And I think we're nowhere close to where he thinks men are." Multiple employees have accused him of making sexually explicit comments during team meetings, and even asked players about their sex lives.  
On Thursday afternoon, Suns president and CEO, Jason Rowley, released a statement refuting ESPN's piece and defending Sarver. 
"We welcome any investigation by the League," he writes. He also points to Lon Babby, John Shumate and Alvin Gentry as Suns employees who deny the allegations in ESPN's story. Rowley adds that the organization has "retained defamation counsel" to address ESPN writer Baxter Holmes' "journalistic failures."
Sarver also released an official statement, in which he directly goes after Holmes and his reporting, which he characterizes as "false," "inaccurate," and "misleading." He adds that he too would welcome an investigation from the NBA with the hopes of "clearing my name."
Well, it appears as both Sarver ad Rowley will get their wish, as the NBA has announced that it's launching an investigation into the allegations.