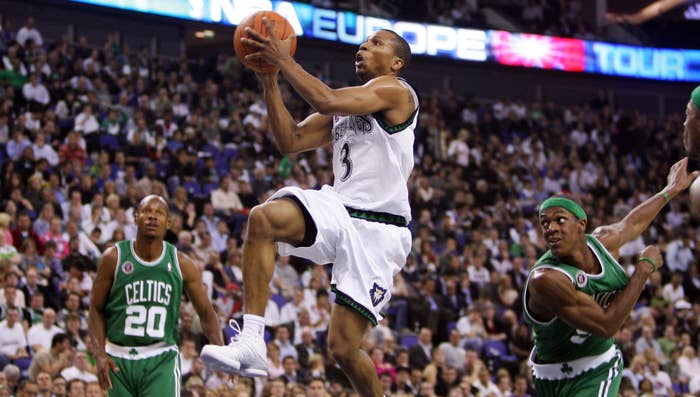 On Thursday, federal prosecutors announced that eighteen former NBA players have been charged in connection with a $4 million health and welfare benefit fraud scheme
Among the players named in the indictment are Sebastian Telfair, Darius Miles, and Tony Allen, who's wife Desiree Allen was also indicted. Per the Associated Press, the retired basketball players allegedly submitted false and fraudulent claims in order to get medical and dental expenses that they didn't actually need reimbursed. 
The 18 former players were among 19 individuals who allegedly "engaged in a widespread scheme to defraud" the NBA's health and benefit plan "from at least in or about 2017, up to and including at least in or about 2020." In total, the fraudulent claims reached approximately $3.9 million, "from which the defendants received approximately $2.5 million in fraudulent proceeds," the indictment revealed.
Other players named in the indictment include Milt Palacio, Antoine Wright, Ruben Patterson, Eddie Robinson, Gregory Smith, Glen Davis, Ronald Glen Davis, Shannon Brown, Melvin Ely, and Terrence Williams, who is allegedly the scheme's ringleader. Some of those named in the indictment submitted their fraudulent claims of medical expenses when they were outside of the United States. All of them face charges of conspiracy to commit health care and wire fraud and aggravated identity fraud. 
The United States Attorney's Office for the Southern District of New York hosted a press conference on Thursday to detail the indictment. So far, 16 of the 18 players charged are in federal custody.
Terrence Williams has been accused of recruiting other NBA players into the scheme, receiving around $230,000 in payments from other players in return for providing them with allegedly false invoices. Prosecutors are seeking "any and all property, real or personal, that constitutes or is derived, directly or indirectly" from the fraudulent scheme.