Watch Migos Teach Fox News How to Dab on the NASCAR Track
The trio weren't impressed by the interviewer's attempt at dabbing.
Getty
Image via Getty/Sean Gardner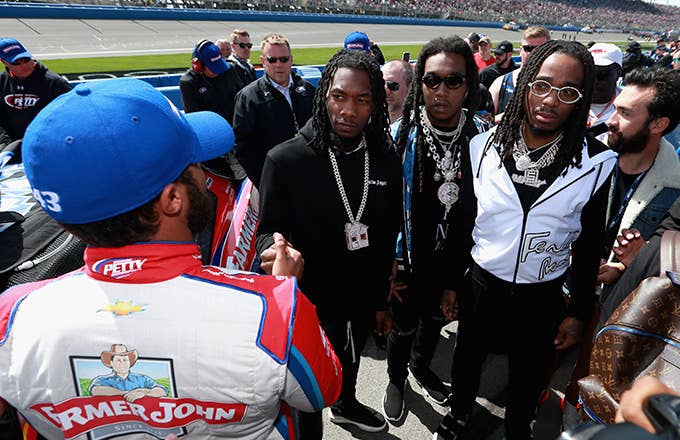 Migos turn up everywhere these days, and we're certainly not complaining. The trio recently showed up to a recent NASCAR event, of all places, to really show they're willing to go anywhere. Appearing for a brief interview with Michael Waltrip on Fox News, Migos were treated to one of the worst dabs of all time by their interviewer. They were unimpressed, showing him how it's done.
Their effortless dabs put Waltrip to shame, who looked more like he was getting ready to fight an anime villain or something. Takeoff and Quavo showed Waltrip the right way to dab, while Offset sat in a race car nearby. He didn't have as much to say as the other two, opting to just chime in with a classic "SKRRT SKRRT." 
This isn't even the first time someone's dabbed on the NASCAR track, either, as Austin Dillon celebrated his impressive Daytona 500 win last month with an absurd rendition. Maybe that's what attracted Migos to begin with, the opportunity to give Dillon an effortless tutorial from the godfathers.