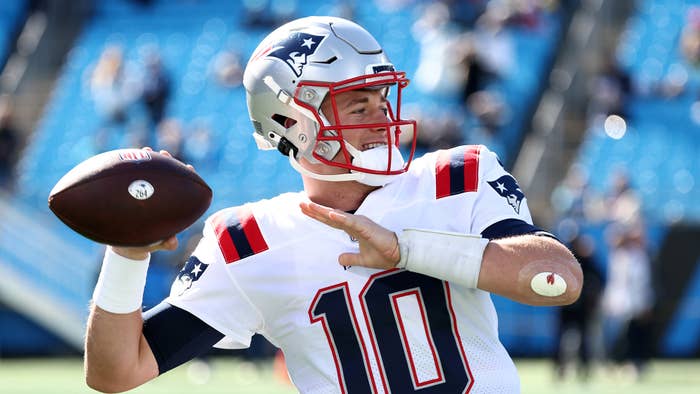 New England Patriots quarterback Mac Jones is facing criticism after a play he made on Sunday in which Carolina Panthers defensive end Brian Burns was injured.
Video of the play shows Jones, who was down on the field, grabbing and twisting Burns' ankle. Burns left the game, returned, then left again, this time for good. Jones did not receive a penalty on the play, with referee Clete Blakeman calling it a "subjective call."
And here's a better look at the play courtesy of NFL Flims. 
And while Jones did not received a penalty on the play, he has faced major criticism from fans and Panthers players alike.
Panthers outside linebacker Haason Reddick called the play "egregious" and "completely dirty," per ESPN.
"Definitely thought it was a dirty play," Reddick said in a postgame interview. "I actually saw and witnessed the play while it was happening. At first it felt like he was trying [to] trip or kick Burns. And the next thing you know I saw him tugging on Burns' ankle. I thought it was completely dirty. Hopefully, it's something the league addresses.'' Carolina coach Matt Rhule, meanwhile, added, "A foul should have been called."
While Jones wasn't asked about the incident in his postgame news conference, Reddick held nothing back in his criticism of the rookie QB. "I understand everybody is out there competing. I understand everybody wants to win. I don't think there is no room for that inside of the game," he added. "Everybody needs to be respectful, right? Nobody wants to see anybody get hurt. For no penalty, nothing to be thrown, it's egregious, I think it's unfair. I really do hope the league addresses it."
On Monday, Pats coach Bill Belichick was asked about the play by WEEI's Greg Hill. "I think he thought Burns had the ball," Belichick replied.
But based on the reactions to the play, he seems to be alone on that island.