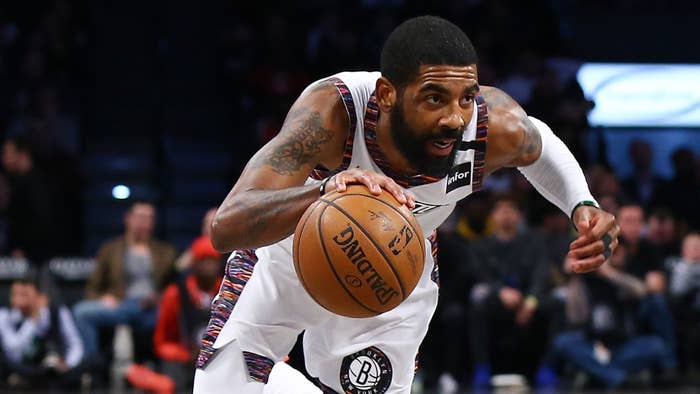 UPDATE 6/13, 12:34 a.m. ET: Following a phone conversation that Kyrie Irving held with other NBA players, he reportedly does not support the regular season continuing in Orlando.
See original story below:
The NBA confirmed last week that the 2019-20 season would return in late July, but some players aren't happy they didn't get a say in the matter. Yahoo! Sports reports that notable players in the league have been gathering on Zoom calls to talk about what they can do to take a stand, and Kyrie Irving has supposedly been a "driving force" in organizing the calls.
Less than a week ago, 50 players came together for a call about the decision, and they're supposedly reconvening on Friday with around 150-200 players in the call. When the season returns next month, it will do so with 22 teams and will be held at the Walt Disney World Resort in Orlando, Florida. The season was officially postponed in March due to the coronavirus pandemic.
Many players have reportedly expressed their concern over restarting the season, with many unsure of the safety of it all. In these calls, some players also talked about the protests against police brutality and systemic racism sweeping the nation, believing it wouldn't be a good look to gather teams "comprised predominantly of black men" and have them restricted to one location for three months just to entertain.
"What message are we sending by agreeing to this during this time?" one black player anonymously told Yahoo! Sports. "We're out here marching and protesting, and yet we all leave our families in these scary times and gather to perform at a place where the owners won't be at? What type of sense does that make? We'll be going backwards. That place isn't that magical."
Irving, who reportedly organized the calls, believes that players should consider not playing due to the uncertainty of COVID-19 and the important conversation the country is having about racial injustice. However, others have reportedly suggested that with all eyes on them, they'll be in a great position to make important statements. The National Basketball Players Association voted in agreement to restart the season, and Irving is among one of the vice presidents on the board.
Sources have added that some players aren't comfortable expressing their hesitation to play, especially since a number of high-profile players have already said they're happy to return. As per the same sources, some players have started to "educate" others on the financial impact of not playing. It's worth noting that if they don't play, they won't get paid at all, and some believe this could be a big enough deal to impact finances in future seasons, too.
Kyle Kuzma responded to the news of some players being hesitant to the season restarting on Twitter, writing, "Some of us want to hoop and compete don't get that twisted."
Jared Dudley responded and seconded Kuzma's comment. 
See reactions to the Zoom calls below.