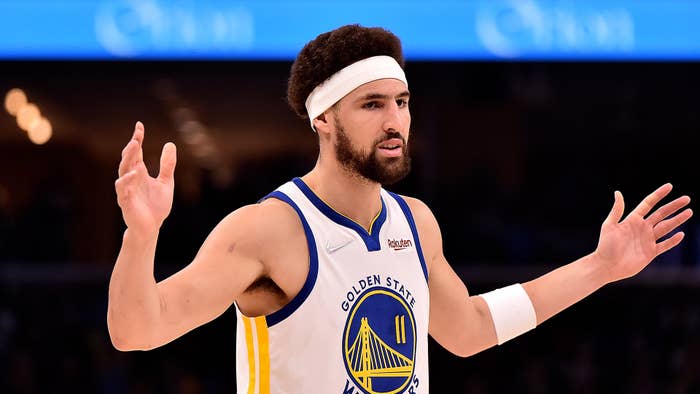 Following Game 3 of the NBA Finals, Klay Thompson criticized Boston Celtics fans for heckling Draymond Green throughout the game.
Fans led chants from the stands directed at the Warriors forward on Wednesday, including "fuck you Draymond" at various points. As TMZ noted, the noise was so loud that announcer Mike Breen was forced to acknowledge it, saying attendees were shouting an "obscene chant."
In a post-game interview, Thompson blasted the fans alongside head coach Steve Kerr, who sarcastically called the Celtics crowd "classy." Asked if the chants impacted his playing, Thompson said it was "not a factor" but appeared less than impressed with the behavior.
"We've played in front of rude people before, dropping f-bombs with children in the crowd," he said. "Real classy. Good job, Boston."
Green's wife Hazel Renee shared a statement on her Instagram Stories to call out the behavior of the Celtics fans.
"Tough loss tonight BUT in NO WAY, shape or form should fans be allowed to chant obscenities at players!" she wrote. "Are they not human? Is someone standing at your job saying off the wall things to you? The @nba has the audacity to have a whole code of conduct card at every seat about fans and their behavior and how they could be ejected from a a game or banned but a whole crowd/section/numerous people get to chant F***K YOU DRAMOND or call him a B**** or MF?! And nothing~?? Like That's ok?! @warriors fans would NEVER!! My kids were at the game tonight hearing that mess!! Very DISGUSTING of you little @celtics fans. Just shameful!" 
Per CBS News, Green himself wasn't bothered by the chants in a post-game interview.
"I embrace it. I enjoy it," he said. "I didn't really feed off of it tonight. I don't think I fed off much tonight. But yeah, that's something that I enjoy. Waste a lot of energy talking to me, so it's great. It's great. Looking forward to Friday."
In the same conversation, Green spoke on whether he's been providing the Celtics with info thanks to his eponymous podcast.
"I don't say much different on the podcast than I say to you right here," he replied. "You reaching for something, it's all good though."