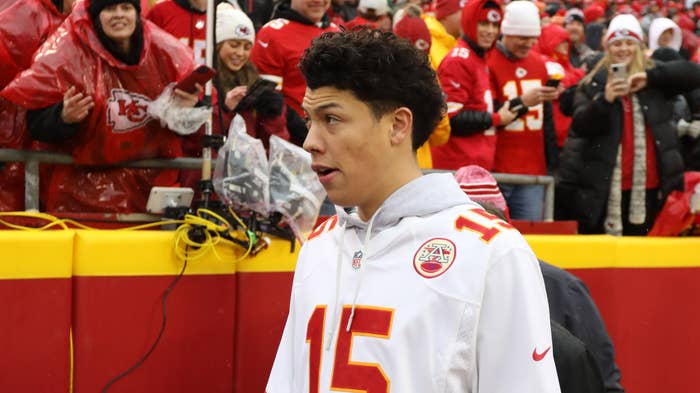 Jackson Mahomes has been arrested and charged with three counts of aggravated sexual battery and one count of battery, per KCTV.
The 22-year-old social media influencer and brother of Patrick Mahomes was arrested in connection with an alleged incident at the Aspen Restaurant and Lounge in Overland Park on February 25. Mahomes was booked into the Johnson County Detention Center on Wednesday, with bond set at $100,000. 
He has been accused by the owner of the restaurant, 40-year-old Aspen Vaughn, of assaulting her and a waiter during the incident. A video that previously circulated online showed Mahomes kissing Vaughn without consent.
In an interview with The Kansas City Star back in March, Vaughn said Mahomes behaved in an "unwelcome and shocking" manner during the incident. "He forcibly kissed me out of nowhere," Vaughn said, "and I'm telling him, pushing him off saying 'what are you doing?' and then he proceeded to do it two more times where the last time I was pushing him off and I can see on the cameras that somebody was outside the office door and I was yelling for them to come help because he's big and massive."
Mahomes' attorney Brendan Davies previously shared a statement denying the accusations. "Jackson has done nothing wrong," Davies said. "Our investigation has revealed substantial evidence refuting the claims of Jackson's accuser including the statements of several witnesses. We have reached out to law enforcement to provide the fruit of our investigation so that they may have a complete picture of the matter."