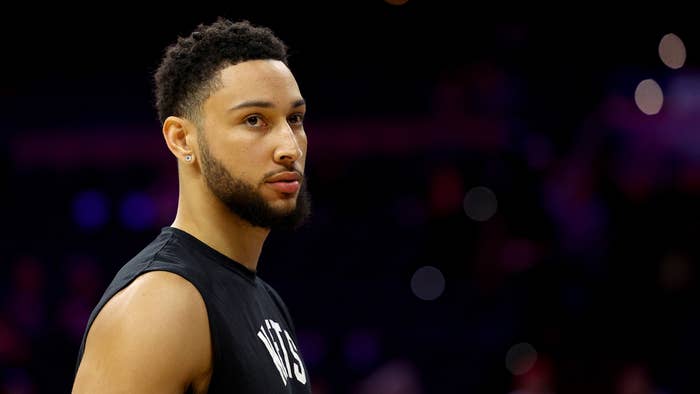 Ahead of the start of the 2022-23 NBA season, Ben Simmons has proclaimed that he'll be shooting three-pointers for the Brooklyn Nets.
During an appearance on the Old Man and the Three podcast with JJ Redick, Simmons was asked if he plans to shoot threes this season.
"Yeah, I need to," he said. "I need to just go out there and put some up."
It's worth pointing out Simmons only made his second NBA career three-pointer in 2019, so it would appear as though he's gearing up for a different play style during the 22-23 season.
During his appearance on the podcast, he also spoke about his complicated relationship with Philadelphia following his exit from the 76ers earlier this year. "People in Philly want to have something to say about fucking anything man," he said when asked by Redick if his lack of shooting impacted his time there. "I post a picture of a fucking car, dog, I got reporters saying, 'You should be in a fucking gym.' … Philly is obviously a sports city, and my experience playing there was incredible."
He described the 76ers fans as "unbelievable," and confirmed he still has an apartment in the city. "I feel like I'm still part of Philly," he said. "It's just unique. Like, even being in Brooklyn now, it's completely different. This is a different experience for me, and you know I value that time I did spend in Philly."
Simmons also brought up Shaquille O'Neal talking about their DMs on the Big Podcast with Shaq. The Nets star said he understands that former players turned analysts, like Shaq and Charles Barkley, need to be critical of today's NBA stars, but believes they should have a level of respect for their personal lives.
"When I was dealing with everything going on, I actually messaged him, and he put it out," Simmons said. 
When Shaq brought up their private conversation, he wouldn't divulge what was said, adding, "He's probably mad. He's mad because I'm his LSU brother, and I am. I'm still his brother." Simmons took issue with O'Neal publicly proclaiming himself to be his LSU brother because his actions suggested otherwise. 
"He always wants to say, 'You're my LSU brother, you're my brother,' all this, that," Simmons said. "If you're my LSU brother, you would've reached out by now. It's been months since I been dealing with this. You ain't reached out once and say, 'Hey, you okay? What's going on?'"
Check out the full episode of the podcast below.