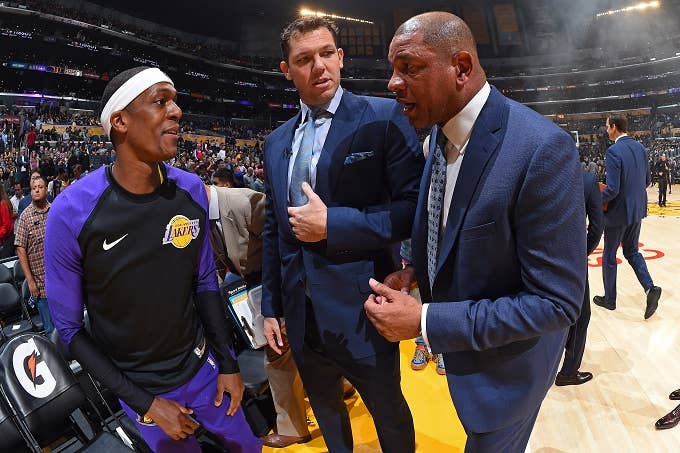 Stephen A. Smith knows that Luke Walton probably won't be head coach of the Los Angeles Lakers when next season rolls around, just like the rest of the basketball-watching public. He also has some thoughts on who might be in consideration to take over LeBron's West Coast excursion. 
On a recent episode of First Take, Smith floated a list of names that might come up around the presumed opening, including Doc Rivers, Jason Kidd and Duke's Mike Krzyzewski. 
"Ty Lue would like the job, I just want to let you know, Ty Lue would like the job. He doesn't want to be an assistant, his health is good. He would like the job, if it were offered to him," he began. "But I'm also hearing that Doc Rivers may potentially be pursued. And obviously the one guy that Magic and LeBron would love most is Mike Krzyzewski, but nobody thinks that that's a job that he would ever take. Those are the three names you need to keep an eye on."
Smith definitely has a point that no one thinks Krzyzewski would take the Los Angeles gig. He's the winningest coach in college basketball history, having recently passed Pat Summitt. He's synonymous with Duke and has coached the Blue Devils through what had to be some pretty attractive professional offers since joining the program nearly 40 years ago.  
Smith wasn't done with his rundown, though. He added a few more contenders, though he's leaning toward Doc.
"Add Mark Jackson to that list as well, because there are people who think he warrants consideration, and Jason Kidd," he said. "Those are the five names, you got Ty Lue. You got Doc Rivers. You got Mike Krzyzewski. You got Mark Jackson. You got Jason Kidd. Those are the names you're hearing. I'm hearing more so Doc Rivers."
Smith isn't the first one to float these names. The New York Times' Marc Stein also reported that Walton likely won't be around next season, and that Lue and Rivers are being considered as potential replacements. Who the Lakers put around LeBron is crucial, as this season has shown that even the NBA's 4th best scorer in history can't drag any old team to the playoffs.