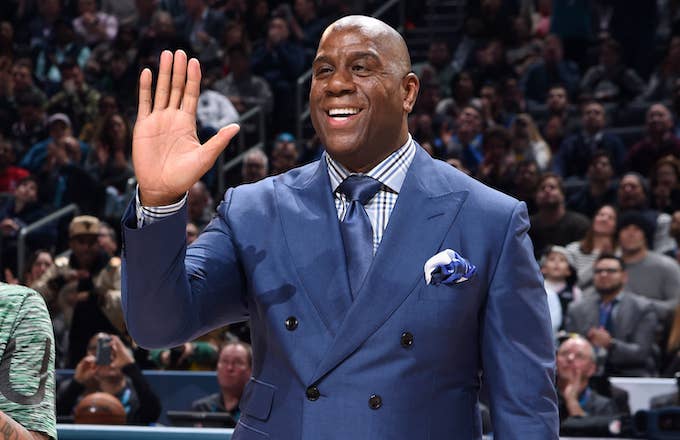 Johnson's decision comes after a disappointing season that proved even LeBron James' otherworldly talent couldn't lift the long-struggling Lakers into the postseason. Johnson announced that he was leaving the Lakers ahead of the team's final game of the season. He shared this announcement with the press before contacting team owner Jeanie Buss.
The lack of communication seems to be par for the course for the 2019 Lakers, a team as renowned for their locker room rifts as they are the presence of James. In a post-mortem on the season by The Athletic, the team appeared to be an uncommunicative mess and recent reports say that Johnson and head coach Luke Walton haven't spoken in weeks.  
"The Lakers need to have a coach that has a cohesion with the front office. Jeanie Buss has made it very clear that she is going to let Magic Johnson and Rob Pelinka make this final decision," said ESPN's Ramona Shelburne. "She's letting her basketball people make the basketball decision. Luke Walton and Magic Johnson haven't spoken for weeks."
I opened

#TheJump

noting how so many of the Lakers' issues have zero to do with Luke Walton, so whether they fire him or not, they can't expect change until they face their deeper truths. Then

@RamonaShelburne

reported Magic hasn't spoken to Luke in weeks, and everyone went nuts:

pic.twitter.com/fDgJaIKs3C
ESPN's Adrian Wojnarowski pointed out that the rest of the Lakers staff is expected to be axed, while criticizing Johnson for the way he handled the situation.
Wojnarowski also reported that Johnson and Pelinka met with LeBron and Rich Paul this past Saturday but did not inform them that he was contemplating on stepping down. On Wednesday, a source told ESPN's Ramona Shelburne that James was "stunned" to leran that Johnson was stepping down. Despite his departure, James reportedly still stands behind Buss and the Lakers. 
Magic Johnson and Rob Pelinka visited with LeBron James and agent Rich Paul on Saturday, league sources tell ESPN. Johnson offered no indication that he was on the brink of bailing on the Lakers, sources said.
"There is no greater Los Angeles Laker than Earvin Johnson. We are deeply grateful to Magic for all that he has done for our franchise – as a player, an ambassador and an executive," the Lakers wrote in a statement. "We thank him for his work these past two years as our President of Basketball Operations and wish him, Cookie, Andre, EJ and Elisa all the best with their next steps. He will always be not only a Lakers icon, but our family. As we begin the process of moving forward, we will work in a measured and methodical fashion to make the right moves for the future of our organization."
Shortly after news of Johnson stepping down broke, Jeanie Buss took to Twitter with a message.
"Earvin, I loved working side by side with you," Buss wrote. "You've brought us a long way. We will continue the journey. We love you."
Earvin, I loved working side by side with you. You've brought us a long way. We will continue the journey. We love you 💜💛

https://t.co/ofmQl6BtBz
In the aftermath of Johnson's shocking decision, ESPN reported that Pelinka will remain as the team's GM, which according to Stephen A. Smith, was part of the reasoning behind Johnson's departure. On Wednesday's episode of First Take, Smith said that Johnson wanted to let Pelinka go, but that Buss wouldn't let him. According to Smith, Pelinka often joked about Johnson's constant absence, "to bring attention to the fact that Magic was perceived to be an absentee executive." It was Pelinka's close relationship with Kobe Bryant that reportedly helped him keep his job. "I was told Magic Johnson walked into there and talked with them about wanting to get rid of not just Luke Walton but Rob Pelinka as well," Smith said. "And that's when Jeanie Buss got her back up."
As for Johnson, he already seems to be enjoying a life unburdened by the strict parameters that come with being an NBA executive. Minutes after he stepped down, he told The Jump's Rachel Nichols that the NBA's decision to fine him $50,000 for tampering after he complemented Giannis Antetokounmpo, was "silly."
"Just outright stupid," he added. "I was just complementing him [Giannis] as well as the organization." Watch the exchange below.