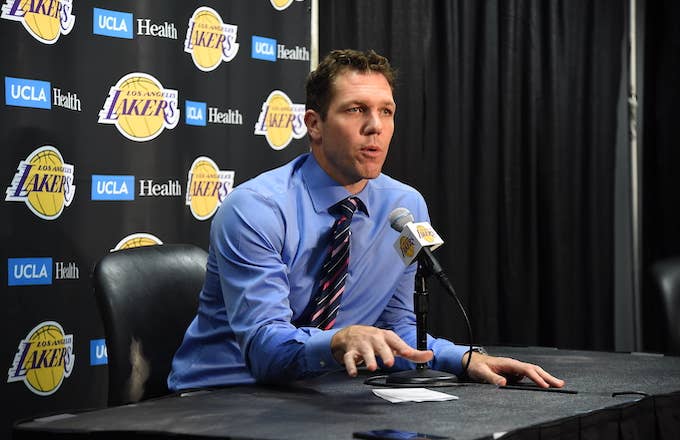 UPDATED 4/12/19 4:05 p.m. ET: According to The Athletic's Shams Charania, Walton and the Lakers have parted ways.
Steve Kerr sounded off on the decision: "They're losing one of the best human beings in the NBA," he said. "They're losing a guy who knows the game as well as anybody I've ever met. They're losing somebody who players believe in; players wanna play for. But again, he was dependent on circumstances, just like all of us are. I feel for Luke."
See below for orignal story published on 4/11/19.
The Sacramento Kings have fired head coach Dave Joerger and reports claim they have their sights set a few hours down I-5 while hunting for a replacement. According to The Athletic's Sam Amick, the Kings want to bring in struggling Lakers head coach Luke Walton. 
Amick listed Walton as the Kings first choice, followed by the Pelicans Monty Williams and Spurs assistant Ettore Messina. Why Sacramento fired Joerger after the Kings winningest season in over a decade is a mystery. It's possible they wanted to swap their dysfunctional NorCal energy for some primo Southern California messiness. Kings GM Vlade Divac offered few clues in his official statement. 
"After evaluating the season, I determined that we need to move in a different direction in order to take us to the next level," said Divac. "On behalf of the entire Kings organization, I want to thank Dave for his contributions to our team and I wish him all the best."
Walton's last season in Los Angeles isn't exactly a ringing endorsement of his ability to take a team to the next level. The Lakers struggled in spite of the addition of LeBron James and the team was reprotedly rife with locker room tension. The front office of the Lakers fared no better, with Magic Johnson shocking everyone and stepping down from his role as president without even informing the team owner. Whether Walton will get the axe remains to be seen, though it is expected by many.