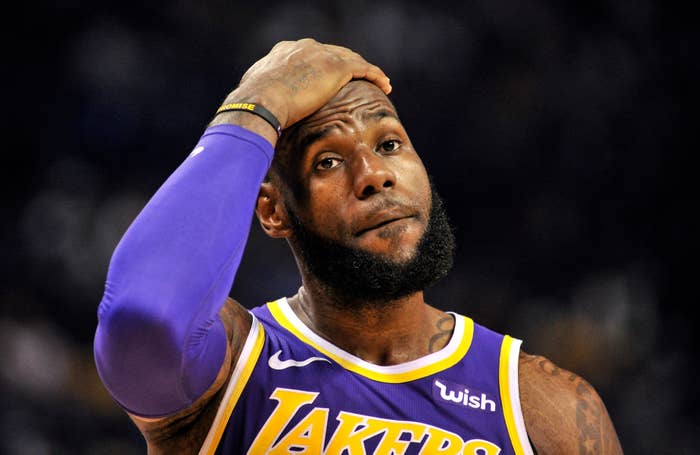 It's incredibly easy to dismiss what you see and assume that past performances will dictate future returns. Like predicting the Lakers will make the playoffs just because they have LeBron James.
Considering he's dragged flawed teams on long postseason runs before, we all know why many feel it's safer to pencil the Lakers into the playoffs than have the stones to label them lottery bound. But consider me highly skeptical that Los Angeles is going to be playing basketball after their season finale April 9 right now for a few reasons.
For starters, we all know how suspect this Lakers squad has turned out to be. It's a strange mixture of vets and an incredibly talented but inexperienced core orbiting around James. It hasn't worked the way that Lakers brass had hoped. The team is defensively deficient, struggles to hit their free throws, lacks knockdown shooters on the perimeter, can't string together consistent performances, frequently loses focus, proved to be incredibly susceptible to outside noise around the trade deadline, and have been hit hard by the injury bug. Luke Walton and the coaching staff have also come under fire. Figuring out why the Lakers—projected by Vegas before the season win 48 games—are only 29-31 isn't rocket science.
But if you think LeBron James can single-handedly cure all the Lakers ills and carry his new squad on his back to the promised land you probably haven't been paying attention.  
With that gauntlet schedule down the stretch, their consistently inconsistent play, and LeBron probably unable to play the role of Superman this time, how are the Lakers going to make the playoffs?
Despite his immense talent and bursts of brilliance we see on a nightly basis, count me among those who feel like LeBron hasn't always looked and played like peak LeBron lately. While James and the Lakers haven't talked much about the groin injury that caused him to miss 18 games, James appears to be moving a little less freely, a little less fluidly, and missing some of his explosiveness since his return to the lineup Jan. 31.
It very well could be a concession to age and him just conserving his energy as best he can for the grind of one final playoff push. Maybe the LeBron we've recently seen has been much more judicious in picking and choosing his spots to rev an engine that has a million NBA miles on it since this is his 16th season in the league. His numbers wouldn't indicate there's been a drop-off, since he's averaging a triple-double upon his return, but the eye test tells you that LeBron right now isn't the same old LeBron.
"We always expect him to be great," Lakers coach Luke Walton said following the Lakers' win over the Rockets last week. "He's proven that over his career. We always have high expectations for what LeBron does."
We'll continue to have high expectations because James has bucked the trend of being so damn productive at such an advanced age. But at 34, having played the equivalent of three extra seasons when you add in all his playoff games, James appears to be finally showing some of his age. It took him more than a month to recover from the first significant injury of his career. Groin injuries, like a hamstring or strained calf, are tough to heal when you're playing through it. Lakers fans and LeBron stans might get mad, but it's completely legit to ask whether it's still giving him some trouble and whether LeBron can hold up over the final seven weeks of the season when the Lakers need every ounce of his greatness to win games.
ESPN's Scottie Pippen and others have raised a good question: How many guys as old as LeBron have been tasked with being the best player on their team and expected to drag a suspect squad into the postseason? I can't think of one.
Unaccustomed to being in such a dire situation this late in the season, James activated Playoff LeBron in LA's first game back from the All-Star break. Before the contest with the Rockets, James said he was adopting his postseason persona, basically shifting into Sicko Mode LeBron so he can carry his neophyte teammates to the playoffs where the Lakers haven't been since 2013. And James delivered. Scoring 29 points, grabbing 11 boards, and dishing out 8 dimes, he led the way as the Lakers erased Houston's 19-point lead in the second half. The highlight of the game was his electrifying Statue of Liberty slam that woke up Staples Center and lit up your timeline. That drive was the LeBron we all know and love after he looked lethargic through most of the first half.
It was a resounding win, one badly needed for the Lakers, who face an uphill battle over their final 21 games to overtake the Spurs, Clippers, and Kings for the eighth seed in the Western Conference. But following the win over the Rockets, the Lakers suffered a terrible loss to a Pelicans team without the services of Anthony Davis and playing the second game of a back-to-back. James had 27 that game, but the Lakers still got rolled. LeBron looked more lively for most of his 39 minutes vs. the Grizzlies Monday, finishing with 24, 11, and 12. He still settled for too many bad threes and continues to be averse to helping his teammates and rotating on defense as the Lakers lost to another team they should have beat.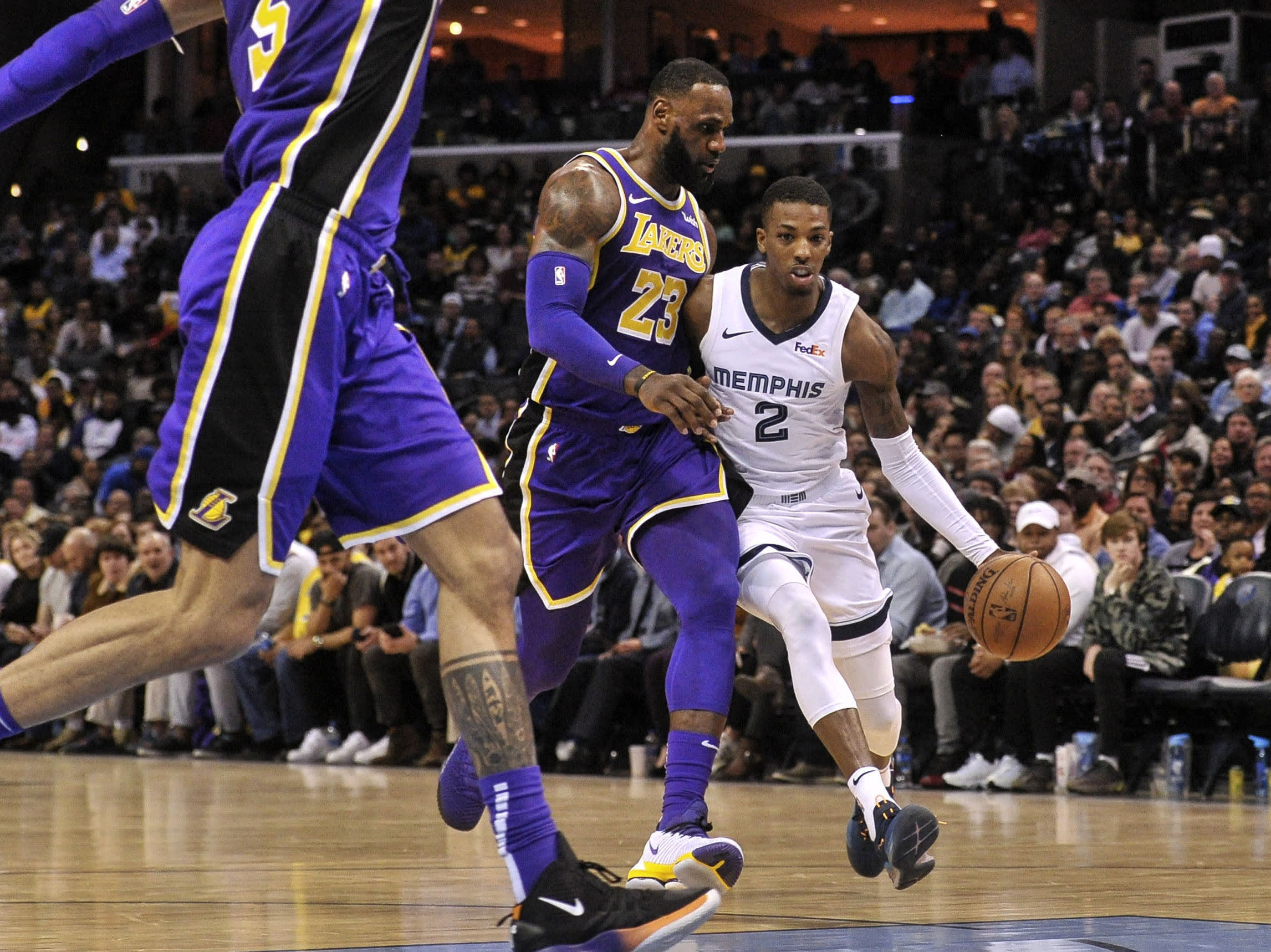 Obviously, LeBron had it easier last year when he was seemingly healthier, a year younger, and leading a Cavaliers squad that was much more talented in the weaker Eastern Conference. That's why I think it's perfectly legit to question if James can do it basically on his own and carry the Lakers to the postseason without running out of gas. Can he lead the Lakers, hypothetically, to a 9-3 mark over the final 12 games of the season if that's what it takes to make the playoffs—especially if the young guys like Brandon Ingram and Kyle Kuzma don't consistently step up, Lonzo Ball doesn't return from a severely sprained ankle, and the suspect bench doesn't drastically improve? The Lakers have been a bad road team, and they still have a tricky five-game East Coast swing coming up. Ten of the Lakers final 12 games come against teams contending for a playoff spot. They close out the season against the Bucks, Kings, Thunder, Jazz (twice), Blazers, and Warriors. Even though the Lakers have surprised us with big wins, too often they've followed up those wins with deflating losses. Glaringly, they're 4-10 over their last 14 games.
I egregiously thought as recently as a few weeks ago that the Lakers could play their way into the sixth seed in the Western Conference. Obviously, that ain't happening. With that gauntlet schedule down the stretch, their consistently inconsistent play, and LeBron probably unable to play the role of Superman this time, how are the Lakers going to make the playoffs? Hell, they might have to win two-thirds of their remaining games just to earn the eighth seed and a certain first round exit at the hands of the mighty Warriors. And it's a whole other argument to have if all that effort is really worth it for a one-and-done appearance in the postseason. The Lakers, with much higher expectations, will have essentially wasted their first year of LeBron.
Discretion is always advised when doubting LeBron James. He's pulled off the incredible and the downright impossible before and dragging the Lakers to the playoffs would be one of the most impressive feats of his career. He desperately needs help. It's convenient to have flawed teams in front of the Lakers vying for that final spot like Sacramento and the Clippers. Basketball fans should all be rooting for the Lakers to make the postseason because no LeBron in the playoffs is no good for anybody. But if my eyes haven't deceived me and LeBron can't be the LeBron the Lakers really need down the stretch, get ready to see the Kings—not the King—playing postseason basketball.