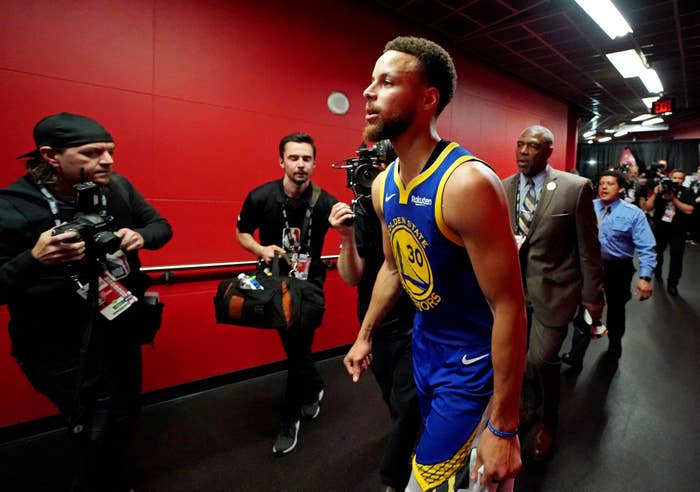 There are a lot of die-hard Golden State fans that might hate hearing this, but the losses don't quite affect Steph Curry like they used to. 
That's a product of maturity from being a 10-year NBA vet and the ability of his young family to put things into perspective. So a day after the Warriors run at a three-peat came to an end at the hands of the Raptors, Curry had his crew over for a different kind of celebration.

"It was more like a celebration of just how special this journey has been and knowing that it's not over yet," says Curry.
The Warriors, of course, have won three of the last five NBA titles and 322 regular season games since the run began in 2014. After capturing another Larry O'Brien Trophy in 2018 that he described to us as the "hardest one yet," Curry is asked how this year's run to the NBA Finals—where the Warriors fell short to Kawhi Leonard and the Raptors—compared to last year. 
"I'm even more proud of how we handled it and how we fought to the end this year," he says.
Less than a week removed from Game 6, we caught up with the Golden State sharpshooter to talk about the ups and downs of his wildest postseason yet, how monitoring NBA free agency will be a little different this summer, and the impact of his Facebook Watch docu-series—Stephen vs the Game—after Curry allowed unprecedented access to his family's daily lives.
(This interview has been edited and condensed for clarity. EDITOR'S NOTE: Curry was earlier misquoted as having said "we had the entire team at the house" the night after Game 6. It should have read "we had like 15, 20 people at the house." Complex Sports regrets the error. )
We got a chance to see you this season with your Facebook Watch original docu-series in ways never before. How comfortable were you with the cameras around capturing so much in ways we haven't seen before?
We talked about and kind of set a vision for what the docu-series would look like over the course of the last 15, 18 months. I was a little nervous for sure about having cameras around. It hasn't really been part of our way of living, especially [since] we got kids. I'm trying to maintain as much normalcy for them but it made sense obviously working with Facebook, working with living sports, a lot of TV management story. It's a great thing to be able to tell my story correctly and allow us to just be ourselves through the course of the last 18 months and that's how it turned out. I think probably it's going to be cool for me to just go back and look 10, 20, 30 years down the line at our life. I really learned a lot about myself in the process.
"nothing should surprise anybody anymore in terms of how crazy free agency gets and the reaction and the storylines over the course summer are sometimes even bigger than during the season just because how big the NBA is."
Did you have to be convinced this was a good idea? Because you obviously just expressed a little apprehension when you first got approached.
Yeah, I had to be convinced. No, I'm playing [laughs]. I think it was more so along the lines of how, you can have a camera around and just document stuff and then put it out in packages, like how do you actually inspire and use my life and my family's life for a day I guess you'd say. I'm not the best person to ask about it in terms of how big and special of a moment this is and how my story could impact people because I feel like I am normal and have the same kind of certain qualities of other people. I know what I get to do on the court is special, that part of it was the part I had to be convinced about. Just live life and do it.
You talk about wanting to make the impact or that you could make an impact by doing this. So what feedback did you get from friends, family, teammates, or just random strangers about how inspiring it was to put your life out there for the world to see?
A lot. I think when you talk about my immediate family who was around most of it or who was actually in the docu-series in some way shape or form, they have an appreciation and respect for me. With how crazy my day-to-day is in terms of the amount of exposure and again, you have some positives, some negatives, the criticism, and just noise that you hear around, who I am as a person, a basketball player—even my wife went through it now in terms of speaking about how she feels and then turning into headlines, a headline about something crazy that she said or something like that.
It's just a matter of, I think for everybody who saw it who knows me and my family but doesn't get to see the in day-to-day truly appreciated it. And then obviously sharing with the fans, we were very appreciative of their experience watching it because it starts out with me from literally day one, blowing up, learning how to play the game, going through all types of challenges and hurdles to get to where I'm at now. There's a message for everybody in there in some way shape or form and I think that was the biggest reaction that I got.
I know you've got a lot of projects going on right now with Unanimous Media. We saw the promos throughout the playoffs about what you have coming up with ABC. This burgeoning media empire you're looking to oversee and get involved with, is that something you can definitively project yourself being all-in when you finally call it a career?
That's why we chose now to kind of get it going. In terms of the team that I work with and the opportunity and the project that we've even done this year, you kind of put your flag in the ground and get your feet wet for sure. I would like to say we skipped getting our feet wet, we kind of jumped all the way in the deep end and made a huge splash but I think in terms of, like you said, towards the end of my career, I don't know how many years that's going to be, but finding things that I'm passionate about, ways to stay inspired and impact people, on and off the court.,.even when my playing days are done this is definitely an opportunity to continue that and doing something great so it's been a great start so far and I can only imagine what we'll be doing and what we turn this thing into by the time my basketball career is over with.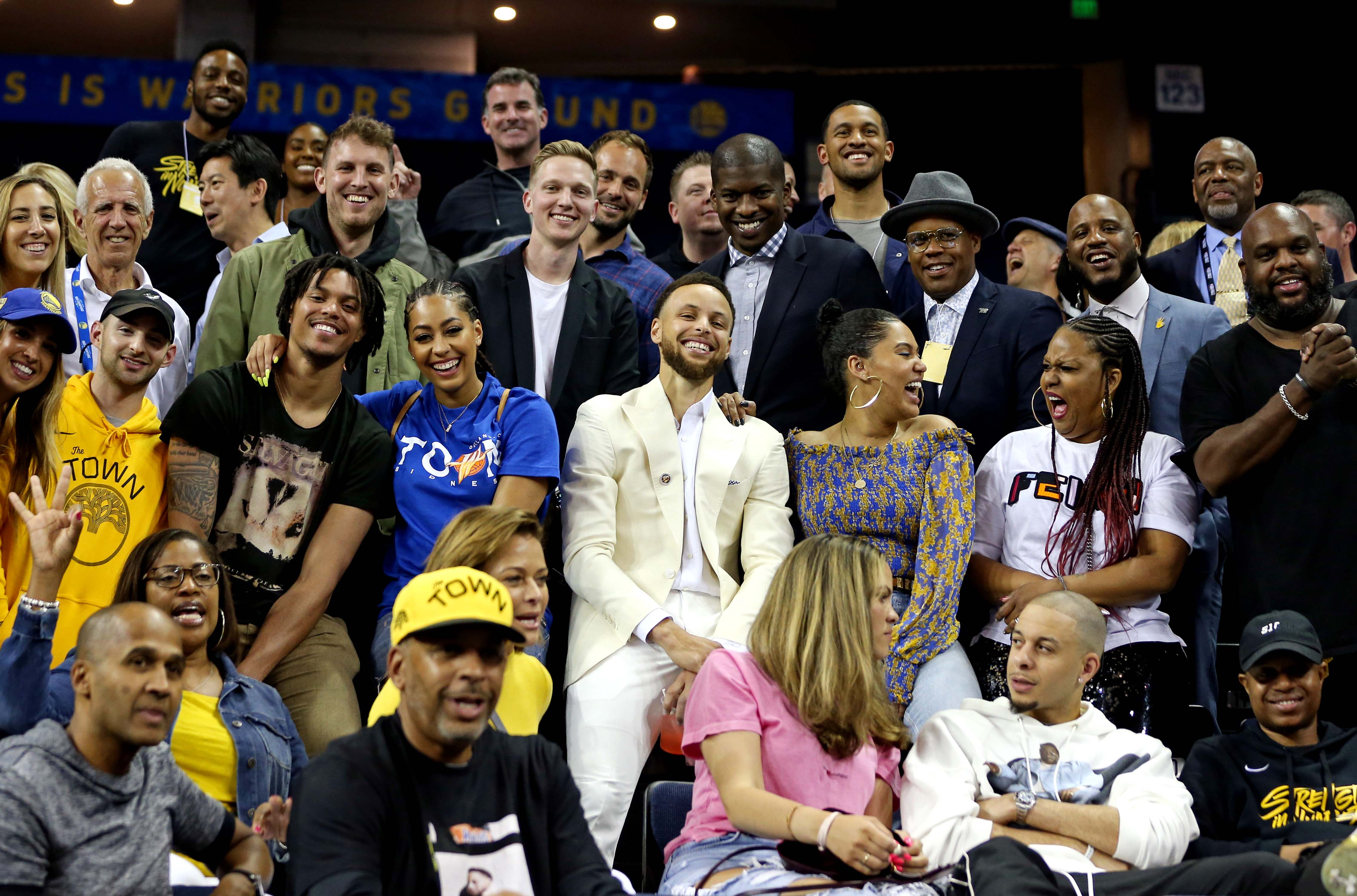 Let me switch over to basketball real quick. Last year when we talked after the championship parade, you had said the run to the NBA title was the hardest one yet. Obviously I know you guys came up short this year but give me an idea of how this run compared to last year.
I mean, I did say that last year, considering each playoff series and what not, you get into the Finals you're getting the job done. This year was 10 times harder, physically and emotionally for sure. All the tough blows we were dealt on the way with injuries, you got three guys getting pretty significant injuries throughout the course of the playoff series, they were important guys and I would answer that question by saying I'm even more proud of how we handled it and how we fought to the end this year. There's really no reason other than our sheer fighting ability and competitiveness that we were within a possession to get to Game 7. It says a lot about who we are as a team and what we've been through. It sucks to lose and we'll be thinking about for a long time, but we battled and gave ourselves a sliver of hope until the end to get the job done.
I know the joy from a championship can last deep into the summer, at least you've alluded to that in the past. But one of the episodes you actually talked about how the sting of losing isn't quite what it used to be. So how long do you think the sting of losing this one is going to last for you?
I mean, the sting is pretty much done by now, but I'll be thinking about it until we start playing again. That's part of the nature. You kind of go back and revisit what's the best option for this game and what you could've done differently. Part of what the docu-series is mostly showing is the most special thing I have and the most important thing I have is my family and the experiences that we get to go through so those are definitely a set perspective that I try to bring that stuff home with me, even the night after we lost Game 6, we had like 15, 20 people at the house and we were drinking some wine and having some fun, talking about the crazy year that we had and it was nothing like somber or down about any of it. It was more like a celebration of just how special this journey has been and knowing that it's not over yet so I think in turn having people that support you, having your family, and you getting to share them it definitely helps keep things into perspective and not make it more tough to lose than it already is.
You also told me last year the way you monitor free agency is kind of like most fans but you're not checking Twitter every 10 seconds, I know this one is a little bit different for you guys and the Warriors and so I'm curious if your free agency monitoring habits are going to be changing at all this summer.
Not really, I mean, we got two guys that are in the boat, going through it, so they're closer to their decisions or whatever. But the league changes pretty much every year and like I said earlier there's some surprising moves and big names changing teams. But nothing should surprise anybody anymore in terms of how crazy free agency gets and the reaction and the storylines over the course summer are sometimes even bigger than during the season just because how big the NBA is. I'll be tuning in and obviously AD already being traded it's going to be a wild summer like it always is.