One's a dynamic combo guard with exceptional size, athleticism, and scoring ability. NBA scouts love him despite the fact he couldn't make his squad a winner during his one season in college.
The other is considered a once-in-a-generation point guard with an awkward jumper and an uncanny ability to see the floor. He also has loud-mouthed father and a $495 sneaker.
The majority of the talk leading up to June's NBA Draft will undoubtedly revolve around the Markelle Fultz vs. Lonzo Ball debate, specifically who is most worthy of being the No. 1 selection. And while every mock draft out there has Fultz going first, there are plenty of college basketball observers who will tell you it's not an easy decision.
"I don't think it's a no-brainer," says ESPN college basketball analyst Jay Bilas.
While most casual college basketball fans are familiar with Ball, Fultz will enter the draft as a mystery to many because he played on a Washington squad that went a measly 9-22 during the regular season and won only two games in Pac-12 play, barely making any appearances on national TV.
But that doesn't mean Fultz isn't the real deal. At 6'5", the combo guard is an elite scorer with a quick first step, who can slash and finish better than just about any other guard in the draft. 
"Markelle fits the suit," says Bilas. "He's got an NBA body. Long arms. Got good size. Markelle is a multidimensional scorer. He can really shoot it. He's got all the tools to be a really good shooter in the league."
"He's beyond the hype. Everybody's been talking about his dad being too loud-mouthed and I don't really give a shit about his dad. That kid is a stud. He's special.
Fultz averaged 23.2 points, 5.9 assists and 5.7 rebounds per game with the Huskies. Many feel he can come in right away and be a significant contributor to any team because of how advanced his offensive game is, drawing comparisons to James Harden.
"Tremendous scorer. He makes pro shots," says CBS college basketball analyst Clark Kellogg. "When you watch guys in college make hard shots, when they're well defended, that's pro stuff."
But the fact that 18-year-old Fultz couldn't elevate his team to the NCAA Tournament, let alone a .500 record, is a big knock on an otherwise impressive résumé.
"You do ask yourself, 'Why didn't he win more?'" says Bilas. "It's going to be two years in a row that the No. 1 pick didn't take his team to the NCAA Tournament. It's unusual."
Ball, of course, is already a household name after he guided UCLA to the Sweet 16 this past season, and because his ubiquitous father, LaVar, has appeared on every sports talk show imaginable. Standing 6'6", the 19-year-old Ball is a gifted passer who excels in the open floor and has drawn nearly universal comparisons to a future Hall of Famer.
"He's beyond the hype," ESPN college basketball analyst Jay Williams told us at the ACC Tournament. "Everybody's been talking about his dad being too loud-mouthed and I don't really give a shit about his dad. That kid is a stud. He's special. I said it before, and I'll keep saying it all the way through the draft, he's a modern day Jason Kidd."
Unlike Kidd, Ball can already shoot, despite his awkward jumper. He shot 55.1 percent from the field during his one season at UCLA and 41.2 percent from beyond the arc and his unusual release won't deter teams. Weird looking jumpers didn't stop Shawn Marion from being the 9th pick in the 1999 NBA Draft or Kevin Martin from earning nearly $80 million through 12 NBA seasons.
"There's a lot of ways to get to the right result," says Kellogg. "The key is consistency and do what you need to do to get it off."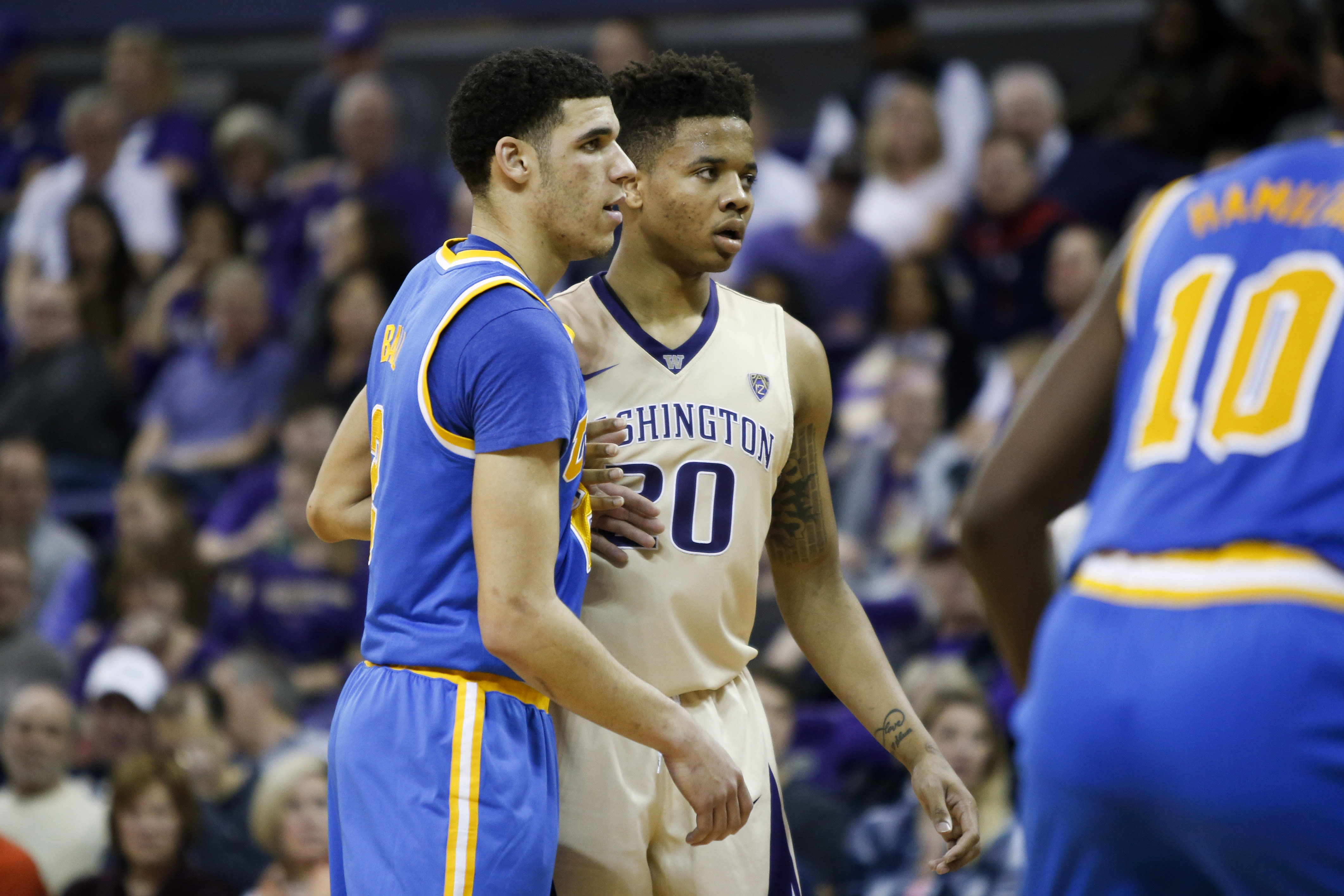 But what about the father factor? Will LaVar, peddling the ZO2 sneaker, Big Baller Brand, and bragging how Lonzo is already better than Steph Curry make teams think twice about drafting his son?
"They'll factor it in. Whether they act on it is a different thing," says Bilas. "My only question is whether it's a close call; will they say, 'We don't want to deal with this?'"
The NBA Draft Lottery, going down Tuesday, will determine who picks first. While the Celtics have the best chance (thanks to former Nets GM Billy King), they don't necessarily need a point guard and would likely roll with Fultz. But just about every other team in the lottery needs a floor general. So who deserves the honor of being the first selection in the 2017 NBA Draft?
"I'mma go with Lonzo if I need a guard," says Inside the NBA analyst Kenny Smith, who's seen Ball play since the eighth grade. "He's a guaranteed 15-point guy for his career. He can shoot it. He can space the floor. He's good with transition."
Kellogg plays it down the middle. "If it's just take the best player, it's a pick 'em," he says.
Bilas, on the other hand, has much more conviction.
"All things being equal, you're not picking for some kind of need, I would favor taking Fultz No. 1," says Bilas. "I think Ball is going to be a really good player in the league, an All-Star caliber performer. But because of Fultz's scoring I would go that way."