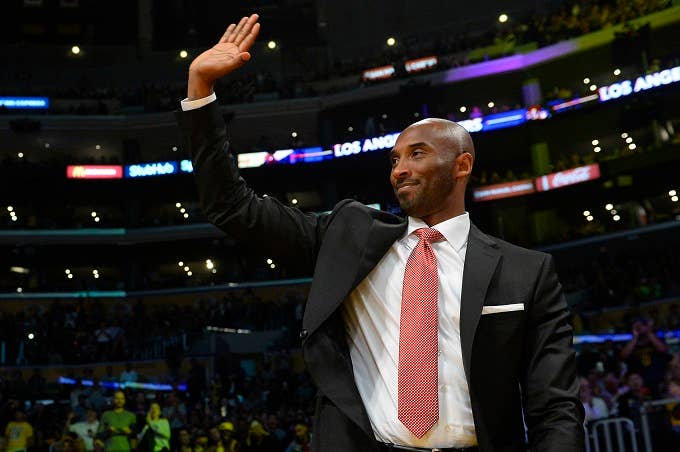 Kobe Bryant, one of the greatest players ever to hit the hardwood, died in a helicopter crash outside Los Angeles Sunday. The legendary baller, who starred for the Los Angeles Lakers for 20 seasons, winning five championships with the NBA's most glamorous franchise, was 41. 
The 18-time All-Star, 2-time NBA Finals MVP, and 2007-08 NBA MVP—often cited among basketball fans as a candidate worthy of the mythical "Greatest of All-Time" mantle—was reported to have been one of the individuals, along with his 13-year-old daughter Gianna, killed in a crash that occurred in Calabasas before 10 a.m. PT, according to the Los Angeles Times. The news hit social media roughly an hour later, stunning sports fans. The loss of Bryant, a universally beloved figure in the basketball world and a god in the Los Angeles area where he resided since joining the Lakers as a teenager, left fans and basketball followers heartbroken over the jaw-dropping news.
"For 20 seasons, Kobe showed us what is possible when remarkable talent blends with an absolute devotion to winning," NBA commissioner Adam Silver said in a statement. "He was one of the most extraordinary players in the history of our game with accomplishments that are legendary: five NBA championships, an NBA MVP award, 18 NBA All-Star selections, and two Olympic gold medals. But he will be remembered most for inspiring people around the world to pick up a basketball and compete to the very best of their ability. He was generous with the wisdom he acquired and saw it as his mission to share it with future generations of players, taking special delight in passing down his love of the game to Gianna. 
"We send our heartfelt condolences to his wife, Vanessa, and their family, the Lakers organization and the entire sports world."
Tweets from Barak Obama, Kanye West, former teammate Shaquille O'Neal,Dwyane Wade, Tom Brady, Dallas Mavericks owner Mark Cuban, and so many others who were sickened over the news flooded the social media platform. Current NBA stars like Joel Embiid, Zach LaVine, Damian Lillard, and Kevin Love also expressed utter shock and sorrow immediately upon learning the news.
While the Los Angeles Country Sheriff and Fire departments and the Los Angeles Lakers had yet to confirm Bryant's death as of 2:30 p.m. PT, multiple outlets, including TMZ and ESPN, confirmed Bryant had perished in the crash that killed eight others. He was reportedly in a helicopter he owned and on his way to a youth basketball game for his daughter.  
Bryant, who is survived by his wife and three other daughters, had maintained a high-profile since he retired from the NBA following the end of the 2016 season through sports and multimedia fields. But he'll forever be remembered as one of the most accomplished and celebrated players in the history of basketball. His career highlights are nearly endless, from his 81-point performance in 2006 to his 60-point outburst in the final game of his career to his championship runs with the Lakers. He co-starred with Shaquille O'Neal on the Lakers run to a three-peat from 2000-02 and was the leader of the Lakers when they won back-to-back titles in the 2009 and 2010 seasons. 
Born August 23, 1978, Bryant burst into the league as a 17-year-old from Lower Merion High School in Ardmore, Pennsylvania. The son of former NBA player Joe "Jellybean" Bryant, and nicknamed the Black Mamba, Bryant was the 13th selection in the 1996 NBA Draft by the Hornets but was soon traded to the Lakers where he authored a career that vaulted him into rarified air. He's the fourth-leading scorer in NBA history, his Nos. 8 and 24 are retired by the Lakers (the only player in NBA history to have two numbers retired by the same franchise), he won two gold medals for Team USA in the 2008 and 2012 Olympics, and was nominated for induction into the Naismith Basketball Hall of Fame this past December.
In retirement, Bryant had branched out to be a content creator as the leader of Granity Studios. He had published young adult novels and even won an Academy Award for Best Animated Short Film for Dear Basketball in 2018. 
"The thing about us athletes is you gotta find what you're passionate about besides the sport that you're playing in, what comes next, you know what I'm saying?" Bryant told Complex Sports in 2019. "I think it's different for every athlete, but if you would have told 20-year-old Kobe this is what I'd be doing I'd have been like, 'Dude, you're absolutely crazy, you're out of your mind.'"
He was also a partner in the Mamba Sports Academy, an athletic facility that sits outside Los Angeles in Thousand Oaks. Reportedly, that's where he was headed Sunday. 
Bryant was top of mind for many basketball fans the night before the crash when LeBron James passed him on the NBA's all-time scoring list. Bryant sent out a tweet shortly after James scored his 33,643rd point to congratulate the new star of the Lakers on the milestone achievement. 
Continuing to move the game forward

@KingJames

. Much respect my brother 💪🏾 #33644
James, in a nationally televised game against the Sixers, had inscribed his Nikes with "Mamba 4 Life" and "8/24 KB" to show respect for Bryant. 
"The things he was doing on the floor, I admired and wanted to be a part of," James told reporters after Saturday's game. "The work ethic he put into the game, he had zero offensive flaws. I'm just happy to be in any conversation with Kobe Bean Bryat, one of all-time greatest basketball players to play."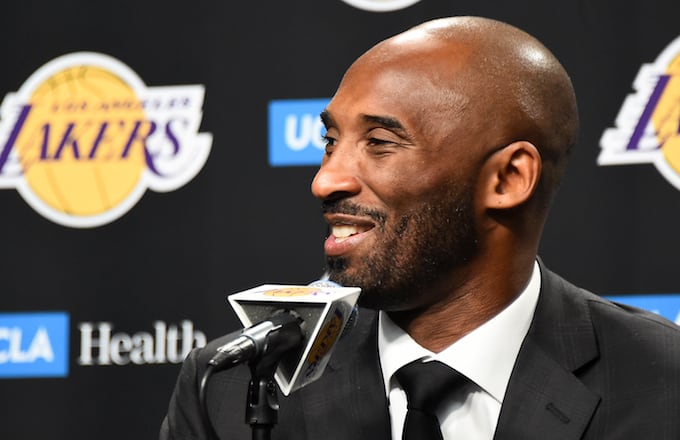 A career 25.0 points per game scorer, Bryant was a four-time NBA All-Star MVP, the 1997 NBA Rookie of the Year, a two-time scoring champ, and a generational talent that was known as a ferocious competitor as well as a celebrated endorser for Adidas before later switching to Nike.
"You changed history," Lakers owner and president Jeannie Buss told Bryant before his final game. "There is no going back and comparing you to anybody, because nobody's ever been like you. And we're so fortunate that you were part of our franchise and part of our history."
Bryant's basketball prowess was often compared to Michael Jordan's since the shooting guard fell one title shy of Jordan's six. Bryant, who famously commuted to some Lakers games via a helicopter, was revered by Lakers fans and undoubtedly considered one the franchise's most beloved players along with Magic Johnson. Lakers fans watched Bryant grow from a teenager to NBA superstar to devoted father in retirement who became an advocate for women's sports.
"The WNBA mourns the sudden and tragic loss of NBA Great Kobe Bryant and his daughter Gianna," WNBA commissioner Cathy Engelbert said in a statement. "Kobe's support for the WNBA and women's basketball along with his passion for helping young girls and boys follow their dreams made him a true legend for our sport. We admired him not just as a legendary basketball player, but as a father, a youth coach, and a role model for future generations of athletes.  On behalf of the WNBA, it is an incredibly sad day for all of us and we send our deepest condolences to his family and all those who mourn his passing."
While no basketball fan will question his legendary status on the court, Bryant was embroiled in one notable controversy off of it. In 2003, he was accused of sexual assault in Colorado. The criminal case was eventually dropped and Bryant maintained his innocence and later wrote in an apology letter, "Although I truly believe this encounter between us was consensual…I now understand how she sincerely feels that she did not consent." He would later settle a civil lawsuit with the accuser.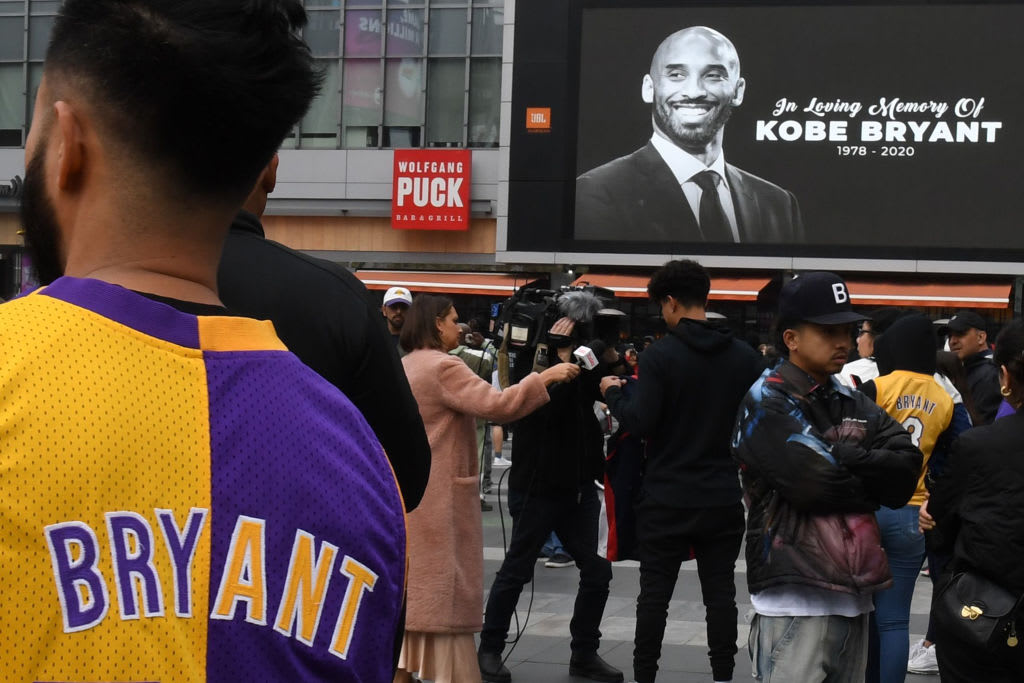 In the hours after news broke, fans congregated outside Staples Center in downtown Los Angeles where the Lakers have played since 1999 to mourn his passing. Many were wearing Bryant jerseys. There were subdued chants of "KO-BE BRY-ANT." At the Lakers' practice facility in El Segundo, a makeshift memorial was set up for fans to come and mourn. Many Bryant fans showed up wearing Lakers gear or one of his jerseys to congregate and pay their respects. Some left flowers and balloons amid lit candles. One person left a pair of his Nike signature sneakers.
"He gave his knowledge, time, and talent to tutor so many at the youth level, collegiate level, & NBA & WNBA players," Magic Johnson tweeted Sunday. "Words can't express the impact that he had on the game of basketball. I know basketball fans all over the world will miss him, especially the City of Los Angeles."
Memorial displays cropped up in other places, including at Madison Square Garden. The exterior of the home of the Knicks was lit in purple and gold colors hours before New York hosted the Nets. A moment of silence was held for Bryant before the start of the Nuggets-Rockets game, the first NBA game held Sunday. In San Antonio, the Raptors and Spurs later honored Bryant by taking two 24 second shot clock violations to start the game. The Grammys, being held at Staples Center, even paid tribute to Bryant in the show's opening.