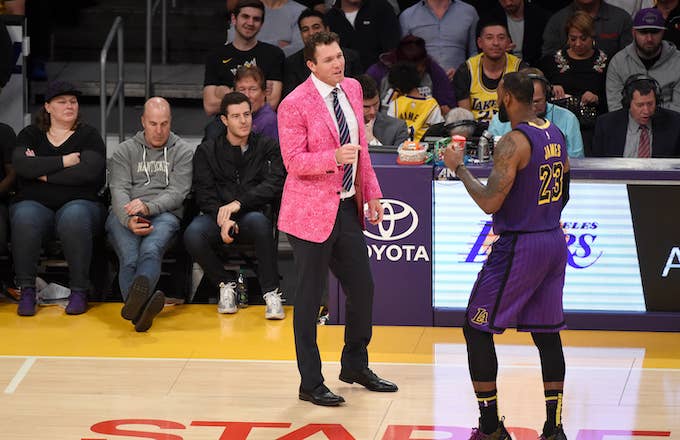 LeBron James' camp wants Los Angeles Lakers head coach Luke Walton out, ESPN's Jackie MacMullan said on Brian Windhorst & The Hoop Collective podcast on Friday.
"It's clear to me, and probably to you, Brian, that LeBron's camp would prefer a coaching change—they're not too subtle about that," MacMullan said on the podcast, perthe Score. "Not LeBron, but all the people around LeBron. There's plenty of them and they've made it known. I don't think this is a shock, is it?"
The Lakers are currently ninth in the Western Conference with James out with a left groin injury. James sustained the injury during a Christmas Day game against the Golden State Warriors. The Lakers won the contest 127-101. Lonzo Ball is also out with a grade 3 sprain. 
"There's a lot of tension in that building," MacMullan continued. "I think people are wondering about Luke Walton, even though (owner and president) Jeanie Buss came out very strongly and said, 'I want Luke to be here, I back him 100 percent,' but then also made the point that has to be made—and that is that she hired Earvin 'Magic' Johnson to make these decisions."
The news of LeBron's camp growing tired of Walton, comes on the heels of reports that the team is looking to switch-up their roster. The Athletic reports that the Lakers want to acquire another superstar before the upcoming Feb. 7 trade deadline. In addition to that, the team is reportedly cool with trading Kyle Kuzma, Lonzo Ball, and Brandon Ingram.