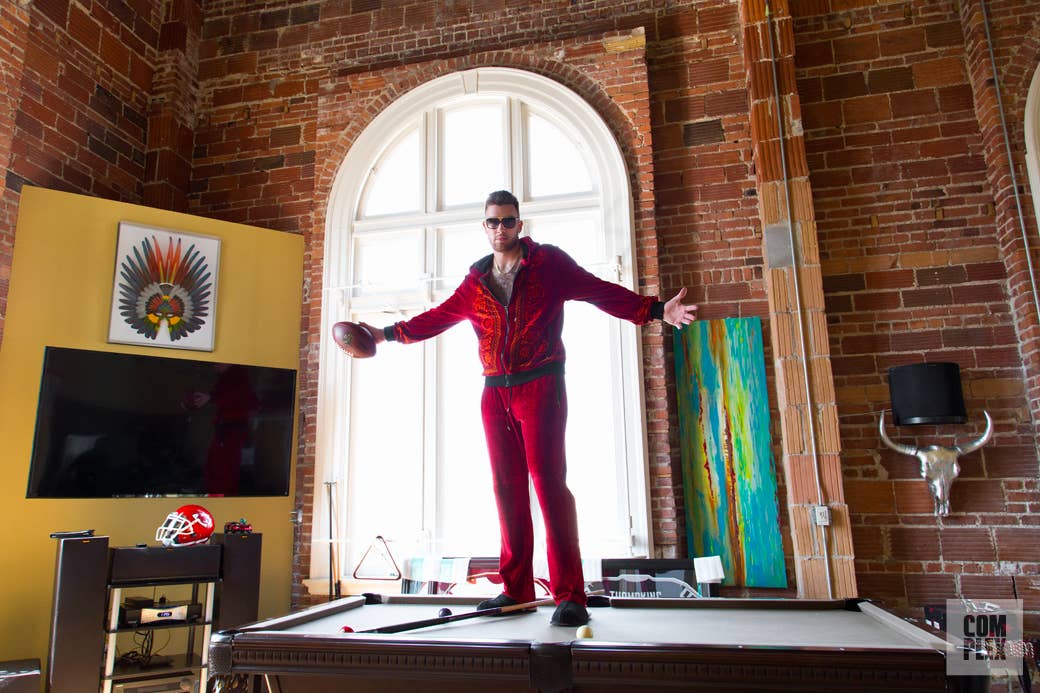 Travis Kelce doesn't want to do the fucking Nae Nae.
I finally get it.
Kelce never admits it outright—he's too nice of a guy for that—but somewhere between my third and 13th prodding for a trip down memory end-zone, it becomes apparent: the slight shoulder slink, tilted head and forced laugh. All sheepishly intimating "Jesus bro, not this again."
We're in his downtown loft, a sprawling Kansas City, Mo. penthouse abundant in wood, exposed brick and 10-foot windows overlooking the city's northern edge. The space is an embodiment of the city's much raved about revitalization: on trend, artsy, contemporary.
O'Keeffian modernisms adorn the walls. The aesthetic is minimalist, warm, and comfortable.
But Kelce is restrained. Cautious, even.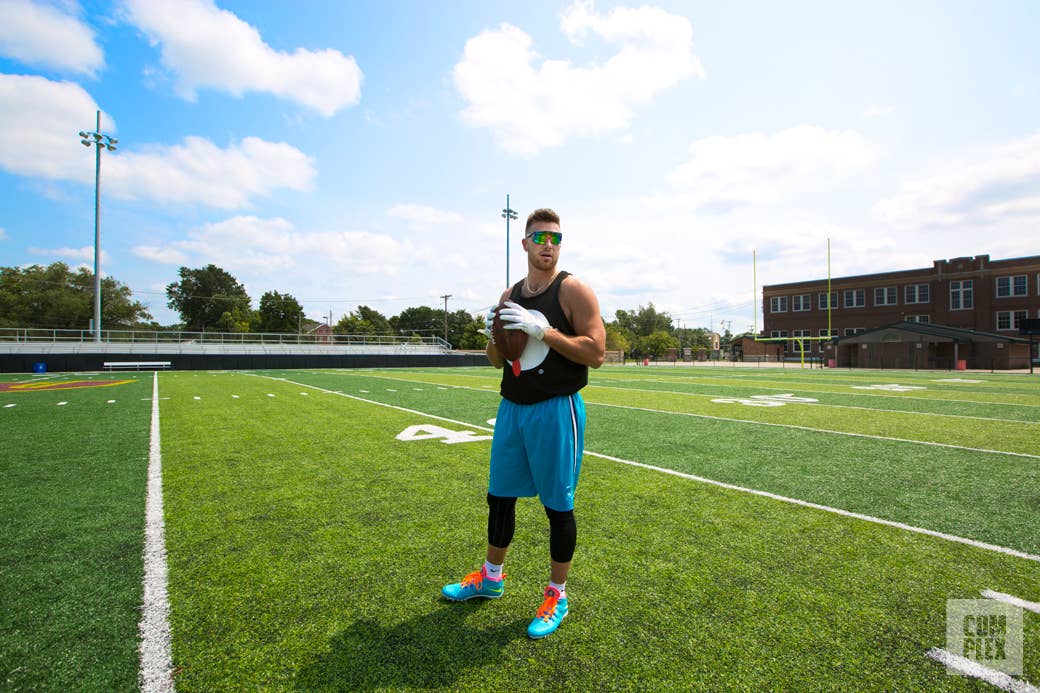 The mood is ironic given Kelce's swelling reputation for flashy exuberance. In one season, he's joined that fraternity of showmen in the No Fun League (The ODBs, Marshawns, and J.J.s) who garner as much attention for how they make plays as the plays themselves. Fans, teammates, pundits—they're as invested in Kelce's how as they are his what.
I have to believe this is a welcome change. Twelve months ago, virtually no one was invested in Kelce. His is a trajectory easiest examined in two epochs: Before Aug. 7, 2014 and After Aug. 7, 2014.
Before, Kelce was a promising glimmer of light within the Chiefs organization, a 2013 third-round pick who impressed early with a formidable combination of size, speed and agility. His rookie season, however, ended before it took off. That October, after just one regular season game, Kelce needed surgery to repair a nagging bone bruise. The "microfracture" procedure was the same cartilage rehabilitation connected to names you never (medically at least) want to be connected to. Names like Tracy McGrady, Greg Oden, and do you seriously even need to hear any more?
The operation forced Kelce away from the playing field—and public conversation—for a year; a stud that never left the stable.
Then, during a preseason game against the Cincinnati Bengals—Aug. 7, 2014—Kelce juked the everlasting shit out of Cincinnati rookie cornerback Lavelle Westbrooks for a 69-yard touchdown slant from Chiefs backup quarterback Chase Daniel on his first series post-surgery.
Usually, an ankle-breaking touchdown spanning three fourths of a football field on your very first series back from knee surgery is the highlight. But for the Cleveland-born Kelce, nicknamed "Zeus," it wasn't enough. His celebration after is what, nearly a year later, ended up leaving the indelible mark. After scoring, Kelce hit the Nae Nae, months before the WeAreToonz created dance would go full-blown mainstream and partner with The Whip to join that Butterfly/Harlem Shake/Walk-It-Out pantheon of inescapable generation-defining jigs.
The online hype went into overdrive: Kelce wasn't just going to give us touchdowns. He would give us Vines, memes, and moments. He'd give us star-power.
Zeus would continue to dominate—and dance—in 2014. The Shmoney Dance, Ric Flair strut, and more would make appearances.
His statistics were appropriately Olympian: Kelce's 67 catches, 862 yards, and five touchdowns all led the Chiefs, while his 503 yards after catch led all NFL tight ends. The 2014 season was Kelce's official arrival to the NFL party.
Yet here we were in his loft. Stationary. 
"I want to have the greatest season statistically that a tight end has ever had."
—Travis Kelce
For all its documented upward mobility, Kansas City subsists as a town full of substance, yet little flash. It's a simple, scrappy town hell-bent on proving its worth to the rest of the country.
The people here are blue-collared and altruistic. Debates on where to find the city's best burnt ends is its version of Biggie vs. Tupac. Celebrity is not chameleonic the way it can be in major metropolises like New York or Atlanta or Los Angeles. Brandy could never sing in public unnoticed. Star-power is not water that blends itself effortlessly into everyday life. Instead, in a city devoid of much of it, its presence is an oil that separates itself.
Kelce is that oil when I first meet him earlier that day on a local high school football field. In a black and teal Artist Recreation tank and matching Nike shorts, his 6-foot-6, 260 pound stature commands attention in an empty stadium the same way it does in a packed bar. Whether he means to or not, in this town, Kelce is magnetic.
He owns over 300 pairs of sneakers, but it appears today his custom 2015 Huaraches will do. He's with his manager Aaron Eanes and best friend/business partner/wrangler Aric Jones. Students hanging around the facility after a weekend practice notice his presence immediately and do double-takes, wondering why Kelce "and some other Chiefs players" are at their high school.
Like most humans, you ask Kelce what music he listens to and he claims to be an eclectic. That may be true, but it is clear hip-hop occupies a special place. While his brother, Pro Bowl Eagles center Jason Kelce, belts country tunes in all his mountain man glory on local radio, Kelce rocks hoop earrings and his version of a high-top fade. Before doing anything, he unpacks a bluetooth speaker and begins playing Drake's latest, "Hotline Bling."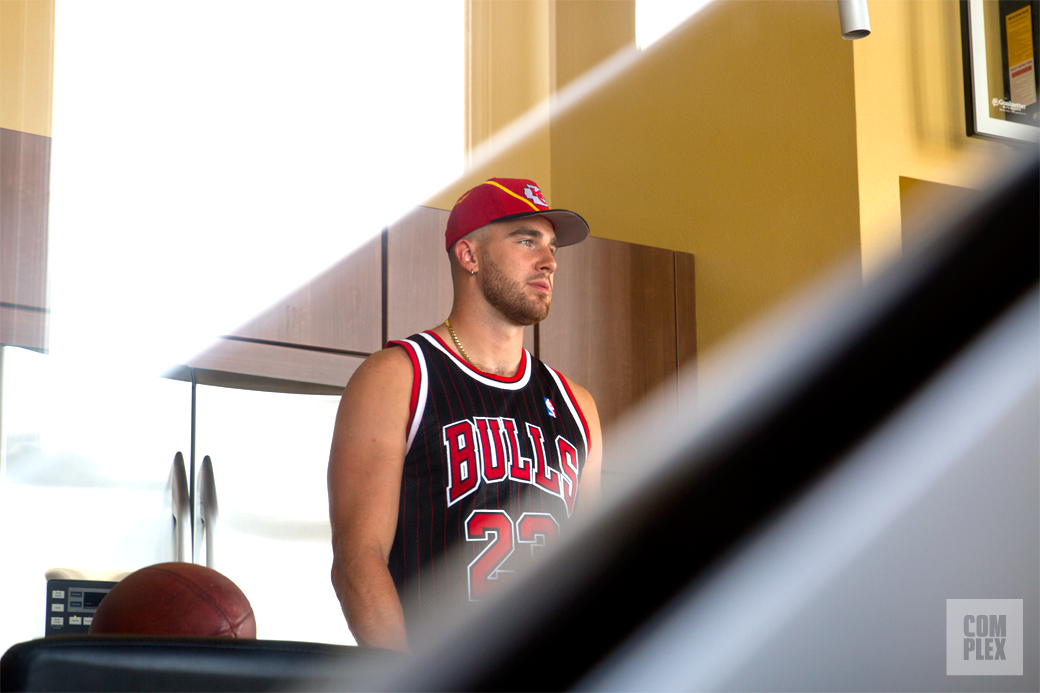 Music takes Kelce's edge off. He sways, gully-creepa style, to "Hotline" as he catches passes from Jones and runs mock drills for the camera. If his first major magazine shoot has him nervous, he doesn't show it much.
"I can't really be myself out there as much as I want to be," says Kelce. He talks about the growing pains of his growing celebrity.
"When you play football and score touchdowns, everyone looks at you like you're this great person," he says. "You don't want to switch them off or give them something to look down on you for."
There's a constant cognizance of image in the Kelce camp. A vigilant understanding that he is on the cusp of something special, and a determination not to screw it up.
Earlier this summer, ESPN.com Chiefs beat reporter Adam Teacher openly professed anything less than consistent Tony Gonzalez-like stats "might be a disappointment."  ArrowheadAddict, The Kansas City Chiefs official fan site pondered whether Kelce's could supplant Gonzalez as the best ever. Even TMZ has given the kid airtime.
Kelce scoffs it all off.
"Nobody puts bigger expectations on me than myself," he says. "I want to have the greatest season statistically that a tight end has ever had."
He understands this will require more than glitzy touchdowns and receptions, saying his goal is to become "an invaluable asset;" someone Andy Reid needs on the field every play. "That means getting better with the run block, pass block, supporting the run," he says.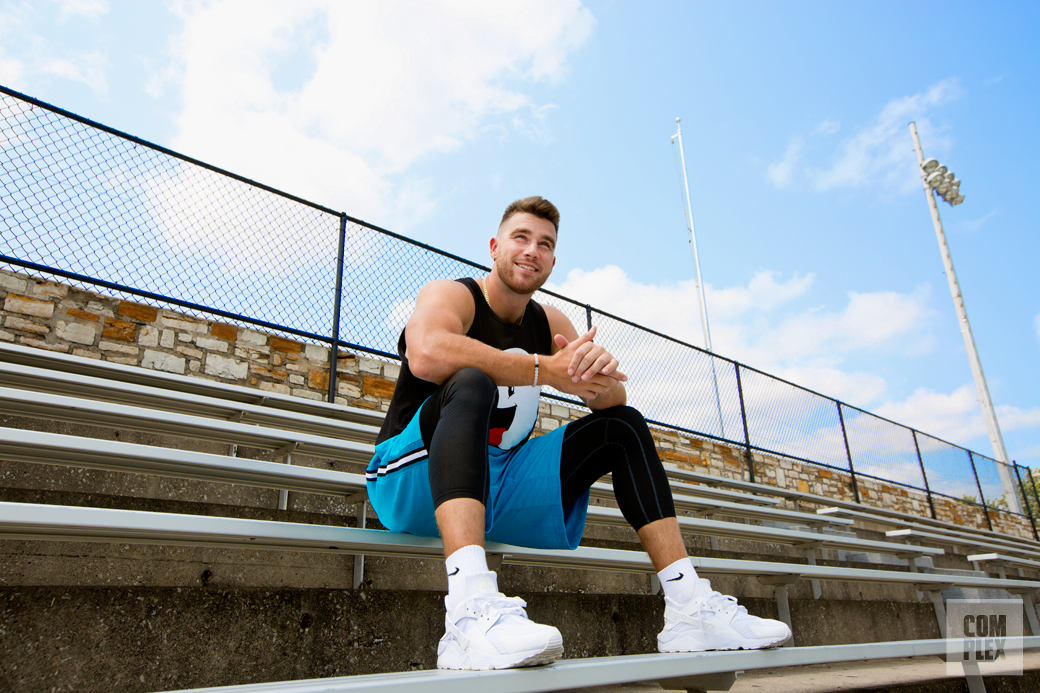 "I don't want to give this image that I'm this stuck-up prick."
–travis kelce
These are some of the things he's worked on this offseason. He also looks as if he's about 10 pounds slimmer and says he's been working hard on the "between-the-ears" intangibles like more aptly reading defenses and maintaining better ball control (a back-breaking flaw from last season).
"Maturity," Jones says when asked what changes he's seen in Kelce as his celebrity has grown.
Jones has been Kelce's best friend since they were five. "We met playing hockey, ironic enough," he says. Together he and Eanes are Kelce's Rich Paul, working around the clock to keep Kelce "The Man" grounded and Kelce "The Brand" in constant ascension.
"I'm not doing what Aaron is doing by any means," Jones says. "But I try to play a role."
Eanes, 25, was the first to notice Kelce's potential, signing him to his sports firm A&A Management Group while Kelce was still in college. As his manager, he and partner Dennis Cummings are the controlling hand in Kelce's branding, PR, and business dealings; a crucial cog in the future of one of the NFL's rising stars.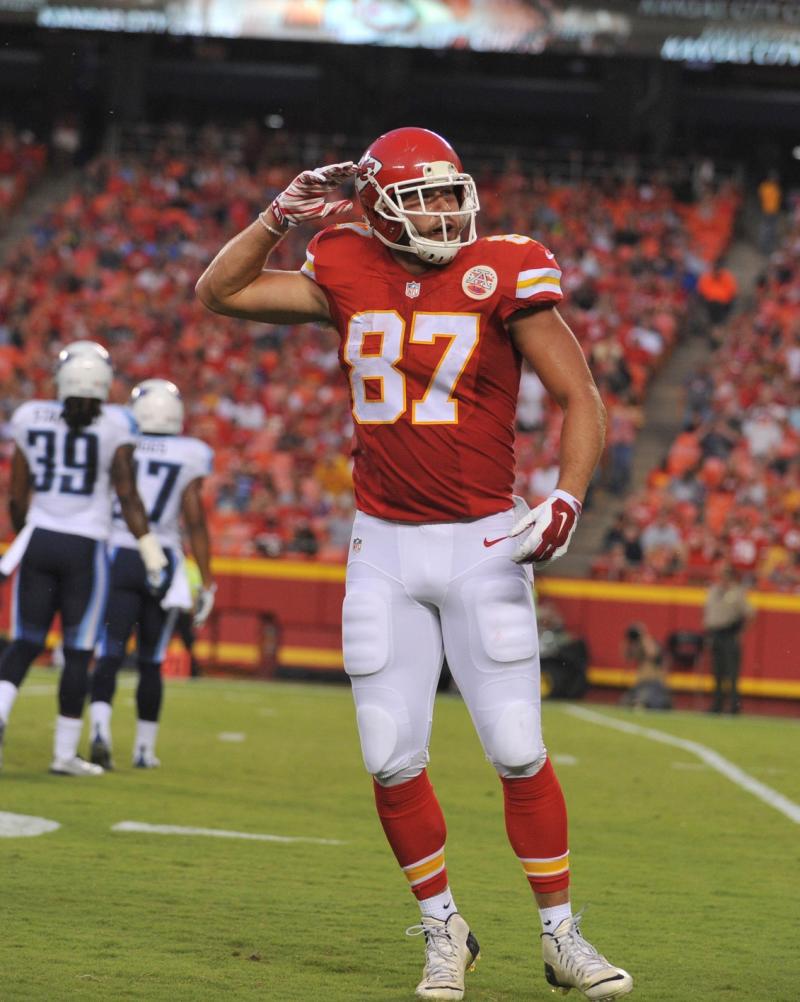 Things, according to Jones, are different than they used to be. Like how last summer was "the greatest of his life" as the two spent Kelce's rehab partying in near anonymity. Young, rich, and reckless, there was the time Jones woke up clueless and half naked at a random bus stop. Or that night he was banned from The Empire Room, one of KC's premier hip-hop clubs. There was, also, Kelce dancing on tables Coyote Ugly-style at John's Big Deck, a popular late night bar in the city's Power & Light entertainment district.
"Maybe a little too much fun," Kelce says.
He's partying less and spending more time with the community now. In his short time living in the city, Kelce has cemented a reputation for himself as one of, if not the most visible Chief around town. He's constantly on the scene. Leading story time to pre-schoolers at the city's largest daycare or stopping by a local sneaker festival to show love.
These moves are both genuine and calculated as Kelce works to maintain a steady and approachable presence. He recalls how, once when he was a kid, he waited an hour for a chance to get then Cleveland Indians shortstop Omar Vizquel's autograph, only to be brushed off. The hurt of that moment stayed with him and is the main reason why he's now a stalwart known for staying late after training camp practices to sign every fan autograph and going out of his way to make trips to Arrowhead memorable ones for fans when he can.
"I really try," he says. "I try to be as genuine and as kind of a person as I actually am."
"I don't want to give this image that I'm this stuck-up prick."
Back at the loft I make myself more comfortable than I probably should and begin blasting "Trap N****s" from the Bluetooth. No one can resist Future Hendrix. My conscious self may recognize Kelce's reluctance to dance, but my subconscious simply doesn't give a damn. You know what the people want, Travis.
Almost on cue, as if drawn by DJ Esco's horns, Kelce emerges from his loft's bottom level in new digs. He's switched out the NBA jersey and Air Jordans for a burgundy velour Versace jumpsuit and Gucci shades. The outfit is gaudy, ostentatious and perfect. I'm not sure if it's the music or the shades, but something has invigorated Kelce with an audacious brio.
Zeus had arrived.
He climbs atop the pool table in his living room as if it were Mount Olympus and hits a half-hearted two step.
He previews his take on the Hit Dem Folks—another popular dance out of Atlanta steadily gaining mainstream momentum—and I pray to the gods that we're blessed with this finesse soon; preferably at the Chiefs national primetime Thursday night game against the Broncos Sept. 17.
I mention the Milly Rock as another dance that must happen this season to Jones over the blaring music and he does that ambiguous approving-head-nod-and-smile thing that could either mean he knows and hears exactly what I'm saying or can't in fact understand a word I'm saying. I choose to believe the former.
Seconds later he tells Jones he needs another song. He's in his zone.
A brief silence occurs before "I Serve The Base" synths bitch-slap it. Kelce looks over at Jones and flashes a rascally grin.
"Should I serve 'em?" he asks.
It was a question, but not really. He doesn't wait for Jones' response. He knows.
Kelce glances my way for half a second, opens his arms wide, and turns towards the camera as if to say "Is this not why you are here?"
He gets it.
"Man, I think they want me to serve 'em."